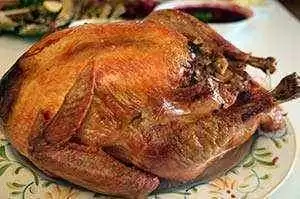 Caption: Photo: Jefferson Adams
Celiac.com 11/11/2011 - Once again, Thanksgiving looms, as does the specter of pulling off a smooth, tasty, gluten-free dinner on the big day.
To help make that goal an easy reality, celiac.com once again offers up a heaping of gluten-free information and recipes to help make your gluten-free Thanksgiving celebrations a smashing success!
---
Celiac.com Sponsor (A12):


---
---
Celiac.com Sponsor (A12-m):


---
For those cooking a gluten-free turkey dinner at home, these helpful tips will make your work easier:
First, be certain to start with a 100% gluten-free turkey for your gluten-free holiday dinner. Gluten? In my turkey? Yes! Many brands use gluten when processing their turkeys. Don't assume your turkey is gluten-free. Be sure to check the ingredients list. Celiac.com offers a fairly comprehensive list of safe gluten-free foods and ingredients, along with gluten-free shopping guides to make gluten-free shopping easier.
Next, be certain to serve only gluten-free stuffing! Accept no substitute. Don't risk putting gluten-based stuffing in your turkey. Instead, astonish and satisfy all of your guests by preparing celiac.com's delicious Best Gluten-free Holiday Stuffing Recipe.
Lastly, prepare a simple, delicious gluten-free gravy using Celiac.com's Thanksgiving Holiday Gluten-Free Turkey Gravy recipe, or your favorite gluten-free gravy mix. Thicken homemade gravy with either corn starch or arrowroot flour.
Be careful:  Many bouillon cubes contain wheat or gluten, so make sure to use only gluten-free bouillon cubes.
Make easy, tasty gluten-free side dishes using Celiac.com's extensive listing of gluten-free recipes.
Order gluten-free baking ingredients and other hard-to-find items like prepared gluten-free pies ahead of time for convenience—this will allow you to spend more time with friends and family rather than spending all of your time in the kitchen!
Many excellent prepared gluten-free products can now be ordered and delivered directly to your door from places like the Gluten-Free Mall, and your purchases there actually directly support Celiac.com.
Gluten-free Thanksgiving Recipes:
Our Great Brined Turkey recipe offers a fabulous way to prepare your gluten-free turkey that will leave your guests quizzing you about your secrets to such a moist, savory bird.
Spiced Pumpkin Soup makes a delightful holiday treat for yourself, your family, or your guests.
Gluten-free Stuffing is a holiday staple that keeps them coming back for more.
Gluten-free Gravy is the perfect topping to your delicious stuffing. If you don't want to prepare your own, be sure to use a gluten-free gravy mix.
Meanwhile, our recipe for Red Pepper Pumpkin Seeds is sure to delight, and makes a great addition to the holiday snack bowl.
In addition to our ever-popular recipe for Gluten-free Pumpkin Pie, we offer this delicious variation:
Ginger Crust Pumpkin Pie:

In anticipation of the next two months worth of feasting, I've been tinkering with this Thanksgiving classic. The crust is perfectly spiced and also goes well with sweet potato pies. A dollop of fresh whipped cream and you're good to go. Coconut flakes also make a tasty topping.
Ingredients:
Crust
1 ½ cups gluten-free gingersnaps
½ cup walnuts
3 tablespoons light brown sugar
¼ teaspoon ground nutmeg
4 tablespoons melted butter
Filling
1 ¼ cup canned pumpkin
½ cup sweetened condensed milk
1 teaspoon each ground ginger, cloves, and cinnamon
½ teaspoon salt
½ cup sugar
¼ teaspoon vanilla extract
2 eggs, lightly beaten
Directions:
Preheat oven to 350 degrees F and lightly butter a 9-inch pie dish.
For the crust, combine cookies, walnuts, brown sugar, and nutmeg in a food processor and grind to a powder. Slowly add melted butter and pulse until mixture forms clumps. Spread evenly over the pie dish press down until tightly packed. Set aside.
In the bowl of a mixer, combine pumpkin and condensed milk. Add sugar and salt and beat until well-combined. Add eggs, then vanilla and spices.
Pour filling into the unbaked pie crust and bake for 40-50 minutes, or until center is set. Cool on a wire rack before serving.