Do You Have Celiac Disease and Have Questions Or Need Help?
Join Celiac.com's forum / message board and get your questions answered! Our forum has nearly 1 MILLION POSTS, and over 62,000 MEMBERS just waiting to help you with any questions about celiac disease and the gluten-free diet. We'll see you there!
Follow / Share
FOLLOW US:
---
SHARE:

Popular Articles
Homemade Granola Bars (Gluten-Free)
Homemade Granola Bars (Gluten-Free)
Published 02/24/2009

Unrated
Jules Shepard
Atop each of Jules Shepard's free weekly recipe newsletters is her mantra: "Perfecting Gluten-Free Baking, Together." From her easy-to-read cookbook ("Nearly Normal Cooking for Gluten Free Eating") to her highly rated reference for making the transition to living gluten free easier ("The First Year: Celiac Disease and Living Gluten Free"), Jules is tireless in the kitchen, at the keyboard and in person in helping people eating gluten free do it with ease, with style and with no compromises.
 
In the kitchen, she creates recipes for beautiful, tasty gluten-free foods that most people could never tell are gluten free. As a writer, she produces a steady stream of baking tips, living advice, encouragement and insights through magazine articles, her web site (gfJules.com), newsletter, e-books and on sites like http://celiac.com and others. Jules also maintains a busy schedule of speaking at celiac and gluten-free gatherings, appearing on TV and radio shows, baking industry conventions, as well as teaching classes on the ease and freedom of baking at home.
 
Her patent-pending all-purpose flour literally has changed lives for families who thought going gluten free meant going without. Thousands read her weekly newsletter, follow her on Twitter and interact with her on FaceBook. Â 
View all articles by Jules Shepard
I'm always looking for quick, healthy snacks and breakfasts that I can eat and run, chasing after two small kids as I do each morning! Granola bars seem like the perfect solution, but are off-limits for the gluten-free set. Most contain forbidden grains, or at least oats which are not certified gluten-free.
I decided to be deprived no longer and invented my own, packed with deliciousness and nutrition in every gluten-free bite! These are great bars for everyone, as they are easily modifiable to fit nearly any diet. In addition to being gluten-free, they are also egg and dairy-free and vegan. I've even offered alternatives below for low-glycemic, oat-free and nut-free diets. Feel free to substitute what you have on hand and to your tastes. Adding more dried fruits will increase the sugars, so if you are watching your sugar intake, simply reduce the fruit content and be sure not to use any dried fruits with added sugars, like cranberries.
I like to make my own dried fruit using a dehydrator on loan from a friend, but you can find many dried fruits (often already chopped – bonus!) in your local organic market or grocery store. Check ingredient labels to be sure there are not any added glutens, as some manufacturers will roll dried fruits in wheat flour to keep them from sticking together.
Enjoy this healthy treat!
Gluten-Free Granola Bars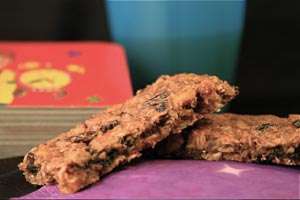 Ingredients:
3 cups gluten-free rolled oats or rice flakes (Shiloh Farms)
1 cup Jules' Nearly Normal All Purpose Flour* or certified gluten-free oat flour
¼ cup flax seeds (pulverized) or flax seed meal
1 tablespoon. cinnamon
½ cup chopped dried apples
½ cup chopped dried bananas
¼ cup chopped dates
3/4 cup raisins, boiled (see directions below)
1 cup chopped walnuts (optional)
½ cup chopped figs
½ cup agave nectar, honey or maple syrup
¼ cup sunflower nut butter or "natural" peanut, almond or cashew butter
1 cup unsweetened applesauce
¾ cup unsweetened apple juice or cider

*My all purpose flour may be made at home according to directions found in my books, Nearly Normal Cooking for Gluten-Free Eating and The First Year: Celiac Disease and Living Gluten-Free, as well as in various media links on my website. It may also be purchased pre-mixed from my website.
Directions:
Preheat oven to 375 F.
Line a jelly roll baking pan with aluminum foil (preferably the "release" kind)
Blend the flax seeds (if using seeds instead of flax seed meal) in a food processor or blender until fine.
In a large mixing bowl, stir together this flax seed meal, the 1 cup Jules' Nearly Normal All Purpose Flour, the 3 cups of oats, cinnamon, and fruits and nuts of your choice (in similar proportions to those listed above). When fully combined, stir in the agave nectar, applesauce, nut butter and juice, mixing with a large wooden spoon until totally incorporated. The mixture should be wet enough to press together for baking.
Pack the mixture into the bottom of the prepared baking pan and press down with the back of a rubber spatula or large wooden spoon. Bake for 30 minutes, or until the edges begin to brown slightly.
Remove from oven and cut into bars before cooled. Once fully cooled, remove from pan by lifting the foil edges out and gently removing all the bars while still on top of the foil.
Makes approximately 21 bars, but they won't last long! My kids even liked these healthy snacks!
Celiac.com welcomes your comments below (registration is NOT required).

Get Email Alerts (More Info)
Article Options