Celiac Disease and Gluten-Free Diet Support
---
---
---
---
Follow / Share
FOLLOW US:
SHARE:

Popular Articles
Maple-Oat Scones (Gluten-Free)
Maple-Oat Scones (Gluten-Free)
Published 04/10/2009
Rating:
I know there has been a lot of talk lately about whether Starbucks will begin adding gluten-free offerings to their now-forbidden gluten-filled glass cases. Time will tell if they do so, if they do it safely (those kinds of cases are a huge source of cross-contamination), and if they do it tastily. But I'm not going to sit idly by and wait for Starbucks to see the light. I invented my own Starbucks-like maple scone, and I dare say it's better than any they may devise!
I made this recipe dairy-free, but you could use dairy yogurt and regular milk instead. I have also provided alternatives for those of you watching your sugar intake, so everyone may partake.
Enjoy!
Gluten-Free Maple-Oat Scones
Ingredients:
1 ¼ cup certified gluten-free rolled oats (You may substitute an equal portion of Jules' Gluten Free All Purpose Flour in lieu of these oats if you avoid oats in your diet)
2 cups Jules' Gluten Free All Purpose Flour* (+ additional to flour the rolling surface)
¼ cup granulated cane sugar (or Splenda)
½ teaspoon baking soda
2 teaspoons gluten-free baking powder
¼ cup Earth Balance Shortening or Buttery Sticks
1 cup vanilla (soy or dairy) yogurt
2 large eggs
2 Tablespoons pure maple syrup (or dark agave nectar)
(*Note - This recipe calls for Jules Gluten Free All Purpose Flour which may be made at home according to directions found in my books, Nearly Normal Cooking for Gluten-Free Eating and The First Year: Celiac Disease and Living Gluten-Free, as well as in various media links on my website.)
Glaze Ingredients (optional):
1 ½ cups confectioner's sugar
2 Tablespoons+ vanilla (soy or dairy) milk
2 Tablespoons pure maple syrup (or dark agave nectar)
Directions:
Preheat the oven to 400 F static or 375 F convection.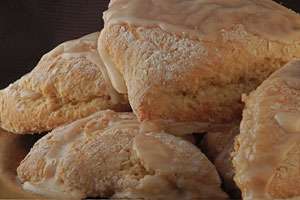 Pour the oats into a blender or food processor and blend into a fine flour. (Or use equal amount Jules Gluten Free All Purpose Flour)
In a large bowl whisk together the dry ingredients: oat flour, Jules Gluten Free All Purpose Flour, sugar, baking soda and baking powder. Cut in the shortening using a pastry cutter, two knives or an electric mixer.
In a small bowl, stir the eggs together with a fork to mix. Pour eggs into the mixed dry ingredients, then add the yogurt and maple syrup. Stir well to combine.
Turn the dough onto a clean counter or pastry mat liberally dusted with my Jules Gluten Free All Purpose Flour. Coat your hands with the flour as well, then scoop the dough in a ball onto the mat.
Pat the dough out into a flat disc, approximately 1 inch thick. Using a butter knife, cut the dough into three sections, then cut each section into smaller triangles. You should wind up with approximately 12 triangle-shaped scones. Make sure there is not too much extra flour on the tops of the scones before baking - brush off lightly, if necessary.
Place each scone onto a parchment-lined cookie sheet and bake in the preheated oven for approximately 10 minutes, or until they spring back when lightly touched. Do not over cook! Remove the entire baking sheet to a cooling rack.
After cooling for at least 5 minutes, stir together the glaze ingredients, adding the milk only one tablespoon at a time until it reaches a pourable, but not thin, glaze consistency. Slowly pour over the tops of each scone. Some of the glaze will pool around the scones onto the parchment paper, so leave the scones on the baking sheet for this glaze step unless you are serving immediately and want the glaze to pool on the serving plates.
Celiac.com welcomes your comments below (registration is NOT required).

Get Email Alerts (More Info)
Article Options
Jules Shepard
Atop each of Jules Shepard's free weekly recipe newsletters is her mantra: "Perfecting Gluten-Free Baking, Together." From her easy-to-read cookbook ("Nearly Normal Cooking for Gluten Free Eating") to her highly rated reference for making the transition to living gluten free easier ("The First Year: Celiac Disease and Living Gluten Free"), Jules is tireless in the kitchen, at the keyboard and in person in helping people eating gluten free do it with ease, with style and with no compromises.
 
In the kitchen, she creates recipes for beautiful, tasty gluten-free foods that most people could never tell are gluten free. As a writer, she produces a steady stream of baking tips, living advice, encouragement and insights through magazine articles, her web site (gfJules.com), newsletter, e-books and on sites like http://celiac.com and others. Jules also maintains a busy schedule of speaking at celiac and gluten-free gatherings, appearing on TV and radio shows, baking industry conventions, as well as teaching classes on the ease and freedom of baking at home.
 
Her patent-pending all-purpose flour literally has changed lives for families who thought going gluten free meant going without. Thousands read her weekly newsletter, follow her on Twitter and interact with her on FaceBook. Â 
View all articles by Jules Shepard
In Celiac.com's Forum Now:
My son is 5 and his symptoms are all behavioral and neurological. If he eats a few pretzels he will develop something called a stereotypy where his fingers become sort of stuck in distorted positions for days. If he eats gluten he also experiences auditory and visual hallucinations, insomnia, los...
Well.... it can be... the plastic lid on the lovely chicken salad you brought for lunch sticks, you pull too hard and it, and half your salad going flying all over the company computer?
@cyclinglady I heard that there were problems with Armour Thyroid when it came to gluten a few years ago. I thought it was no longer safe? @MegamaniacI had forgot to put that in my original post that I have a lot of issues with anxiety as well. I've never actually been officially diagnosed w...
He left a voicemail (which I was really thankful for bc it is SO hard to get ahold of someone) and said the celiac panel came back positive and told me to start a gluten free diet and asked me to call him. He said he was going to set me up with a nutritionist. I will definitely check out the newb...
No I don't know what that is. The school's been understanding but I just can't have her hurting the other kids were attacking the principal so I've decided to keep her home until she starts acting normal again. She has not been officially diagnosed with celiacs we have an appointment soon. Sh...