I know there has been a lot of talk lately about whether Starbucks will begin adding gluten-free offerings to their now-forbidden gluten-filled glass cases. Time will tell if they do so, if they do it safely (those kinds of cases are a huge source of cross-contamination), and if they do it tastily. But I'm not going to sit idly by and wait for Starbucks to see the light. I invented my own Starbucks-like maple scone, and I dare say it's better than any they may devise!
I made this recipe dairy-free, but you could use dairy yogurt and regular milk instead. I have also provided alternatives for those of you watching your sugar intake, so everyone may partake.
Enjoy!
Gluten-Free Maple-Oat Scones
Ingredients:
1 ¼ cup certified gluten-free rolled oats (You may substitute an equal portion of Jules' Gluten Free All Purpose Flour in lieu of these oats if you avoid oats in your diet)
2 cups Jules' Gluten Free All Purpose Flour* (+ additional to flour the rolling surface)
¼ cup granulated cane sugar (or Splenda)
½ teaspoon baking soda
2 teaspoons gluten-free baking powder
¼ cup Earth Balance Shortening or Buttery Sticks
1 cup vanilla (soy or dairy) yogurt
2 large eggs
2 Tablespoons pure maple syrup (or dark agave nectar)
(*Note - This recipe calls for Jules Gluten Free All Purpose Flour which may be made at home according to directions found in my books, Nearly Normal Cooking for Gluten-Free Eating and The First Year: Celiac Disease and Living Gluten-Free, as well as in various media links on my website.)
Glaze Ingredients (optional):
1 ½ cups confectioner's sugar
2 Tablespoons+ vanilla (soy or dairy) milk
2 Tablespoons pure maple syrup (or dark agave nectar)
Directions:
Preheat the oven to 400 F static or 375 F convection.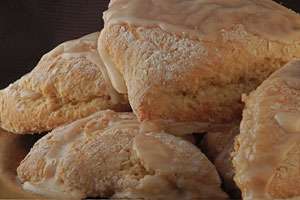 Pour the oats into a blender or food processor and blend into a fine flour. (Or use equal amount Jules Gluten Free All Purpose Flour)
In a large bowl whisk together the dry ingredients: oat flour, Jules Gluten Free All Purpose Flour, sugar, baking soda and baking powder. Cut in the shortening using a pastry cutter, two knives or an electric mixer.
In a small bowl, stir the eggs together with a fork to mix. Pour eggs into the mixed dry ingredients, then add the yogurt and maple syrup. Stir well to combine.
Turn the dough onto a clean counter or pastry mat liberally dusted with my Jules Gluten Free All Purpose Flour. Coat your hands with the flour as well, then scoop the dough in a ball onto the mat.
Pat the dough out into a flat disc, approximately 1 inch thick. Using a butter knife, cut the dough into three sections, then cut each section into smaller triangles. You should wind up with approximately 12 triangle-shaped scones. Make sure there is not too much extra flour on the tops of the scones before baking - brush off lightly, if necessary.
Place each scone onto a parchment-lined cookie sheet and bake in the preheated oven for approximately 10 minutes, or until they spring back when lightly touched. Do not over cook! Remove the entire baking sheet to a cooling rack.
After cooling for at least 5 minutes, stir together the glaze ingredients, adding the milk only one tablespoon at a time until it reaches a pourable, but not thin, glaze consistency. Slowly pour over the tops of each scone. Some of the glaze will pool around the scones onto the parchment paper, so leave the scones on the baking sheet for this glaze step unless you are serving immediately and want the glaze to pool on the serving plates.