Coffee Cake (Gluten-Free and Dairy-Free)
Coffee Cake (Gluten-Free and Dairy-Free)
Published 05/25/2009
Rating:
I am always searching for breakfast recipes good enough to serve to overnight guests and easy enough to make just for my family in a morning rush. This breakfast cake fits the bill, and also pleases my picky (especially in the morning!) kids.
I have used some mesquite flour in this recipe because I love the subtle chocolate tones it imparts, and its added nutritional value doesn't hurt either! However, if you are not a morning person, and are looking for simplicity, just use a full portion of my all purpose flour mixture -- it's delicious that way as well!
Gluten-Free Coffee Cake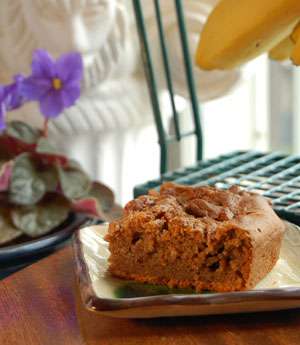 Gluten-Free Coffee Cake Ingredients:
1/2 cup butter or Earth Balance Buttery Sticks (room temperature)
1/2 cup packed light brown sugar
2 large eggs
1/2 cup black coffee
1 cup mashed ripe bananas (approximately 2 bananas)
2 tsp. gluten-free vanilla extract
2 tsp. pumpkin pie spice
2 cups Jules Gluten Free All Purpose Flour*
1/4 cup mesquite flour (or Jules Gluten Free All Purpose Flour)
2 tsp. gluten-free baking powder
1/4 tsp. baking soda
*(Jules Gluten Free All Purpose Flour can be made following the recipe for my homemade flour found in my books or on my website in various media links. It is also available pre-mixed at http://julesglutenfree.com)
Streusel Topping (double if you really like your Streusel!):
2 Tbs. softened butter or Earth Balance Buttery Sticks
2 Tbs. light brown sugar
1/2 tsp cinnamon
Directions:
Preheat oven to 350 F (static) or 325 F (convection). Oil or spray an 8 x 8 baking pan.
Sift the dry ingredients together and set aside. Mash bananas in a medium-sized bowl, pour coffee over the bananas and set aside. Beat the butter and sugar together in a large bowl until light and fluffy. Add the eggs and vanilla and combine well. Mix in the mashed bananas and coffee, then gradually stir in the dry ingredients, mixing until thoroughly combined.
Pour batter into the prepared pan and set aside.
In a small bowl, stir together the topping ingredients. Drizzle over the cake, then cut through the topping with a knife in a criss-cross fashion lengthwise, then cross-ways.
Bake for approximately 40-45 minutes, or until the edges are lightly crisp and a cake tester inserted in the middle comes out clean.

Celiac.com welcomes your comments below (registration is NOT required).

Get Email Alerts (More Info)
Article Options
Jules Shepard
Atop each of Jules Shepard's free weekly recipe newsletters is her mantra: "Perfecting Gluten-Free Baking, Together." From her easy-to-read cookbook ("Nearly Normal Cooking for Gluten Free Eating") to her highly rated reference for making the transition to living gluten free easier ("The First Year: Celiac Disease and Living Gluten Free"), Jules is tireless in the kitchen, at the keyboard and in person in helping people eating gluten free do it with ease, with style and with no compromises.
 
In the kitchen, she creates recipes for beautiful, tasty gluten-free foods that most people could never tell are gluten free. As a writer, she produces a steady stream of baking tips, living advice, encouragement and insights through magazine articles, her web site (gfJules.com), newsletter, e-books and on sites like http://celiac.com and others. Jules also maintains a busy schedule of speaking at celiac and gluten-free gatherings, appearing on TV and radio shows, baking industry conventions, as well as teaching classes on the ease and freedom of baking at home.
 
Her patent-pending all-purpose flour literally has changed lives for families who thought going gluten free meant going without. Thousands read her weekly newsletter, follow her on Twitter and interact with her on FaceBook. Â 
View all articles by Jules Shepard
In Celiac.com's Forum Now:
Turkey, vacuum pack it, you can use it later for soups, stews, sandwiches, omelettes etc. Will keep for months in the freezer Dressing, You can use it in various ways my fun thing to do with it is moisten it back up a bit and load it into a waffle maker these can then be frozen or eaten when...
Appreciate the thorough responses. The stomach issues have been dreadful the past few weeks and brought hurrendous awakenings.the worst I have slept in a long time. I have had a few gluten foods in all honest. Maybe a mcdonalds twice in 2 months. Which isnt ideal. But I dont seem to ...
I get vomiting with large amounts of gluten, and motion control loss, followed by either Diarrhea or constipation for a week was back in June 2016 when I decided to eat at a new place, I was on my floor unable to move vomiting so hard there was blood in it. NOW trace amounts I have gotten sense...
Hi everyone, Once again I am here looking for your help. I was diagnosed with Celiac less than a year ago. It took quite a while to find out because I didn't experience any particular symptoms after eating gluten. I was always tired, had memory problems and was frequently ill; sometime...
With a positive EMA and a positive tTg, that is a slam dunk for Celiac Disease. If you read about testing results, the odds are 99% that you have it. You also had very high numbers on your testing so that adds to the diagnosis. At this point, the biopsy, if you have it done, is to check for the...