Celiac Disease and Gluten-Free Diet Support
---
---
---
---
Follow / Share
FOLLOW US:
SHARE:

Popular Articles
Quinoa the Amazing Gluten-Free Grain
Quinoa the Amazing Gluten-Free Grain
Celiac.com 05/29/2009 - Quinoa is making a comeback as a "wonder grain." Before going gluten free, most people have never heard of quinoa. But, once you embrace the gluten-free lifestyle, you should learn more about this amazing grain.
Quinoa is an ancient grain that has been grown in South America for thousands of years and was called the "gold of the Incas." The grain resembles millet and has a bitter protective saponin coating that protects the grain from being eaten by birds and insects.
Today, many companies that sell quinoa in the United States remove the bitter saponins. This allows you to prepare the quinoa without having to rinse it first.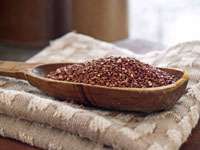 Quinoa is gluten-free, high in fiber and a complete protein, meaning it has all nine amino acids. Quinoa also contains high amounts of lysine, manganese, magnesium, iron, copper and phosphorus. Due to quinoa being a complete protein, it is an excellent food choice for the gluten-free vegan.
To prepare the quinoa for cooking, either purchase pre-rinsed quinoa or rinse the quinoa in a strainer until the saponins are removed. To cook the quinoa, add one part of the grain to two parts liquid in a saucepan. After the mixture is brought to a boil, reduce the heat to simmer and cover. One cup of quinoa cooked in this method usually takes 15 minutes to prepare. When cooking is complete, you will notice that the grains have become translucent, and the white germ has partially detached itself, appearing like a white-spiraled tail.
Serve quinoa as a replacement for rice or couscous. Quinoa is delicious served cold or warm and can be frozen and reheated. It is recommended to prepare the entire box of quinoa and freeze the unused portions for later use.
Tuscan Quinoa Salad Recipe
Ingredients
2 cups cooked quinoa
¼ cup scallions, chopped
2 cloves garlic,minced
1 box cherry tomatoes, sliced in half
½ cup pine nuts, toasted
½ cup fresh parsley, chopped
½ cup fresh basil, chopped
3 T olive oil
juice from half of a lemon
kosher salt and pepper to taste
To Prepare
Prepare quinoa according to recipe on package. Add remaining ingredients to quinoa. Season with salt and pepper to your liking. You may replace oil and lemon juice with Italian dressing.
Sources for info on quinoa:
Quinoa Corporation
Eden Organics
Homegrown Harvest
Celiac.com welcomes your comments below (registration is NOT required).

Get Email Alerts (More Info)
Article Options
Jen Cafferty
As the Founder of the Gluten Free Cooking Expo, Jen Cafferty works daily with people dealing with gluten intolerances. Jen is gluten-free and her two children and husband are also gluten-free. Providing classes and consulting to gluten-free clients in the Chicago area, Jen is an excellent resource for your gluten-free questions and concerns.

For More Information: Visit the Gluten Free Cooking Expo's Blog for more quick and easy quinoa recipes. For more Thanksgiving recipes go to www.gfreelife.com and download the Gluten-Free Dairy-Free Thanksgiving E-Cookbook.
View all articles by Jen Cafferty
In Celiac.com's Forum Now:
The migraines are probably from you inhaling and ingesting gluten without realizing it. Hairspray and powders are no different from wheat flour. The particles are in the air for quite some time (hours) so you can inhale it and get sick. Everything in that salon down to its pens, tool...
Absolutely! I have a history of weight loss, headache, fatigue, bone breaks, various GI issues, dizziness, sores in mouth, hair loss. I went gluten free for my daughter, who was biopsy and blood work negative (so NCGS) and belatedly realized I had all of these problems resolve on the gluten-free...
While I do see the button on my cellphone I still do not see the button on my tablet pc (it's a laptop in vertical ). I also do not see the posters names/pics. Screen resolution is 1440 x 2160 if that helps.
Had digestive issues, severe reflux, dysphagia, and bloating on and off for two years. Went to GI, got endoscopy and blood test which confirmed celiac. Been gluten free for about 3 weeks now; feel great although my body is still adjusting. Additionally I was diagnosed with Eosinophilic Esop...
Oops, took 30 minutes this time.