Chicken Cordon Bleu (Gluten-Free)
Chicken Cordon Bleu (Gluten-Free)
Buy a whole chicken breast (complete with both sides still attached) or carve out the chicken breast for a whole chicken.
Take the whole breast, both sides and they should be attached together, and place it on some plastic wrap. You should have an area where you can pound. Place another piece of plastic wrap on top of the chicken. Now with the small part of a meat hammer pound it down until it is about ½ to ¼ inch all around.
Take the top piece of the plastic off of the chicken and you need to add your ham and Swiss cheese to one end of the chicken.
I would shoot for about 3 - 4 inches in the center and about 1 inch high and 2 inches wide. If you have a bigger breast you will be able to make it bigger. You have to make sure you can close the meat and cheese up with chicken so it will not leak out during cooking.
Roll the end pieces over the ham and cheese first and tuck it in well. Roll it up the rest of the way and try to make sure it is tucked in well. Try to keep the chicken as tight as you can when you do roll it up.
Place your chicken on a pan and place it in the Freezer to freeze up the chicken and make it easier to handle in the next step.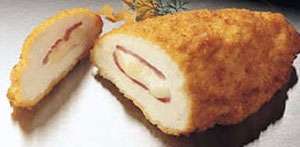 You will need 3 bowls.

Seasoned all purpose gluten-free flour.
Eggs (enough to cover and coat the chicken).
You're special gluten-free breading (from below) or your own seasoned gluten-free bread crumbs.

Gluten-Free Breading:
Your breading is corn meal, crunched up potato chips (I roll a can over the potato chips while they are in a plastic bag) flour mix, seasoning.
Pre heat your frying oil to 350 deg F. has to be enough oil to be able to cover your product.
Now that your chicken is close to solid frozen you pull it out and dip it in the:

Flour mix bowl coating it evenly and then shaking off the extra.
Put in the eggs and turning it until it is fully coated. Let the extra run off.
Putting it in you breading mix. Coat every where, very well so no cheese melts out when it does go in the fryer.
You get them all coated then place it in the oil until it is cooked light brown, probably only doing one at a time to be safe. I cook in a basket but you also can use tongs to pull the meat out.
Place the chicken in a pan and cook in your pre heated oven 350F until the center is 165 F.

Pull them out and serve with rice and a vegetable. I like to make a natural butter wine sauce to spread on top.
Celiac.com welcomes your comments below (registration is NOT required).

Get Email Alerts (More Info)
Article Options
Daniel Moran
I am a Ex chef of the rich and famous. A celiac for 7 years now. WHAT I AM DOING NOW: *Going to restaurants and business and teaching their staff, prepare and serve gluten free meals. courses at a local college. *Making all my own celiac food from scratch. *Helping others to work out there problems involving food. **GOAL:To teach my knowledge to every one who needs it so they can go on a trip or out to a restaurant and not fear the GLUTEN FOOD MONSTER! Visit my site: http://chefdanielp.com
View all articles by Daniel Moran
In Celiac.com's Forum Now:
The casein in milk is very similar to the gluten protein, and over time the ammune system can react to the casein as though it was gluten. This happens over time, and though you may have been able to consume dairy previously, you may have to avoid it now. Not good to suffer the consequences, it ...
Hi everyone! I am new to this forum (in the testing stages) and was wanting to get a second opinion on my blood panel results. My alkaline phosphatase levels were flagged as low, mine are at 30 with the normal range being 34-130. Has anyone else experienced this problem before being diagnosed as ...
The current gluten-free trend, the one Russ was hesitant of being associated with, has been a double-edged sword for those with celiac disease, according to Talia Machlouf, the director of advocacy and research for the Celiac Disease Foundation. On one hand, it was not long ago when gluten-free ....
Sticking to a gluten-free diet is very important, but it can also be a challenge. Enter the MyHealthyGut app, which monitors gastrointestinal symptoms like the ones associated with Celiac Disease. The app allows you to track symptoms side-by-side with a food diary. This helps sufferers determine ...
The overall prevalence of NCGS in the general population is still unknown, mainly because many people self-diagnose and begin a gluten-free diet without medical ... However, in order to confirm a person may have a sensitivity to gluten, doctors must first rule out wheat allergy and celiac disease...