Potato Gnocchi (Gluten-Free with Dairy-Free option)
Potato Gnocchi (Gluten-Free with Dairy-Free option)
Published 07/1/2009
Rating:
Ingredients:
Gnocchi Ingredients:
1 lb. Russet potatoes (2-3 medium-sized), unpeeled and washed
1 cup Jules Gluten Free All Purpose Flour*
1 tsp. sea salt
1 Tbs. Extra virgin olive oil
1 large egg, beaten
*(My all purpose flour already contains all the ingredients you need for flour in this recipe, including xanthan gum. You can make my flour yourself by following the recipe in my cookbook, Nearly Normal Cooking for Gluten-Free Eating, or found in various publications like the Washington Post, linked from my Web site. You can also buy the flour pre-made from my Web site.. If you use another flour, be sure it includes xanthan gum and is not a rice-based flour, or the results will be crumbly and gritty).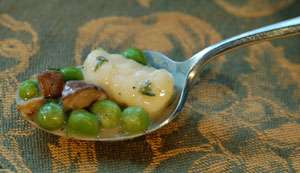 Sauce Ingredients:
10 oz. fresh mushrooms, chopped
1 ¼ cup peas
2 cups cream or soy creamer
2 Tbs. Extra virgin olive oil
1 Tbs. chopped fresh thyme
1 Tbs. chopped fresh chives
sea salt and fresh ground pepper, to taste
Directions:
To make the gnocchi, boil or microwave the washed potatoes (if microwaving, pierce potatoes with a fork in several places) until tender – approximately 20 minutes for boiling, 8 minutes for microwaving, depending on the power of your microwave. Set aside to cool until you can hold them to peel.
Once cooled, place peeled potatoes in a large bowl and mash with a potato masher until there are no remaining lumps. Shake ¼ cup flour over top of the potatoes, along with the salt. Squish together with your hands until incorporated with the potatoes. Repeat by the ¼ cup full, incorporating until the full cup is added.
Form the potato mixture into a mound and make a well in the center. Pour the oil and beaten egg into the well and knead together until fully incorporated into the potato/flour mixture. It should no longer be wet, but will hold together if you squeeze a handful together. If it is too wet, add more flour by the tablespoon; if it is too dry, add a touch of milk (dairy or non-dairy).
Flour a clean surface or baking mat with Jules Gluten Free All Purpose Flour. Pat the potato mixture out to approximately ½ inch thickness and cut into strips approximately ½ inch wide. Cut each strip into ½ inch pieces. Take each piece and round the edges with the tines of a fork, to form tubular pieces like miniature barrels. Place each piece of formed gnocchi onto a parchment-lined baking sheet and when finished forming the pasta pieces, cover with a cloth and refrigerate until ready to boil.
Bring a 6 quart pot of water to boil in preparation for the gnocchi. In a separate saucepan, heat the oil for the sauce over medium heat. Add the chopped mushrooms and sautée until lightly browned. Add the peas, cream and thyme. Raise the temperature to medium-high and cook while stirring until the cream reduces by half. Season the sauce with salt and pepper, then remove from the heat.
Meanwhile, place the gnocchi individually into the boiling water, boiling only enough to cover the bottom of the pot. The gnocchi are done when the float to the surface. Remove with a slotted spoon and serve with the sauce. Garnish with chives.

Serves 4.
Celiac.com welcomes your comments below (registration is NOT required).

Get Email Alerts (More Info)
Article Options
Jules Shepard
Atop each of Jules Shepard's free weekly recipe newsletters is her mantra: "Perfecting Gluten-Free Baking, Together." From her easy-to-read cookbook ("Nearly Normal Cooking for Gluten Free Eating") to her highly rated reference for making the transition to living gluten free easier ("The First Year: Celiac Disease and Living Gluten Free"), Jules is tireless in the kitchen, at the keyboard and in person in helping people eating gluten free do it with ease, with style and with no compromises.
 
In the kitchen, she creates recipes for beautiful, tasty gluten-free foods that most people could never tell are gluten free. As a writer, she produces a steady stream of baking tips, living advice, encouragement and insights through magazine articles, her web site (gfJules.com), newsletter, e-books and on sites like http://celiac.com and others. Jules also maintains a busy schedule of speaking at celiac and gluten-free gatherings, appearing on TV and radio shows, baking industry conventions, as well as teaching classes on the ease and freedom of baking at home.
 
Her patent-pending all-purpose flour literally has changed lives for families who thought going gluten free meant going without. Thousands read her weekly newsletter, follow her on Twitter and interact with her on FaceBook. Â 
View all articles by Jules Shepard
In Celiac.com's Forum Now:
Celiac Disease is damage to the nooks and crannies in our intestines leading to malnutrition, vitamin deficiencies with all the various symptoms that make it so hard to diagnose. Then you add years of the antacids, antibiotics, Tylenol, opioids, alcohol, etc., each with their own particular side ...
We use pure cherry juice with our snow cone machine. Makes for a nice dessert after dinner.
Hi Kurasz, How's it going? Any change for the amazingly better? Or slightly better? If not, hang in there, and keep praying! :)
Garden of Life brand Dr. Formulated Organic Fiber. It's certified gluten free. Also free of psyllium husk, dairy and soy. Also found that just simply increasing fiber intake works wonders. Perhaps try skipping a protein for at least one meal and fill up on veggies and fruits.
When you're looking for answers the negative endoscopy may seem like bad news in a funny way, it did for me when the doctor told me, but really as CL said it's good. Keep working with your doctors. From what you've said before gluten could still be the problem. Now you've eliminated celia...