Zeer.com to Create Your Gluten-Free Shopping List
Zeer.com to Create Your Gluten-Free Shopping List
I just discovered a whole new world in gluten free grocery shopping! Zeer.com (www.zeer.com) is an easy-to-use Web site that offers a service, called Zeer Select, to those on a gluten-free diet. Zeer Select is a database of over 30,000 mainstream products, each with its own gluten-free safety status. I'm talking about easy-to-find items that you can locate in a "regular" grocery store. I was able to simply search for the gluten-free status of a product by category, product name, or UPC code. If I searched for products which turned out not to be gluten-free it would recommend a similar product that was gluten-free.
One of my favorite features of Zeer.com was how each product was assigned a gluten-free safety status and symbol. The safety levels are based on the ingredients as well as the manufacturers' statements. Not only are the products assigned their own gluten-free safety status, but the questionable or "not safe" ingredients are highlighted with links that further explain why particular ingredients are not considered gluten-free.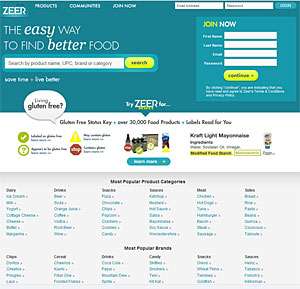 Each item also included detailed product information, including its ingredients and nutritional facts (and not just its gluten-free status). This is another great feature for those who are watching things like their sodium or carbohydrate intake, or those who might be looking for food items with extra fiber.
On top of all this, Zeer.com includes the manufacturer contact information in case you have any questions or concerns and need to speak directly to the company about the product. They are also continuously updating their site by adding or updating around 500 new products each week, and I appreciated that they list the date on which each product was last updated¬, knowing this really built up my confidence in this web site.
Whether you are new to a gluten-free diet or feel like your options are limited, I would highly recommend Zeer.com to help you prepare your next gluten-free shopping list!

Celiac.com welcomes your comments below (registration is NOT required).

Get Email Alerts (More Info)
Article Options
Scott Adams
In 1994 I was diagnosed with celiac disease, which led me to create Celiac.com in 1995. I created this site for a single purpose: To help as many people as possible with celiac disease get diagnosed so they can begin to live happy, healthy gluten-free lives. Celiac.com was the first site on the Internet dedicated solely to celiac disease. In 1998 I founded The Gluten-Free Mall, Your Special Diet Superstore!, and I am the co-author of the book Cereal Killers, and founder and publisher of Journal of Gluten Sensitivity.
View all articles by Scott Adams
In Celiac.com's Forum Now:
This disease is like a chameleon and seems to change symptoms on people and everyone is a bit different, heck some have no symptoms til it almost kills them with secondary issues like cancer, lymphoma, rupturing the intestines etc. I did not have ht classic D but constipation, I also had a bunc...
I just quoted a little part but really much of your experiences could be mine. I won't bore you with it all, but chest pains came from 19, herniated disk came at 21, followed by 20 years of sciatic back pain. Depression at or about the same time. Brain fog little later. There was lots more, prima...
Morning guys. So long story short. Lost 10 kg back late last year. Stress related I believe. ( I Understand this is a big factor with celiacs) Tested. Found anti bodies in my blood. Doctor states potential Celiacs. Have endoscopy. Doctor who takes procedure doubts I have it. ...
Getting a celiac disease diagnosis is shocking. Expect to go through all the stages of grief. Your best defense is to learn how to read labels, avoid cross contamination and consider eating as few processed foods for a few weeks. It may speed healing (wish someone would have advised me to do s...
That is very helpful. Thank you so much.