Berry Crisp (Gluten-Free)
Published 09/9/2009
Rating:
A light, fruit-focused recipe that tastes great with whatever fresh fruit you have on hand! Video demonstration link included!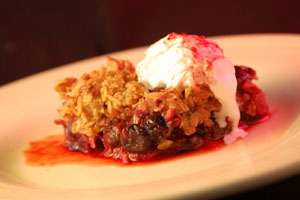 Ingredients:
½ cup Jules Gluten Free All Purpose Flour*
1 ½ cup gluten-free oats
½ cup brown sugar
½ cup (8 Tbs.) cold butter or Earth Balance Buttery Sticks
1 ½ tsp. cinnamon
4 cups rinsed, chopped fruit
¼ - ½ granulated cane sugar
½ tsp. almond extract (if using peaches)
Directions:
Preheat oven to 375F (static) or 350F (convection).
In a large bowl, add ¼ - ½ cup granulated cane sugar to the fruit, to taste, and pour into an 8 x 8 inch baking pan. Set aside to allow the sugar to encourage syrup to form.
In another bowl, combine the Jules Gluten Free All Purpose Flour with the gluten-free oats, brown sugar and cinnamon. Cut in the butter or Buttery Sticks with a fork or pastry cutter the mixture becomes a rough crumble. Crumble the mixture over the fruit in the baking pan. Bake in the preheated oven for 30 minutes, or until the topping is light brown and crispy. Serve warm with ice cream or whipped cream – there are soy and coconut versions available now that are great options for non-dairy toppings.



Celiac.com welcomes your comments below (registration is NOT required).

Get Email Alerts (More Info)
Article Options
Jules Shepard
Atop each of Jules Shepard's free weekly recipe newsletters is her mantra: "Perfecting Gluten-Free Baking, Together." From her easy-to-read cookbook ("Nearly Normal Cooking for Gluten Free Eating") to her highly rated reference for making the transition to living gluten free easier ("The First Year: Celiac Disease and Living Gluten Free"), Jules is tireless in the kitchen, at the keyboard and in person in helping people eating gluten free do it with ease, with style and with no compromises.
 
In the kitchen, she creates recipes for beautiful, tasty gluten-free foods that most people could never tell are gluten free. As a writer, she produces a steady stream of baking tips, living advice, encouragement and insights through magazine articles, her web site (gfJules.com), newsletter, e-books and on sites like http://celiac.com and others. Jules also maintains a busy schedule of speaking at celiac and gluten-free gatherings, appearing on TV and radio shows, baking industry conventions, as well as teaching classes on the ease and freedom of baking at home.
 
Her patent-pending all-purpose flour literally has changed lives for families who thought going gluten free meant going without. Thousands read her weekly newsletter, follow her on Twitter and interact with her on FaceBook. Â 
View all articles by Jules Shepard
In Celiac.com's Forum Now:
Ennis_Tx, I am just now seeing your blog post. Look into Vitamin K and Boron both are important for Calcium levels. Vitamin D gets all the press but bone density has shown to improve with Vitamin K levels. Here is a quick google search about born from the Livestrong site. ...
Yes I'd love that! How do I send you my email address so the whole world Doesn't have it. Not that it really matters no one knows me lol.
i luv tea and coffee!! if we lived close together the 3 of us would make great friends
hi yes yes n yes! its kinda silly but like u said there?s nothing to focus on! are u on east coast?? im always looking for new friends! but anyway its like im in a funk! i had a heart procedure in may then i was diagnosed w celiacs along w my father! so my fam is supportive as well as my physical...
This year I have to go easy. So I'm cooking a turkey thigh (assuming they sell those at the store), zucchini cooked with olive oil and salt, and homemade gravy. Etalia artisan style bread (boule), and pumpkin pie. Will space these things throughout the day as I can only eat small amounts at a tim...