Berry Crisp (Gluten-Free)
Published 09/9/2009
Rating:
A light, fruit-focused recipe that tastes great with whatever fresh fruit you have on hand! Video demonstration link included!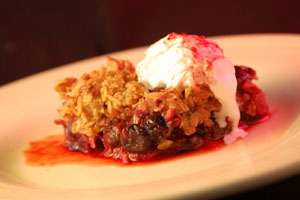 Ingredients:
½ cup Jules Gluten Free All Purpose Flour*
1 ½ cup gluten-free oats
½ cup brown sugar
½ cup (8 Tbs.) cold butter or Earth Balance Buttery Sticks
1 ½ tsp. cinnamon
4 cups rinsed, chopped fruit
¼ - ½ granulated cane sugar
½ tsp. almond extract (if using peaches)
Directions:
Preheat oven to 375F (static) or 350F (convection).
In a large bowl, add ¼ - ½ cup granulated cane sugar to the fruit, to taste, and pour into an 8 x 8 inch baking pan. Set aside to allow the sugar to encourage syrup to form.
In another bowl, combine the Jules Gluten Free All Purpose Flour with the gluten-free oats, brown sugar and cinnamon. Cut in the butter or Buttery Sticks with a fork or pastry cutter the mixture becomes a rough crumble. Crumble the mixture over the fruit in the baking pan. Bake in the preheated oven for 30 minutes, or until the topping is light brown and crispy. Serve warm with ice cream or whipped cream – there are soy and coconut versions available now that are great options for non-dairy toppings.



Celiac.com welcomes your comments below (registration is NOT required).

Get Email Alerts (More Info)
Article Options
Jules Shepard
Atop each of Jules Shepard's free weekly recipe newsletters is her mantra: "Perfecting Gluten-Free Baking, Together." From her easy-to-read cookbook ("Nearly Normal Cooking for Gluten Free Eating") to her highly rated reference for making the transition to living gluten free easier ("The First Year: Celiac Disease and Living Gluten Free"), Jules is tireless in the kitchen, at the keyboard and in person in helping people eating gluten free do it with ease, with style and with no compromises.
 
In the kitchen, she creates recipes for beautiful, tasty gluten-free foods that most people could never tell are gluten free. As a writer, she produces a steady stream of baking tips, living advice, encouragement and insights through magazine articles, her web site (gfJules.com), newsletter, e-books and on sites like http://celiac.com and others. Jules also maintains a busy schedule of speaking at celiac and gluten-free gatherings, appearing on TV and radio shows, baking industry conventions, as well as teaching classes on the ease and freedom of baking at home.
 
Her patent-pending all-purpose flour literally has changed lives for families who thought going gluten free meant going without. Thousands read her weekly newsletter, follow her on Twitter and interact with her on FaceBook. Â 
View all articles by Jules Shepard
In Celiac.com's Forum Now:
Diagnosed at 57
Lex_, Again I am afraid Ennis_Tx is right here. Ennis_tx eats right and is eating all the right things and still has to take/supplement with Magnesium. The magnesium is a clue? We need magnesium to make energy. I like to say as chlorophyll is to photosynthesis for the pl...
Lots of people are diagnosed after 50 according to this https://www.ncbi.nlm.nih.gov/pmc/articles/PMC3227015/
Smaller meals throughout the day should help. I had the same problem but if it keeps up you may need to see the doctor again and get surgery. Anti-acids may help out too. It's been about 10 years since I had mine. Good luck.
Nobody posted anything on my profile that I'm aware of but it wouldn't let me get into it. My email got hacked though right around the same time so I just figured it was connected. I'm not exactly Y2K ready. This is the first computer I ever bought and I still have a flip phone. Maybe it's not co...