Quinoa with Cranberries and Toasted Pecans (Gluten-Free)
Quinoa with Cranberries and Toasted Pecans (Gluten-Free)
Quinoa is the perfect gluten-free grain. Full of protein and fiber, this delicious ancient grain serves as the ideal base for Thanksgiving stuffings and salads. Here is a recipe that was modified from the "More Than Gourmet" website.
Ingredients
2 Tablespoons vegetable oil
1 medium onion, finely chopped
1 large rib celery, finely chopped
1½ cups uncooked quinoa, rinsed
1½ oz. Glace de Volaille Gold + 2 cups hot water (or two cups chicken or turkey stock)
½ cup orange juice
½ cup dried cranberries
½ cup chopped pecans, toasted
Grated zest of 1 orange
3 Tablespoons finely chopped flat-leaf parsley
salt and freshly ground black pepper to taste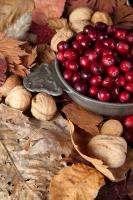 Preparation
Heat the butter or oil in a medium casserole. Stir in the onion and celery and cook over medium heat until the onion is translucent and golden. Stir in the quinoa, pour in the diluted Glace de Volaille Gold and orange juice, bring to a boil, then turn the heat to low. Stir in the cranberries, cover and cook until all the liquid has evaporated, 12-15 minutes. Remove the cover and fluff with a fork. Stir in the pecans, orange zest, parsley, salt and pepper. Serve at once or keep warm over low heat, stirring occasionally.

Celiac.com welcomes your comments below (registration is NOT required).

Get Email Alerts (More Info)
Article Options
Jen Cafferty
As the Founder of the Gluten Free Cooking Expo, Jen Cafferty works daily with people dealing with gluten intolerances. Jen is gluten-free and her two children and husband are also gluten-free. Providing classes and consulting to gluten-free clients in the Chicago area, Jen is an excellent resource for your gluten-free questions and concerns.

For More Information: Visit the Gluten Free Cooking Expo's Blog for more quick and easy quinoa recipes. For more Thanksgiving recipes go to www.gfreelife.com and download the Gluten-Free Dairy-Free Thanksgiving E-Cookbook.
View all articles by Jen Cafferty
In Celiac.com's Forum Now:
Celiac Disease is damage to the nooks and crannies in our intestines leading to malnutrition, vitamin deficiencies with all the various symptoms that make it so hard to diagnose. Then you add years of the antacids, antibiotics, Tylenol, opioids, alcohol, etc., each with their own particular side ...
We use pure cherry juice with our snow cone machine. Makes for a nice dessert after dinner.
Hi Kurasz, How's it going? Any change for the amazingly better? Or slightly better? If not, hang in there, and keep praying! :)
Garden of Life brand Dr. Formulated Organic Fiber. It's certified gluten free. Also free of psyllium husk, dairy and soy. Also found that just simply increasing fiber intake works wonders. Perhaps try skipping a protein for at least one meal and fill up on veggies and fruits.
When you're looking for answers the negative endoscopy may seem like bad news in a funny way, it did for me when the doctor told me, but really as CL said it's good. Keep working with your doctors. From what you've said before gluten could still be the problem. Now you've eliminated celia...