Potato Latkes (Gluten-Free)
Potato Latkes (Gluten-Free)
Published 12/21/2009
Rating:
Food and this time of year just get along. As I ready myself for the cookie making extravaganza that will be Christmas, I still yearn for comfort foods equally associated with the month of December. These cold winter nights are just made for customary cuisine like latkes (potato pancakes to the uninitiated).
Ever a favorite Hanukkah food, latkes can be made of many different ingredients. Originally, they were actually made with cheese. Religious lore has it that Judith fed cheese to the leader of the Jewish enemies. The cheese made him thirsty, and to quench his thirst, he drank excessive amounts of wine. After he was drunk, Judith cut off his head ... not very appetizing, but it apparently did the trick in the day.
Today, latkes are often made with potatoes – golden or sweet – and are fried in oil to remind Hanukkah celebrants of the miracle of the single pitcher of oil that should have lasted only one day, but instead lasted eight days. In that time, new oil was prepared to supply oil for the menorah which was to have burned throughout the night each night. This festival of the miracle of oil, or light, is what we now know as Hanukkah, and celebrates the re-dedication of the Temple after the revolt against the Greeks.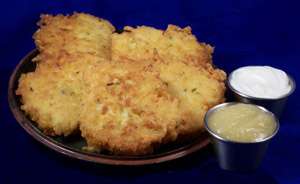 Traditional Golden Potato Latkes
Ingredients:
2 cups grated gold or white potatoes (approximately 1 ½ lbs.)
1 small onion, grated
3 eggs, beaten
2 Tbs. Jules Gluten Free All Purpose Flour
1 tsp. sea salt
Pepper, to taste
1 tsp. dried parsley flakes or 1 ½ tsp. fresh parsley
1/8 cup grated Parmesan cheese (optional)
Vegetable oil for frying
Applesauce or sour cream as a condiment
Directions:
Combine the grated potatoes and onion in a colander to allow the liquid to drain off into a bowl. As the liquid settles, the potato starch will sink to the bottom of the bowl. Pour some of the liquid off and set aside to add to the latkes if you need additional liquid.
Stir in the beaten egg with a fork, combining in a large bowl with the potatoes and onion.
In a separate bowl, whisk together the dry ingredients, including the parsley, and slowly add into the potato mixture, stirring with a fork until combined. If the mixture is too dry, slowly add in small amounts of the potato starch liquid. The final mixture should hold together in a pancake shape when scooped into the hot oil.
Heat about 1 inch of oil in an electric or deep skillet. Bring the oil to between 375 – 400 F. Drop the potato mixture into the hot oil by large tablespoon measures, flattening the pancake with the back of a spoon when in the oil. Fry each side until golden brown, flipping with a slotted spatula.
Drain the latkes on a plate lined with paper towels. Serve warm with applesauce or sour cream, if desired. The latkes can keep in a warm oven, or you may freeze them once cooked, drained and cooled. To reheat, bake at 425 convection or 450 static for 15 minutes, turning repeatedly until crispy and hot.
Celiac.com welcomes your comments below (registration is NOT required).

Get Email Alerts (More Info)
Article Options
Jules Shepard
Atop each of Jules Shepard's free weekly recipe newsletters is her mantra: "Perfecting Gluten-Free Baking, Together." From her easy-to-read cookbook ("Nearly Normal Cooking for Gluten Free Eating") to her highly rated reference for making the transition to living gluten free easier ("The First Year: Celiac Disease and Living Gluten Free"), Jules is tireless in the kitchen, at the keyboard and in person in helping people eating gluten free do it with ease, with style and with no compromises.
 
In the kitchen, she creates recipes for beautiful, tasty gluten-free foods that most people could never tell are gluten free. As a writer, she produces a steady stream of baking tips, living advice, encouragement and insights through magazine articles, her web site (gfJules.com), newsletter, e-books and on sites like http://celiac.com and others. Jules also maintains a busy schedule of speaking at celiac and gluten-free gatherings, appearing on TV and radio shows, baking industry conventions, as well as teaching classes on the ease and freedom of baking at home.
 
Her patent-pending all-purpose flour literally has changed lives for families who thought going gluten free meant going without. Thousands read her weekly newsletter, follow her on Twitter and interact with her on FaceBook. Â 
View all articles by Jules Shepard
In Celiac.com's Forum Now:
In Austin, Wildwood Bakehouse and Wilder Wood Restaurant are totally gluten free. I had the chicken fried steak and gravy and onion rings!!! Awesome!!!
Hi there I have this exact same thing.. however I don?t have celiac that I know of.. I found this when google searching for what the heck is wrong with my face. I was wondering if you ever found out.. or if it just went away. Thanks
I have read the newbie 101 and have been careful about reading labels. I'm the only one that's gluten free in my household, so they could be contaminating me. I was eating gluten for 6 weeks after my blood test because it took that long to get an official diagnosis and my GP told me to still be e...
Hi and Welcome to the Forum. I am glad that you are here! As with a lot of things in life, try not to compare yourself to other people. You are trying to be the best version of yourself - not Jill, Annie, or Maya. People make a lot of foolish decisions in the world and it does not mean tha...
If Small was going to get rid of anything in a takeaway meal, it would be the bread with all its dreaded gluten. However, many scientists and nutritionists argue gluten is not a problem for people who do not have celiac disease or who are not "gluten-sensitive". Massey University senior lecturer ...