King Cake (Gluten-Free)
Published 01/15/2010
Rating:
Celiac.com 01/15/2010 - King Cakes are used to select Mardi Gras Kings and Queens as well as to celebrate the season in households and at parties across the country. King Cakes have many looks, the most classic being a crown shaped pastry dotted with the sugared colors of Carnival: purple, gold and green. Some have fillings, others do not, though they all house a hidden trinket like a plastic (formerly porcelain) baby.
The trinket hidden inside each cake adds to its popularity, although the uninitiated often fail to recognize that finding the trinket inside your piece of cake may come not only with privileges (good fortune and/or becoming the King or Queen of the ball) but just as often with responsibilities (bringing the next cake!).
Make sure the next person to bring a King Cake to your party brings this one so everyone can enjoy it!
Gluten-Free King Cake Recipe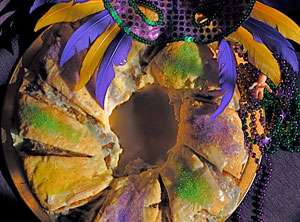 Pastry Ingredients:
¼ cup warm water (110 F)
1 Tbs. granulated cane sugar
2 ¼ tsp. (1 packet) highly active, fast rise yeast
½ cup unsalted butter or non-dairy alternative (e.g. Earth Balance® Buttery Sticks)
3 Tbs. granulated cane sugar
¼ cup warm milk (dairy or non-dairy)
2 large eggs
3 cups Jules Gluten Free All Purpose Flour
½ tsp. ground nutmeg
2 tsp. gluten-free baking powder
½ tsp. salt (¼ tsp. salt if using non-dairy alternative)
2 Tbs. milk (dairy or non-dairy) for brushing on pastry before baking
Filling Ingredients:
4 Tbs. butter or non-dairy alternative (e.g. Earth Balance® Buttery Sticks)
¾ cup packed light brown sugar
1 ½ tsp. ground cinnamon
¼ cup Jules Gluten Free All Purpose Flour
1 apple, peeled and chopped
2/3 cup chopped pecans (optional)
Gluten-Free Icing Ingredients:
1 cup confectioner's sugar
1-2 Tbs. milk (dairy or non-dairy)
¼ tsp. almond extract (optional)
Colored sugar (purple, gold and green)
Directions:
Prepare the filling by melting the 4 tablespoons butter and setting aside. In a separate bowl, toss the chopped apples with the Jules Gluten Free All Purpose Flour. Whisk together the brown sugar and cinnamon; stir the floured apples in with the sugar-cinnamon mixture.
In a small bowl, combine the warm water, 1 tablespoon sugar and yeast; stir and set aside to proof. If the mixture is not bubbly and doubled in volume after 5-10 minutes, toss out and start again with fresh yeast.
In a large mixing bowl, blend the remaining 3 tablespoons sugar and butter until lighter and fluffy. Add the milk and eggs and beat until well-integrated. Add 2 cups of Jules Gluten Free All Purpose Flour, salt, baking powder and nutmeg and mix well. Stir in the proofed yeast-sugar-water mixture, then add the remaining 1 cup Jules Gluten Free All Purpose Flour. Beat another 1-2 minutes, until the dough is clumping together and is not too sticky.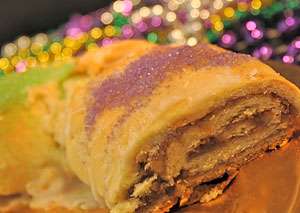 Prepare a large baking sheet by lining with parchment paper. Turn the dough out onto a pastry mat or a clean counter dusted lightly with Jules Gluten Free All Purpose Flour. Roll the dough out to an elongated rectangle 24-30 inches long by 9-10 inches wide. Brush on the melted butter for the topping, coating the entire rectangle. Sprinkle the topping mixture on top of the melted butter, spreading to the ends of the rectangle, but leaving 1/2-1 inch without topping on each of the long sides of the rectangle.
Using a pastry blade or a spatula, gently peel up one of the long sides of the rectangle and begin rolling it as you would a jelly roll. Once the entire pastry is rolled upon itself until no pastry remains unrolled, a 24-30 inch long roll will remain.
Gently pull the two ends of the roll together to form a circle or oval. Dabbing the ends of the pastry with water, join the ends together to close the circle. Gently transfer the ring to the parchment-lined baking sheet, or transfer the ring on the silicone baking mat to the baking sheet. Brush the milk on top of the exposed pastry, then using a large sharp knife, make a cut in the top of the pastry every 2 inches to expose one layer of the roll.

Spray a sheet of wax paper with cooking oil, then cover the cake and let rise in a warm spot for 20-30 minutes like a warming drawer or an oven heated to 200 F then turned off.
Preheat oven to 350 F (static) or 325 F (convection).
Remove the wax paper from the cake and bake for 20-25 minutes. Remove to a wire rack to cool. While cooling, mix icing ingredients and drizzle over the cake. Sprinkle colored sugar on top of wet icing, alternating colors between each cut in the top of the cake. Once cooled, insert a pecan or small plastic baby into the underside of the cake to hide it. Serve when fully cooled.
Celiac.com welcomes your comments below (registration is NOT required).

Get Email Alerts (More Info)
Article Options
Jules Shepard
Atop each of Jules Shepard's free weekly recipe newsletters is her mantra: "Perfecting Gluten-Free Baking, Together." From her easy-to-read cookbook ("Nearly Normal Cooking for Gluten Free Eating") to her highly rated reference for making the transition to living gluten free easier ("The First Year: Celiac Disease and Living Gluten Free"), Jules is tireless in the kitchen, at the keyboard and in person in helping people eating gluten free do it with ease, with style and with no compromises.
 
In the kitchen, she creates recipes for beautiful, tasty gluten-free foods that most people could never tell are gluten free. As a writer, she produces a steady stream of baking tips, living advice, encouragement and insights through magazine articles, her web site (gfJules.com), newsletter, e-books and on sites like http://celiac.com and others. Jules also maintains a busy schedule of speaking at celiac and gluten-free gatherings, appearing on TV and radio shows, baking industry conventions, as well as teaching classes on the ease and freedom of baking at home.
 
Her patent-pending all-purpose flour literally has changed lives for families who thought going gluten free meant going without. Thousands read her weekly newsletter, follow her on Twitter and interact with her on FaceBook. Â 
View all articles by Jules Shepard
In Celiac.com's Forum Now:
Does anyone have a good cheese straw recipe? My old one does not work with gluten-free flour.
Wow Ennis - that's really helpful. I do miss flapjacks - these recipes sound great. Yes please - a link for the flapjack especially.
Hmm you need to start a new topic you just posted on a thread from 2016. TO answer your question yes, you need to be eating gluten at least 2 weeks prior to a scope. https://celiac.org/celiac-disease/understanding-celiac-disease-2/diagnosing-celiac-disease/ As to why...most doctors are frankly ...
I know one member will come back here soon and tell you it is possible with hashi etc. I know with my Celiac, UC, and some other issues I have gotten pretty damn good over the past 4-5years. Started putting on weight and body building. I work out daily, power walk over 14miles a day. And the dis...
...yeah the stuff I suggested is like 325mg a full dose, why I said to get the powder you put in your drink. This way you can dose to what you need and why I said to start off with 1/4 tsp instead of the full on dose of 2tsp. https://www.amazon.com/s/s/ref=sr_nr_p_89_0?fst=as%3Aoff&rh=i%3Aaps%2Ck...