Mr. Krispers Sour Cream & Onion Baked Rice Krisps (Gluten-Free)
Mr. Krispers Sour Cream & Onion Baked Rice Krisps (Gluten-Free)
I tried Mr. Krispers Sour Cream & Onion Baked Rice Krisps, which are small and thin gluten-free crackers, and I must say that they are truly outstanding…I ate the whole 4.2 oz. bag and found myself licking my fingers after they were all gone. It is really impossible to eat just one of these tasty little baked, gluten-free rice thins—actually if you can stop at half a bag your will power would be exponentially greater than mine was!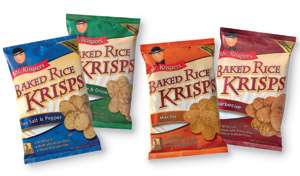 This product reminds me of sour cream & onion potato chips, but the nice thing about Mr. Krispers is that they are baked instead of fried, and the ingredients include brown rice flour, so you get 1 gram of fiber per serving (4% of the "Daily Value"), or if you are like me you would get 20% of your daily fiber by eating the whole bag.
My children also loved Mr. Krispers Sour Cream & Onion Baked Gluten-Free Rice Krisps, and they would make an outstanding addition to their lunch boxes. They would also be a hit at any party of other social gathering—just be sure to have dozens of bags on hand because your guests won't be able to stop eating them!
For more info: www.mrkrispers.com

Note: Articles that appear in the "Gluten-Free Product Reviews" section of this site are paid advertisements. For more information about this see our Advertising Page.

Celiac.com welcomes your comments below (registration is NOT required).

Get Email Alerts (More Info)
Article Options
Scott Adams
In 1994 I was diagnosed with celiac disease, which led me to create Celiac.com in 1995. I created this site for a single purpose: To help as many people as possible with celiac disease get diagnosed so they can begin to live happy, healthy gluten-free lives. Celiac.com was the first site on the Internet dedicated solely to celiac disease. In 1998 I founded The Gluten-Free Mall, Your Special Diet Superstore!, and I am the co-author of the book Cereal Killers, and founder and publisher of Journal of Gluten Sensitivity.
View all articles by Scott Adams
In Celiac.com's Forum Now:
I wish I had been diagnosed at 19. In retrospect, I was having symptoms as a 16 year old, and didn't get diagnosed until I was almost 30. That delay created a lot of havoc, and other problems that are now permanent (an aggressive case of rheumatoid arthritis and violent reactions to contamination...
From the Chicago Celiac Disease Center which is one of the premier celiac disease research & treatment centers in the world: Are you scheduled for a biopsy? Are you eating gluten? Any changes in your diet can affect the accuracy of your biopsy result...
My panel was the same as yours........all tests positive by large numbers so you can consider yourself a Celiac. Are you very symptomatic? I will add that I did not eat Whole Foods exclusively when healing. I needed to gain weight badly so ate gluten-free bread and a few other things that ...
My allergist did suggest I cut out gluten right away, but I?ll call the GI tomorrow and discuss that. Thank you!
He only did 2 of the full panel & you are positive on one of them, the DGP IgG. It only takes one positive to move on to an endoscopy. Here's the full celiac serum panel: Anti-Gliadin (AGA) IgA Anti-Gliadin (AGA) IgG Anti-Endomysial (EMA) IgA Anti-Tissue Transglutaminase (tTG) Ig...