Joelle's Gluten-Free Cosmetics, Make-Up & Skin Care Products
Joelle's Gluten-Free Cosmetics, Make-Up & Skin Care Products
Published 03/5/2010
Rating:
Finding affordable, gluten-free skin care products can be a chore. But, thanks to Joelle's Cosmetics' one-stop gluten-free skin care shop, the world of cosmetics has been revolutionized, and shopping for gorgeous gluten-free make-up has never been easier or more affordable.
There are just too many amazing products, so I'm not sure where to start! Joelle's 14-Piece Deluxe Gluten-Free Make-up Kit is a perfect starter kit. It comes equipped with everything; including a stylish, self-contained organizer with interior zipper pouches (perfect for travel), a 7-piece professional vegan brush set with luxuriously soft brushes, and dazzling mineral make-up including: silky foundations (liquid or mineral), glamorous mineral eye colors and satiny finishing powders.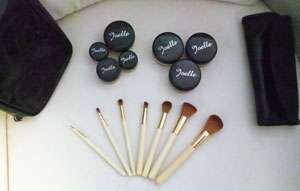 I've looked everywhere for gluten-free liquid foundation, so when I found out that Joelle's makes it I was so excited, and I was not disappointed. When I finished my home make-over, using Joelle's step by step instructions for professional mineral application, I really looked like a new, improved me! Any unwanted blemishes and lines disappeared with the final stroke of the mineral veil and I was left with soft, flawless skin and gorgeous all-day coverage.
For more information on Joelle's gluten-free makeup & other skin care products go to: http://www.mymineralglitters.com/joellecosmetics.html
Note: Articles that appear in the "Gluten-Free Product Reviews" section of this site are paid advertisements. For more information about this see our Advertising Page.

Celiac.com welcomes your comments below (registration is NOT required).

Get Email Alerts (More Info)
Article Options
Destiny Stone
I diagnosed myself for gluten intolerance after a lifetime of bizarre, seemingly unrelated afflictions. If my doctors had their way, I would have already undergone neck surgery, still be on 3 different inhalers for asthma, be vomiting daily and having chronic panic attacks. However, since eliminating gluten from my diet in May 2009, I no longer suffer from any of those things. Even with the proof in the pudding (or gluten) my doctors now want me to ingest gluten to test for celiac-no can do.
View all articles by Destiny Stone
In Celiac.com's Forum Now:
This disease is like a chameleon and seems to change symptoms on people and everyone is a bit different, heck some have no symptoms til it almost kills them with secondary issues like cancer, lymphoma, rupturing the intestines etc. I did not have ht classic D but constipation, I also had a bunc...
I just quoted a little part but really much of your experiences could be mine. I won't bore you with it all, but chest pains came from 19, herniated disk came at 21, followed by 20 years of sciatic back pain. Depression at or about the same time. Brain fog little later. There was lots more, prima...
Morning guys. So long story short. Lost 10 kg back late last year. Stress related I believe. ( I Understand this is a big factor with celiacs) Tested. Found anti bodies in my blood. Doctor states potential Celiacs. Have endoscopy. Doctor who takes procedure doubts I have it. ...
Getting a celiac disease diagnosis is shocking. Expect to go through all the stages of grief. Your best defense is to learn how to read labels, avoid cross contamination and consider eating as few processed foods for a few weeks. It may speed healing (wish someone would have advised me to do s...
That is very helpful. Thank you so much.