J.D.'s Best Gluten Free Pizza really lives up to the name. Handmade in a dedicated gluten-free facility, J.D.'s Best Gluten Free Pizza is incredible! Even my gluten loving boyfriend said it was one of the best pizza's he had ever eaten, gluten-free or not.
As all pizza lovers know, it is impossible to find a gluten-free pizza that actually tastes like real pizza. Too often we choke down the gluten-free versions of so called "pizza" and accept begrudgingly that gluten-free also means flavor and texture-free. J.D.'s Best Gluten Free Pizza puts that theory to shame, and proves that gluten-free pizza does not have to be flavor or texture free.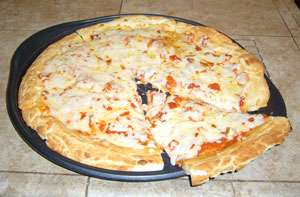 J.D.'s Best Gluten Free Pizza crust is perfect, not too thick, not too thin. The texture, as all good pizza crusts should be, is crunchy and chewy on the outside and soft and fluffy in the center. Each pre-sliced piece is as good as the next, loaded with delicious sauce, plenty of cheese and the option for meat if you so desire.
Not only does J.D.'s Best make some of the best gluten free pizza's around, they also deliver anywhere in the U.S.A., directly to your door. Convenient and delicious...truly a gluten-free pizza lovers dream come true!

Visit their site at:
http://www.thebestglutenfreepizza.com
Note: Articles that appear in the "Gluten-Free Product Reviews" section of this site are paid advertisements. For more information about this see our Advertising Page.