J.D.'s Best Gluten Free Pizza is Handmade
J.D.'s Best Gluten Free Pizza is Handmade
Published 03/3/2010
Rating:
J.D.'s Best Gluten Free Pizza really lives up to the name. Handmade in a dedicated gluten-free facility, J.D.'s Best Gluten Free Pizza is incredible! Even my gluten loving boyfriend said it was one of the best pizza's he had ever eaten, gluten-free or not.
As all pizza lovers know, it is impossible to find a gluten-free pizza that actually tastes like real pizza. Too often we choke down the gluten-free versions of so called "pizza" and accept begrudgingly that gluten-free also means flavor and texture-free. J.D.'s Best Gluten Free Pizza puts that theory to shame, and proves that gluten-free pizza does not have to be flavor or texture free.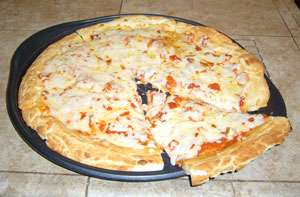 J.D.'s Best Gluten Free Pizza crust is perfect, not too thick, not too thin. The texture, as all good pizza crusts should be, is crunchy and chewy on the outside and soft and fluffy in the center. Each pre-sliced piece is as good as the next, loaded with delicious sauce, plenty of cheese and the option for meat if you so desire.
Not only does J.D.'s Best make some of the best gluten free pizza's around, they also deliver anywhere in the U.S.A., directly to your door. Convenient and delicious...truly a gluten-free pizza lovers dream come true!

Visit their site at:
http://www.thebestglutenfreepizza.com
Note: Articles that appear in the "Gluten-Free Product Reviews" section of this site are paid advertisements. For more information about this see our Advertising Page.

Celiac.com welcomes your comments below (registration is NOT required).

Get Email Alerts (More Info)
Article Options
Destiny Stone
I diagnosed myself for gluten intolerance after a lifetime of bizarre, seemingly unrelated afflictions. If my doctors had their way, I would have already undergone neck surgery, still be on 3 different inhalers for asthma, be vomiting daily and having chronic panic attacks. However, since eliminating gluten from my diet in May 2009, I no longer suffer from any of those things. Even with the proof in the pudding (or gluten) my doctors now want me to ingest gluten to test for celiac-no can do.
View all articles by Destiny Stone
In Celiac.com's Forum Now:
I'm probably the most annoying person on this forum. Lately I've been posting everyday? ok wondering a few brand options for products just need a list.... Pickles: Green olives: Banana peppers: Lunchmeat: turkey/salami/pepperoni Hard/block cheese (cheddar or colby): (was...
Hi Your tests indicates that you are positive for Celiac. I have a problem with the diagnose too. I have recently started to research about gluten intolerance and I have so many symptoms... It's like all the health issues I had all my life have an answer now. I think my mother had ...
Yeah mine was the constipation really bad, it clears up some but my constipation was partially trigger by the damage causing malabsoprtion of magnesium leading to the constipation along with other things and complications. All sore layers up into a big compounding issue, example the tiredness is ...
For me, the DH rash was what lead my Dr. to have me tested for celiac. Since I have IBS, I was thinking that was what was causing my stomach issues- and I was so bloated that I looked pregnant. It is still my DH that lets me know, I have somehow encountered gluten/cross contamination. My skin ...
Hi, this is my first post. I am wondering how to proceed. I tried going off gluten because I was diagnosed with Morphea and I read it might help. To my surprise, it cleared up a bunch of other symptoms big time. Then I read about celiac and found out I should not have stopped eating gluten if I w...