Gluten-Free Easter Candy and Eggs & Passover
Gluten-Free Easter Candy and Eggs & Passover
Published 03/29/2010
Rating:
Celiac.com 03/29/2010 - For many cultures, Easter represents the most important religious feast of the year. In biblical terms, it represents a celebration of Christ being resurrected. Yet, for those of us unable to digest gluten, it is yet another holiday reminding us of all the foods we can't eat. Many of us that are gluten sensitive, myself included, spend so much time focused on the foods we can't eat, that it's easy to lose sight of all the wonderful foods still available to us. The fact is, most of our favorite foods are still safe to eat with a little modification of course.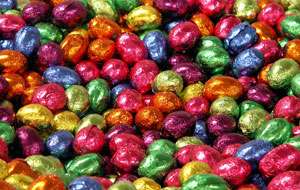 Being gluten-free doesn't mean that you can't enjoy a holiday meal with your family and friends. If you are going to be a guest for the holiday, make sure your host knows about your food sensitivities, and understands how to accommodate your needs. If they can accommodate you-great! If not, make sure to bring your own gluten-free foods to be sure that you don't go hungry, and to avoid the temptation of eating something you might regret later. You may want to consider hosting Easter brunch at your house this year. Cooking the meal yourself assures that your meal will be gluten-free and eliminates the possibility of cross contamination.
Whether you are making Easter brunch or Passover dinner, it's all supposed to be fun. That's why I put together a list of links that are all geared toward making it the best gluten-free Easter ever! The following links are a compilation of gluten-free recipes and prepared foods designed to make your holiday easy and fun. Some of the following links will take you out of Celiac.com and into another site. You may want to bookmark this list so you can reference it easily as needed. Dig in and enjoy!
Passover wouldn't be complete without matzoh. That's why the first recipe I've included is for gluten-free matzoh. The nice thing about the following matzoh recipe is that it's not only Kosher, it's also gluten, corn, sugar, dairy, and egg free! So even if you have many food restrictions, this is one recipe that is safe for almost everyone. Just add the matzoh to your favorite soup recipe, chicken or mock-chicken and you are ready to celebrate!

Gluten-Free Breads:

Gluten-Free Gravy:
Gluten-Free Desserts:
Easter Candy:
It is so tempting to sample all of the yummy Easter candy out there, but don't forget that many Easter Candies are NOT gluten-free. During Passover and Easter, there are so many opportunities to go to parties with friends and family where there is a plethora of Easter snacks and candy; even office events will put your sweet tooth to the test. I recommend avoiding the temptation to sample Easter candy that may contain gluten, by bringing your own gluten-free candy to social events. Bringing gluten-free Easter candy to share with others will make it easier on you when it comes to sampling, because you can sample the candy you brought while also sharing with others. Informing your friends of your gluten-free candy requirements is also an option, it might even make a good conversation topic. The following is a list of gluten-free Easter candy. Please remember to check with the manufacturer if you have any questions.
Gluten-Free Easter Eggs:
The following recipe is great for those with dye sensitivities or anyone looking for a natural, healthy alternative to Easter egg dyes. Most Easter coloring kits require vinegar. Be sure to use gluten-free vinegar.
Natural/Food Based Dyes:
Red and Pink
- pomegranate juice, raspberries, cherries, cranberries, red grape juice, and beets, red onions. (less boiling or dying produces a pink color)
Orange
– carrots, chili powder or paprika
Yellow
– turmeric, orange or lemon peels, chamomile tea, celery seed (turmeric does not need to be boiled.)
Brown
– coffee, black tea or black walnut shells
Green
– spinach or liquid chlorophyll
Blue
– blueberries, purple grape juice
Purple
– grape juice or blackberries, concentrated grape juice, violet blossoms, and hibiscus tea
Gold
- curry powder, yellow delicious apple peels, dill seeds
Deep yellow
- soak eggs in turmeric for a long time
Teal
- Soak eggs in turmeric solution for 30 minutes and then cabbage soak for 5 seconds.
Bright Blue
- Soak eggs in cabbage solution overnight (or just for a long time)
Red/Pink
-less boiling or dying produces a pink color
Instructions:
To begin, boil your eggs and when they are cool, store them in your refrigerator until you are ready to dye them. Alternatively, you can boil eggs with dye or cold dip, for 5 seconds up to overnight, and dry on wire wrap.
To make each dye, bring water, vinegar, and color element to a boil, lower the heat, simmer 30 min and strain dye. Please note, you will need a separate base for each primary dye color you make.
The rule of thumb for the dye is to use four cups of chopped fruit, vegetable or plant material to four cups of water. Add two tablespoons of vinegar. Bring to a boil and then simmer for 15 to 30 minutes (depending on how intense you want the colors).
Eggs colored in natural dyes generally have a dull finish and are not glossy. If you want your eggs to look glossy, rub them with cooking or mineral oil after they dry.
Keep your eggs refrigerated until it's time to hide them or eat them.
Caution: Food safety experts recommend not eating eggs that have been sitting at room temperature for more than two hours.
Gluten-Free Quick-Check:

Watch out for hidden gluten-ingredients,(caramel color, natural and artificial flavors or colors, etc)
Keep your hands clean
Host Easter brunch
Make sure all of your kitchen equipment is clean and free of gluten contaminates
Bring gluten-free Easter candy & snacks to share
If you buy prepared meats, check with the manufacturer to make sure they are gluten-free
Trust yourself. If you think something might make you sick, don't take any chances

Above all else, have fun!
Celiac.com welcomes your comments below (registration is NOT required).

Get Email Alerts (More Info)
Article Options
Destiny Stone
I diagnosed myself for gluten intolerance after a lifetime of bizarre, seemingly unrelated afflictions. If my doctors had their way, I would have already undergone neck surgery, still be on 3 different inhalers for asthma, be vomiting daily and having chronic panic attacks. However, since eliminating gluten from my diet in May 2009, I no longer suffer from any of those things. Even with the proof in the pudding (or gluten) my doctors now want me to ingest gluten to test for celiac-no can do.
View all articles by Destiny Stone
In Celiac.com's Forum Now:
Hi Nikkster, They often call the celiac testing a celiac panel. There is also a celiac screening test they sometimes do first, the ttg. You want to get the full celiac panel if possible. Not everyone shows up on just the screening test.
Maybe get your vitamin D levels checked. And take some K-2. K-2 is supposed to help vitamin D absorb into bones. Oh, and skip the Dominos next time! We all make mistakes at times,.
I am actually trying to bulk up and body build with this disease. I go with a keto diet of fats and protein, I use vegan protein powders throughout the day. I used to use nutrakey V-Pro and now mostly use MRM Veggie Elite, blend, and do my own mixes with Naked Pea, Jarrow Pumpkin seed, MRM Sancha...
I'm from the UK so I can't help you on the recommendation, but instead of canned chili have you tried making your own? It's super easy to do, far nicer and cheaper than any pre-made variety and you can make a big batch and freeze small portions so its always available if you need a quick filli...
I live in Cincinnati. One thing we are known for is chili and a horrible football team. I was wondering if anyone had one of those gluten detectors and how they work because I would love to test them. They claim to be gluten-free and even state that in their restaurants there is a high probabilit...