New York Style Risotto Parmesan and Roasted Garlic Gluten-Free Chips
New York Style Risotto Parmesan and Roasted Garlic Gluten-Free Chips
Published 04/5/2010

Unrated
Gluten-free snacks are improving exponentially, and I just found the proof after sampling New York Style Risotto Chips in the Parmesan and Roasted Garlic flavor. If you are looking for a healthy, tasty alternative to gluten-free snacks, look no further. Not only are these chips satisfying in that crunchy way chips should be, they are also full of flavor!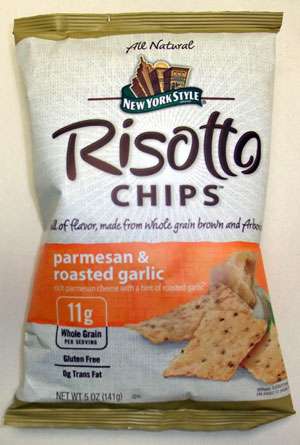 Each Risotto gluten-free chip is packed with real Parmesan cheese that you can taste in every bite. The hint of garlic is not overwhelming and adds a nice accent to the Parmesan flavor. Risotto chips come in a convenient 5 ounce bag, making it easy to grab a bag for a quick snack, or a couple bags to share at any event or gathering. The flavor is fully satisfying alone, but the chips also hold up very well when used for scooping into your favorite sauce or dip.
These all natural chips are made with whole grain brown rice flour. Each serving comes packed with 11 grams of whole grains, and zero grams of trans fat, making them a healthier choice for flavorful, gluten-free snacking.
For more information on this product, and other risotto chip flavors, please visit their website at: www.newyorkstyle.com.

Note: Articles that appear in the "Gluten-Free Product Reviews" section of this site are paid advertisements. For more information about this see our Advertising Page.

Celiac.com welcomes your comments below (registration is NOT required).

Get Email Alerts (More Info)
Article Options
Destiny Stone
I diagnosed myself for gluten intolerance after a lifetime of bizarre, seemingly unrelated afflictions. If my doctors had their way, I would have already undergone neck surgery, still be on 3 different inhalers for asthma, be vomiting daily and having chronic panic attacks. However, since eliminating gluten from my diet in May 2009, I no longer suffer from any of those things. Even with the proof in the pudding (or gluten) my doctors now want me to ingest gluten to test for celiac-no can do.
View all articles by Destiny Stone
In Celiac.com's Forum Now:
I have eaten the Southwest chicken salad at McDonald's many times, with the grilled chicken and no chips. I have celiac disease, and have no problems with this salad. It's a stand by for me when traveling.
That sense of your thoughts being in a non productive loop is a classic depression symptom I can certainly recognise! The good news is that those patterns you can fall into you can also train yourself to get out of. Some of the best results come from Cognitive Behavioural Therapy or CB...
Hi Lex, First step would be to eliminate celiac. Gluten is well established as the cause of celiac. If you eliminate celiac but still react to gluten foods then it becomes trickier. Non Celiac Gluten sensitivity NCGS is still not universally accepted and there are differing views on whe...
I have corn and gluten issue this former post by bartfull helped me locate bc aspirin for my son (same issues) after he had ortho work I have not tried it personally As I still avoiding most things good luck
Hi everyone. I was just wondering if anyone knew of an easy way to determine whether one's gastrointestinal reaction is to gluten or to fructan. Cheers, Lex