Celiac Disease and Gluten-Free Diet Support
---
---
---
---
Follow / Share
FOLLOW US:
SHARE:

Popular Articles
Gluten-Free Mother's Day
Published 04/15/2010

Unrated
Celiac.com 04/15/2010 - Mother's day is right around the corner, and what better way to tell your mom you love her, than to make her a lovely gluten-free brunch. Even if your mom is a gluten eater, it is still a perfect opportunity to try out some new gluten-free recipes. Many people with gluten sensitivities are also sensitive to foods other than gluten. That is why for this special day, I am including some gluten-free recipes that are also free of most common allergens.
Making brunch for your mom on Mother's Day doesn't have to be expensive, and a gluten-free brunch isn't hard at all. If you have a recipe that you love, but you don't know how to make it gluten-free, do an Internet search for your favorite dish and add "gluten-free" to the beginning of your search. You will be amazed at how many recipes have already been converted to gluten-free, and are on the Internet to be shared by all.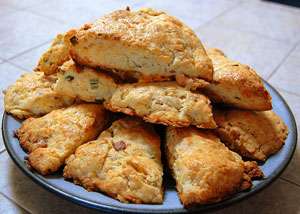 The following recipes are gluten-free, dairy/casein-free, egg-free, nut-free, corn free, and shell-fish free-actually free of all animal products. Even if you don't need to avoid other allergens, you might find that you like these gluten free recipes better than you expect. Although, the following recipes can also be modified to fit your taste buds. So if a recipe calls for non-dairy margarine for example, use butter, or coconut oil if you prefer. Don't hesitate to dig in and get creative!
The following link is for a recipe that I can't wait to try. This basic recipe can be elaborated on, and you can top with the fruit of your choice. This is an excellent idea for brunch, or wrap them up and present them as a gift.

Gluten-Free Tofu Benedict Recipe
Ingredients:
1 lb. extra firm tofu
1/4 cup distilled apple cider vinegar
1/4 tsp. Himalyan salt (or table salt)
1/4 cup olive oil
4 Tbsp. gluten-free nondairy butter substitute
8 oz. nondairy gluten-free sour cream
1 tsp. gluten-free paprika
1/2 tsp. gluten-free nutmeg
Pinch of gluten-free cayenne
1 Tbsp. fresh squeezed lemon juice
4 gluten-free English muffins, toasted (or 8 slices of toast) Gluten-Free English Muffins
8 slices tomato
Preheat the oven to 450ºF. Drain the tofu, cut it into 8 slices, and arrange it in a single layer in an oiled 9"x13" baking dish.
In a small bowl, whisk together the vinegar, salt, and olive oil and pour the mixture over the tofu. Bake the tofu for 20 minutes, basting it occasionally and turning it over after 10 minutes. Pour off any excess liquid and bake the tofu for a few more minutes—until it is brown and crispy.
To make the hollandaise sauce, melt the butter substitute in a small saucepan over medium heat. Stir in the nondairy sour cream, paprika, nutmeg, cayenne, and lemon juice. Make sure that the mixture is heated through but don't allow it to boil.
Top each English muffin half with a slice of tofu, tomato slice, and a generous spoonful of hollandaise sauce to taste.
Serve immediately & Enjoy!
Gluten-Free Gift Baskets
Giving your mom a thoughtful Mother's Day gift doesn't have to be expensive. Gift baskets come in all shapes and sizes, so you don't have to spend a fortune to show your mom how much you love her.
*Tip: To save money, make your own gluten-free gift basket. Purchase an inexpensive basket at your local craft store, fill it up with gluten-free goodies, wrap it with cellophane and a pretty bow and in no time, you have a customized gluten-free gift basket made especially for your mom.
Fill your gluten-free gift basket up with gluten-free goodies; below are some ideas.

If your mom likes to cook, what better way to pamper her, than to give her the gift that keeps on giving. Below is a link of gluten-free cookbooks. Cookbooks also make a wonderful addition to your gift basket.
Mother's Day Ideas
:
Make gluten-free brunch
Convert your favorite recipes to "gluten-free"
Make your mom a gluten-free gift basket
Happy Mother's Day!
Celiac.com welcomes your comments below (registration is NOT required).

Get Email Alerts (More Info)
Article Options
Destiny Stone
I diagnosed myself for gluten intolerance after a lifetime of bizarre, seemingly unrelated afflictions. If my doctors had their way, I would have already undergone neck surgery, still be on 3 different inhalers for asthma, be vomiting daily and having chronic panic attacks. However, since eliminating gluten from my diet in May 2009, I no longer suffer from any of those things. Even with the proof in the pudding (or gluten) my doctors now want me to ingest gluten to test for celiac-no can do.
View all articles by Destiny Stone
In Celiac.com's Forum Now:
I?m so sorry you feel you must steal, that must be awful. The only thing I might consider is that it can become a habit, especially the self-justification part. Not that I'm recommending it right now for you , but with a ketogenic diet, the body goes into ketosis, not ketoacidosis, which is ...
Hi Mary Anne, They take the skin biopsy from adjacent to a "lesion". There are many possible symptoms of celiac disease. DH is the skin rash symptom of celiac disease. It can take a year for itching to go away from what I've read. Reducing iodine intake during symptoms may help reduc...
... these crepes will be prepared on the same griddle, so they're intended for those with mild celiac disease or those who just prefer to eat gluten-free. View the full article
I have said since diagnosis that there are two places that I never want to be in for fear I would die from what they would feed me. One is a hospital and the other is jail. Fresh or frozen fruits, veggies, fresh meats, eggs, cheeses etc are also the same proce for us as for anyone who isn't celia...
Yeah been there, done that, I have broken down to learning to how to cook acorns even, fall I steal pumpkins from the city decorations after halloween so I can eat the seeds and sell the meat in baked goods at the markets. I sometimes used to take produce from the grocery stores. Note you can som...