Gluten-Free Camping
Published 05/20/2010
Rating:
Celiac.com 05/20/2010 - The weather is getting warm and it's almost that time again-time to go camping! Camping is supposed to be relaxing and fun. Most people camp to escape the monotony of the daily rut, and to get back to the basics. Eating gluten-free while camping is really easy, once you know what to bring and what to avoid.
Camping trips usually consist of the same easy to prepare foods. Chili, pasta, canned soups, hot chocolate, sandwiches, hot cereal, trail mix and s'mores are the high-lights of most camping meals. All of those things can easily be prepared gluten-free. In fact, many gluten-free already prepared foods can be used for camping trips. Anything canned or boxed that you normally enjoy at home, can typically be converted to camping food.
It is important to eat the perishable foods first. A camping trip lasting for more than one night can render perishable foods inedible. That's why it's important to eat refrigerated food on the first day or two, and save the shelf-stable food for the remainder of the trip. Store perishables in a cooler with plenty of ice and/or cold packs. To grill gluten-free food, avoid gluten contamination by using a grill from home. Using the grill provided at the camping site is possible, but using aluminum foil or a pan as a buffer will keep food away from gluten contamination. There are even special racks with ridges that can be placed on the the grill and will keep food from touching the grill.
Two Day Sample Meal Plan (everything should be gluten-free):
Day 1-

Breakfast- Pancakes with fresh berries and real maple syrup
Snack- Energy Bars
Lunch- Sandwiches with gluten-free bread
Snack- Carrots & celery sticks
Dinner- Instant mashed potatoes, instant gravy, grilled meat and/or veggies.
Dessert- S'mores (see recipe below)

Day 2-
Make sure to buy all gluten-free products. Don't forget the
gluten-free sunscreen
and the
gluten-free insect repellent
.
Gluten-Free S'mores Recipe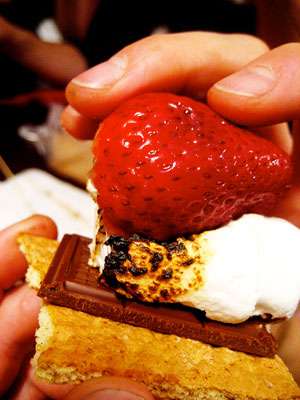 Ingredients
To Make
1. Put your marshmallow on a fire safe skewer. Heat the marshmallow over an open flame until it begins to brown and melt.
2. Break the graham cracker in half. Sandwich the chocolate between the cracker and the hot marshmallow. Allow the chocolate to melt and the marshmallow to cool a moment before eating.
3. Add strawberries or other gluten-free favorites.
Happy Trails!

Celiac.com welcomes your comments below (registration is NOT required).

Get Email Alerts (More Info)
Article Options
Destiny Stone
I diagnosed myself for gluten intolerance after a lifetime of bizarre, seemingly unrelated afflictions. If my doctors had their way, I would have already undergone neck surgery, still be on 3 different inhalers for asthma, be vomiting daily and having chronic panic attacks. However, since eliminating gluten from my diet in May 2009, I no longer suffer from any of those things. Even with the proof in the pudding (or gluten) my doctors now want me to ingest gluten to test for celiac-no can do.
View all articles by Destiny Stone
In Celiac.com's Forum Now:
Getting a celiac disease diagnosis is shocking. Expect to go through all the stages of grief. Your best defense is to learn how to read labels, avoid cross contamination and consider eating as few processed foods for a few weeks. It may speed healing (wish someone would have advised me to do s...
That is very helpful. Thank you so much.
I would read it as ?high?. In any case, you were positive on the TTG and the DGP. You only need one positive. I had pretty severe intestinal damage and never even had a positive on the EMA or the TTG even when they were re-run several times during follow-up visits.
Thank you! That does help. I was just confused about the ?negative? under the EMA Titer when my level says ?1:40 high?. Any insight there? Just wondering if it?s further confirming or denying? I first thought confirming.
Thank you! That does help. I was just confused about the ?negative? under the EMA Titer when my level says ?1:40 high?. Any insight there?