Celiac.com 11/11/2010 - The holidays are upon us, once again, and that means it's time to remind folks that a little planning and preparation will help anyone with celiac disease or gluten intolerance to enjoy a safe, delicious gluten-free Thanksgiving and holiday season without worrying about inadvertently eating wheat or gluten.

For folks cooking a gluten-free turkey dinner at home, here are some helpful tips to make things easier:

First, make sure the turkey you plan to serve for your gluten-free holiday dinner is, in fact, a gluten-free turkey. This is not automatically true. Many brands of turkey are processed with added gluten—so, don't assume, and make sure to check the ingredients list. Celiac.com offers a pretty comprehensive list of safe gluten-free foods and ingredients, along with gluten-free shopping guides to make your gluten-free shopping easier.
Second, make sure that any stuffing you serve is gluten-free! Accept no substitute. There's no need to risk putting gluten-based stuffing in your turkey. You can astound and delight all your guests with celiac.com's delicious Best Gluten-free Holiday Stuffing Recipe (below).
Third, prepare a simple, delicious gluten-free gravy using Celiac.com's Thanksgiving Holiday Gluten-Free Turkey Gravy recipe, or your favorite gluten-free gravy mix.
Note: Be careful, many bouillon cubes contain wheat or gluten, so make sure to use only gluten-free bouillon cubes.
Tip: Thicken homemade gravy with either corn starch or arrowroot flour.

Prepare easy, tasty gluten-free side dishes by browsing Celiac.com's extensive listing of
gluten-free recipes
, where you will find side dishes to impress even the snootiest gourmet.
Order gluten-free baking ingredients and other hard-to-find items like prepared gluten-free pies ahead of time for convenience—this will allow you to spend more time with friends and family rather than spending all of your time in the kitchen!
Many excellent prepared gluten-free products can now be ordered and delivered directly to your door from places like the
Gluten-Free Mall
, and your purchases there actually directly support Celiac.com.
Here are some helpful holiday tips and information for anyone planning to dine out, or at a friend or relative's house:
Celiac.com's Best Gluten-free Holiday Stuffing Recipe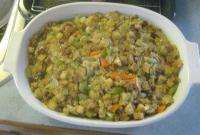 Ingredients:
5-6 cups white, gluten-free bread (about 2 loaves), cut into one-inch cubes, toasted and cooled
2 tablespoons olive oil
3 cups celery, chopped
2 shallots, minced
1 large or 2 medium yellow onions, chopped
1 tablespoon fresh thyme, minced
1 tablespoon fresh sage, minced
1-2 teaspoons fresh rosemary, minced
1-1½ cups gluten-free chicken broth
½ cup white wine
1 egg yolk
1 teaspoon salt
½ teaspoon pepper
Bits of cooked sausage or bacon, diced chestnut, pecan, apple, cranberry, currant, or raisin (optional) *Make sure any sausage is gluten-free!
Preparation:
Sauté shallots, onion and celery in olive oil on medium-low heat until translucent.
Stir in the rosemary, sage, and thyme, and cook another one or two minutes, until the aroma of the herbs fills the air. Add wine and continue cooking over medium heat until liquid is reduced by half. Remove from heat and allow to cool.
Bring the chicken stock to boil on high heat. Note: If cooking stuffing inside turkey, add just 1 cup of chicken broth.
Place the egg yolk in a large bowl and carefully spoon two or three ounces of the chicken stock into the egg yolk, slowly, while whisking the mixture.
Add the rest of the chicken stock to the egg mixture. Make sure to blend a small amount of stock into the egg first to prevent scrambled eggs.
Add the cooled celery, onion, and herbs mixture into the stock and egg mixture. Toss the bread cubes into this mixture and coat thoroughly. Add the salt and pepper and mix.
Place the stuffing mixture into a greased casserole dish and cook in 400°F oven for 40-50 min, covering as needed with aluminum foil, until done.
Note: The stuffing is done when you can insert a toothpick into the stuffing and it comes out clean. Make sure you bake stuffing until the toothpick comes out clean.
Serves about six to eight people.
Suggestion: Add finely diced cooked sausage or bacon bits to the sautéed vegetables, or toss in bits of diced chestnut, pecan, apple, cranberry, currant, or raisin. *Make sure any sausage is gluten-free!
Gluten-free Classics: Holiday Pumpkin Pie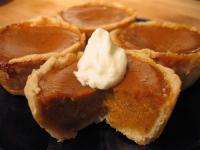 Ingredients:
¾ cup granulated sugar
1 teaspoon ground cinnamon
½ teaspoon salt
½ teaspoon ground ginger
¼ teaspoon ground clove
2 large eggs (Duck eggs work great!)
1 can (15 oz.) Libby's 100% Pure Pumpkin (Yes, it's gluten-free!)
1 can (12 fl. oz.) Evaporated Milk (Delicious with evaporated goat's milk!)
1 unbaked 9-inch (4-cup volume) gluten-free pie shell
Whipped cream (optional)
Directions:
Mix sugar, cinnamon, salt, ginger and cloves in small bowl. Beat eggs in large bowl. Stir in pumpkin and sugar-spice mixture. Gradually stir in evaporated milk.
Pour into gluten-free pie shell.
Bake in preheated 425° F oven for 15 minutes. Reduce temperature to 350° F; bake for 40 to 50 minutes or until knife inserted near center comes out clean. Cool on wire rack for 2 hours. Serve immediately or refrigerate. Top with whipped cream before serving.
*Adapted from Libby's Original Pumpkin Pie Recipe