Mom's Gluten-free Chicken Noodle Soup Recipe
Mom's Gluten-free Chicken Noodle Soup Recipe
This recipe is a classic that is perfect for a cold Winter's day. There is nothing like good old fashioned chicken noodle soup to warm up your day!
Ingredients:
2 cups gluten-free flour, plus extra (I used Better Batter from the Gluten-free Mall)
3/4 tsp salt
3 eggs, plus 1 egg yolk
10 cups chicken stock (or a mixture of stock and broth)
1 tsp dried thyme
3 ribs celery sliced
3 carrots peeled and sliced
1 large onion chopped
1 dried bay leaf
1 bunch parsley
2 TB flat-leaf parsley (for garnish, optional)
1 3 to 3 1/2 lb. chicken (organic works best)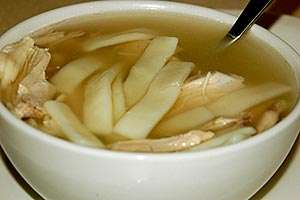 Directions:
1. In a large pot, combine stock, celery, carrots, onions, bay leaf and chicken. Bring to a boil; reduce heat to medium and simmer for 1 hour to 1 hour and a half.
Add parsley after 30 min.
2. Make the noodles: Mix eggs, egg yolk, salt and 1TB water. Place flour into a large bowl, make a well in the center, pour egg mixture into the well. Mix with a fork to form a stiff dough. Add a little more water if necessary. Then place dough on a lightly floured surface and knead until smooth (Dough will be stiff, but not too stiff to roll out). Divide dough into two portions. Roll each portion separately on a lightly-floured surface to 1/16" thickness and then cut into noodles 1/4" wide.
3. Put chicken on a plate to cool. Strain soup through a fine strainer into a large pot; put celery and carrots into a bowl. Discard remaining solids. Remove and discard chicken skin and bones.
Cut chicken into pieces.
4. Bring liquid to a boil again. Shake excess flour off noodles and add to boiling liquid. Cook until tender, 10 to 15 min. Add chicken and reserved carrots and celery. Salt and pepper to taste.
Garnish with flat-leaf parsley if desired.

Celiac.com welcomes your comments below (registration is NOT required).

Get Email Alerts (More Info)
Article Options
Scott Adams
In 1994 I was diagnosed with celiac disease, which led me to create Celiac.com in 1995. I created this site for a single purpose: To help as many people as possible with celiac disease get diagnosed so they can begin to live happy, healthy gluten-free lives. Celiac.com was the first site on the Internet dedicated solely to celiac disease. In 1998 I founded The Gluten-Free Mall, Your Special Diet Superstore!, and I am the co-author of the book Cereal Killers, and founder and publisher of Journal of Gluten Sensitivity.
View all articles by Scott Adams
In Celiac.com's Forum Now:
Morning guys. So long story short. Lost 10 kg back late last year. Stress related I believe. ( I Understand this is a big factor with celiacs) Tested. Found anti bodies in my blood. Doctor states potential Celiacs. Have endoscopy. Doctor who takes procedure doubts I have it. ...
Getting a celiac disease diagnosis is shocking. Expect to go through all the stages of grief. Your best defense is to learn how to read labels, avoid cross contamination and consider eating as few processed foods for a few weeks. It may speed healing (wish someone would have advised me to do s...
That is very helpful. Thank you so much.
I would read it as ?high?. In any case, you were positive on the TTG and the DGP. You only need one positive. I had pretty severe intestinal damage and never even had a positive on the EMA or the TTG even when they were re-run several times during follow-up visits.
Thank you! That does help. I was just confused about the ?negative? under the EMA Titer when my level says ?1:40 high?. Any insight there? Just wondering if it?s further confirming or denying? I first thought confirming.