Deborah Kayes Cookies - Oatmeal Chocolate Pecan Gluten-Free Cookie
Deborah Kayes Cookies - Oatmeal Chocolate Pecan Gluten-Free Cookie
We recently received gluten-free oatmeal cookie samples from Deborah Kayes Cookies, and their "Oatmeal Chocolate Pecan" cookie was calling my name!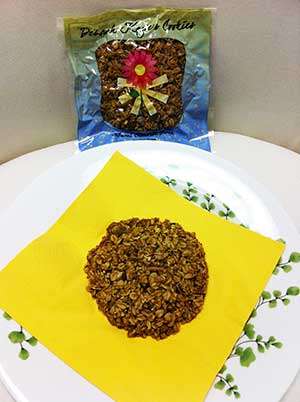 Before I go any further with this review, I have to say that these are not your ordinary gluten-free cookies. These cookies are loaded with certified gluten-free oats and contain no flours or refined sugars. In addition to this most of the ingredients are organic. Their cookies have a bit of a rustic look since they are all hand made, and they are huge compared to most cookies on the market (gluten free or not). Each cookie is also individually wrapped which makes it convenient for those times when I have to rush out the door with the kids, or need to keep something in my desk for a snack.
I took my first bite and was not sure what to expect...but I absolutely loved the soft, almost "just out of the oven" texture. The cookie was not lacking in taste or texture and all the flavors were beautifully balanced. I fell in love with Deborah Kayes Cookies, and since they use wholesome ingredients I can now satisfy my cookie craving guilt free!
For more information about Deborah Kayes Cookies, visit their Web site: http://deborahkayes.com
Note: Articles that appear in the "Gluten-Free Product Reviews" section of this site are paid advertisements. For more information about this see our Advertising Page.
Celiac.com welcomes your comments below (registration is NOT required).

Get Email Alerts (More Info)
Article Options
Dyani Barber
After many years of unexplained medical issues, I was finally diagnosed with celiac disease in 2002.  The first couple of years were a rough road traveled, but I am feeling better than I ever have.  It is important that I share what I have learned over the years with others and to do my part to help raise awareness of celiac disease.


View all articles by Dyani Barber
In Celiac.com's Forum Now:
This disease is like a chameleon and seems to change symptoms on people and everyone is a bit different, heck some have no symptoms til it almost kills them with secondary issues like cancer, lymphoma, rupturing the intestines etc. I did not have ht classic D but constipation, I also had a bunc...
I just quoted a little part but really much of your experiences could be mine. I won't bore you with it all, but chest pains came from 19, herniated disk came at 21, followed by 20 years of sciatic back pain. Depression at or about the same time. Brain fog little later. There was lots more, prima...
Morning guys. So long story short. Lost 10 kg back late last year. Stress related I believe. ( I Understand this is a big factor with celiacs) Tested. Found anti bodies in my blood. Doctor states potential Celiacs. Have endoscopy. Doctor who takes procedure doubts I have it. ...
Getting a celiac disease diagnosis is shocking. Expect to go through all the stages of grief. Your best defense is to learn how to read labels, avoid cross contamination and consider eating as few processed foods for a few weeks. It may speed healing (wish someone would have advised me to do s...
That is very helpful. Thank you so much.