I was so happy to discover Shabtai Gourmet's gluten-free Swiss chocolate roll. The first thing noticed was how easy it was to slice and how beautifully each slice looked. The smell of rich chocolate was overwhelming in the most wonderful of ways. After the first bite, I knew we were going to reorder again and soon! The chocolate sponge cake was moist and the crème filling gave the perfect compliment to the rich dark chocolate coating. It was such a delicious treat for my entire family and not to mention that it is also certified kosher for passover as well.
For more information visit: www.shabtai-gourmet.com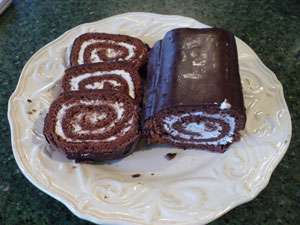 Note: Articles that appear in the "Gluten-Free Food & Specialty Product Companies" section of this site are paid advertisements. For more information about this see our Advertising Page.