SOYJOY's Pineapple Gluten-Free Nutrition Bar
SOYJOY's Pineapple Gluten-Free Nutrition Bar
With three children, it feels like I am always on the go, so I am always on the lookout for nutritious gluten-free snacks that I can keep in my car or grab on my way out the door. However, recently I've grown tired of the typical flavor profile found with most gluten-free nutrition bars, but I really did want to find one that would excite my taste buds.
I was particularly happy when I came across SOYJOY's pineapple flavored gluten-free bars. At first, I was a little worried that the pineapple flavor would taste artificial, or that it would have an overpowering pineapple taste. Thankfully, that wasn't the case! They use real dried pineapple and juice (what a concept), and that is only a small part of what this makes this bar a tropical treat. SOYJOY's gluten free pineapple bars have a nice texture that is moist with bits of dried pineapple, raisins and coconut, which gives it a pleasant chewy texture. It reminds me of a tropical cookie more than it does a nutrition bar.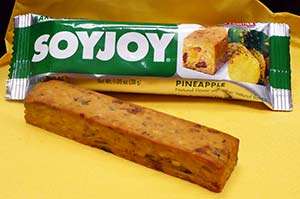 Unlike other gluten free bars, SOYJOY kept the ingredient list pure and simple so you know exactly what you are eating. They use ground whole soy, which is high in nutrients like protein, fiber and iron, and the bar is also rich in antioxidants and minerals. Although this bar was smaller than I had expected, it was just enough to keep me satisfied between meals. With only 140 calories per bar, 4 grams of protein, and 3 grams of fiber, this bar is certainly a little treasure that I will be sure to stock up on. They also are perfect to keep in the car or handy for travel since they hold up well in the heat.
If you're looking to be pleasantly surprised like I was, then I would recommend giving them a try.
For more info visit: http://soyjoy.elsstore.com/view/category/27281-flavors/

Note: Articles that appear in the "Gluten-Free Food & Specialty Product Companies" section of this site are paid advertisements. For more information about this see our Advertising Page.
Celiac.com welcomes your comments below (registration is NOT required).

Get Email Alerts (More Info)
Article Options
Dyani Barber
After many years of unexplained medical issues, I was finally diagnosed with celiac disease in 2002.  The first couple of years were a rough road traveled, but I am feeling better than I ever have.  It is important that I share what I have learned over the years with others and to do my part to help raise awareness of celiac disease.


View all articles by Dyani Barber
In Celiac.com's Forum Now:
Hi Nikkster, They often call the celiac testing a celiac panel. There is also a celiac screening test they sometimes do first, the ttg. You want to get the full celiac panel if possible. Not everyone shows up on just the screening test.
Maybe get your vitamin D levels checked. And take some K-2. K-2 is supposed to help vitamin D absorb into bones. Oh, and skip the Dominos next time! We all make mistakes at times,.
I am actually trying to bulk up and body build with this disease. I go with a keto diet of fats and protein, I use vegan protein powders throughout the day. I used to use nutrakey V-Pro and now mostly use MRM Veggie Elite, blend, and do my own mixes with Naked Pea, Jarrow Pumpkin seed, MRM Sancha...
I'm from the UK so I can't help you on the recommendation, but instead of canned chili have you tried making your own? It's super easy to do, far nicer and cheaper than any pre-made variety and you can make a big batch and freeze small portions so its always available if you need a quick filli...
I live in Cincinnati. One thing we are known for is chili and a horrible football team. I was wondering if anyone had one of those gluten detectors and how they work because I would love to test them. They claim to be gluten-free and even state that in their restaurants there is a high probabilit...