Joy Cone Gluten-free Sugar Ice Cream Cones
Joy Cone Gluten-free Sugar Ice Cream Cones
Finding a good gluten free ice cream cone turned out to be a real obstacle for me. Either they held up well, but tasted like cardboard, or they had a good flavor but were extremely brittle. I almost gave up on my search for a great gluten-free cone, but then I tried Joy's Gluten-free Sugar Ice Cream Cones. Joy Cones have such a nice crisp texture and are strong enough to hold up to my eight-year-old's scooping skills. Not to mention that they taste amazing! I even catch my non-celiac kids dipping into my stash.
For more info visit their site: http://www.joycone.com.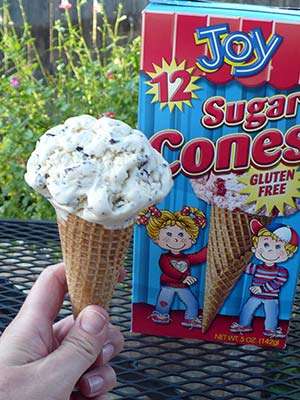 Note: Articles that appear in the "Gluten-Free Food & Specialty Product Companies" section of this site are paid advertisements. For more information about this see our Advertising Page.
Celiac.com welcomes your comments below (registration is NOT required).

Get Email Alerts (More Info)
Article Options
Dyani Barber
After many years of unexplained medical issues, I was finally diagnosed with celiac disease in 2002.  The first couple of years were a rough road traveled, but I am feeling better than I ever have.  It is important that I share what I have learned over the years with others and to do my part to help raise awareness of celiac disease.


View all articles by Dyani Barber
In Celiac.com's Forum Now:
An autoimmune disease can occur when the body's immune system mistakenly perceives a nonthreatening substance. In the case of people with celiac disease, gluten (a protein found in wheat, barley, rye, and oats) is seen as a foreign invader and is attacked by the immune system. This immune system ...
Might consider my approach of a dairy free keto diet with very limited meat intake. I live off of omelettes with veggies, veggie stir fries nut based breads, nut butters, seeds, avocados, coconut, coconut wraps, nut based milks and cheeses instead of dairy, and I tend to have Kal nutritional yeas...
Thank u for replying, My gp said the high normal is 10 and I am 41. Waiting to have my biopsy done. Have been so Ill since last December with lots of neurological problems have had brain mri and have a small lesion on my brain but not necciserily connected to ms but have to have a repeat scan. Af...
Well, while not being a dairy product for Psoriatic people we are very limited to meat products so better option for me would be vegan.
Oh, the description said it was crispy but didn't realize it would be hard, what about this one? https://www.walmart.com/ip/4C-Gluten-Free-Plain-Crumbs-12-oz/39096467?wmlspartner=wlpa&adid=22222222227026826600&wl0=&wl1=g&wl2=c&wl3=43010521232&wl4=aud-310687321802:pla-81548181392&wl5=9004416&...