This article originally appeared in the Summer 2003 edition of Celiac.com's Journal of Gluten-Sensitivity.
Have you ever taken a bite of unsweetened chocolate? If you have, I'm sure your taste buds revolted! Sugar is what makes most of our desserts palatable and desirable. But sugar adds empty calories to the diet and little else nutritionally speaking. So how are you going to bake foods to satisfy your sweet tooth if you refrain from using refined sugar? There are always viable alternatives.
Sucrose (a fancy word for sugar) usually encompasses the following:

Brown Sugar: Much less refined than white sugar, is derived from molasses (sorghum cane) and contains very small amounts of minerals.
Raw Sugar: May come in crystalline form that is very similar to brown sugar.
Turbinado Sugar: Is partially refined sugar crystals that have been washed in steam.
White Sugar: Derived from cane or beets, and no matter what form it takes, offers nothing but empty calories.
First consider the less desirable sugar replacements:
Maltose: Not a good option because it comes from the breakdown of starch in the process of malting grains, usually barley, so it is not always gluten-free.
Corn syrup: A blend of fructose and dextrose; its effect on blood glucose is similar to that of sucrose.
Dextrose: Usually made from plant starches, in the U.S. it is mostly made from corn, but can also be obtained by the inversion of cane sugar or sucrose.
Honey: Derived from flowers where bees have collected nectar, is a more concentrated form of carbohydrate than table sugar, and is converted to glucose in the body. It is only slightly better for you that refined sugar. If you are using honey to replace sugar, for 1 cup sugar, substitute ¾ cup honey; reduce liquid in recipe by 2 Tablespoons, and add ¼ teaspoon baking soda.
If you still opt to use refined sugar, in most recipes you may reduce the amount of sugar called for without any noticeable effects on the finished product.
There are several "sugars" on the market that do not have the negative effects of refined sugar:
Date Sugar: Derived from dates, it is not as sweet as sucrose but has far more nutritional value. For 1 cup sugar, use 2/3 cup date sugar and add a little water to form thick syrup.
Fresh or Dried Fruits: Offer a natural sweetness and can be used in baking to reduce the amount of refined sugar used.
Fruit Juice Concentrates: While high in sugary taste, have nutritional value not found in sucrose.
Fructose: Sweeter than any other sugar in equal amounts, comes from fruits and honey. Because of its concentration much less of this sweetener is needed in recipes.
Invert Sugar: A mixture of equal parts of glucose and fructose resulting from the hydrolysis of sucrose. It is found naturally in fruits and honey and produced artificially for use in the food industry. It is sweeter than sucrose, so the amount used may be lessened, and it helps baked goods stay fresh longer.
Molasses: A thick syrup produced in refining raw sugar and ranging from light to dark brown in color.
Maple Syrup/Sugar: Both made from the sap of maple trees. For 1cup sugar, use ¾ cup maple syrup or maple sugar.
Stevia Sugar: Fairly new on the market this extract from the stevia leaf is combined with a pre-biotic nutritional supplement and is ten times sweeter than sugar. It has a glycemic index of zero, and is nutritionally beneficial. For 1cup sugar, use 2 Tablespoons stevia.
Unsweetened Coconut: When toasted the natural oils in coconut are exuded adding sweetness to a baked product.
Unsweetened Applesauce: When added to a cake or bread batter it adds sweetness, flavor, moistness and nutrition.
Experiment until you find a sugar substitute that you enjoy, and one that works well with your recipes.
Pineapple Sticks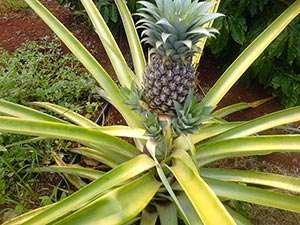 Ingredients:
2 cups GF flour mixture
3 Tablespoons stevia
½ teaspoon salt
¾ teaspoon cinnamon
½ teaspoon GF baking powder
¾ cup MF/GF margarine
¾ teaspoon vanilla
¾ teaspoon lemon juice
6 Tablespoons water
1/3 cup all-fruit pineapple jam
Corn-free diets: Omit cornstarch from GF flour mixture. Use CF vanilla. Use baking soda in place of the baking powder. Use butter in place of the margarine. Omit nonstick spray; use olive oil to brush baking sheet.
Rice-free diets: Omit rice flour from GF flour mixture
Soy-free diets: Use butter in place of margarine. Omit nonstick spray; use oil to brush baking sheet.
Directions:
Over a bowl, sift together flour mixture, fructose, salt, cinnamon and baking powder. Cut in margarine until mixture resembles coarse crumbs. Sprinkle vanilla, lemon juice and 2 Tablespoons water over flour mixture; toss with a fork. Continue adding water, 1 tablespoon at a time, and tossing until mixture is evenly moistened. Form into a ball, cover, and refrigerate for 1 hour. Divide dough into 4 even pieces. Roll 1 piece into a 12 X 4 inch rectangle; spread with half of the jam. Roll the second piece into a 12 X 4 inch triangle; gently lift dough and place over jam. Repeat with remaining 2 pieces of dough and remaining jam. Trim edges. Cut each rectangle into 12 one-inch strips. Twist each strip, pinching ends to seal. Place on a baking sheet that has been lightly sprayed with GF nonstick spray. Bake at 375F degrees for 20 minutes or until lightly browned. Yield: 24 cookies.
Note: For variety, use apricot or black raspberry jam in place of the pineapple jam.
Calories (per cookie): 83; Total fat: 4.4g; Saturated fat: 1g; Cholesterol: 0mg; Sodium: 121.4mg; Carbohydrates: 10.1g; Fiber: 0.3g; Sugar: 2.8g; Protein: 3g