No Evidence That Gluten-Free Diet Promotes Weight Loss (with Reply by Dr. Ron Hoggan)
No Evidence That Gluten-Free Diet Promotes Weight Loss (with Reply by Dr. Ron Hoggan)
Published 12/2/2011
Rating:
Celiac.com 12/02/2011 - Some rumors have been circulating in the health foods community that gluten-free eating can encourage weight loss. Unfortunately, this theory is completely unfounded. Wendy Marcason, a registered dietician, published an article in the Journal of the American Dietetic Association in November that reviews some of the theories and controversy surrounding this issue. The article concludes that there is no scientific evidence to support a connection between eating gluten-free and losing weight.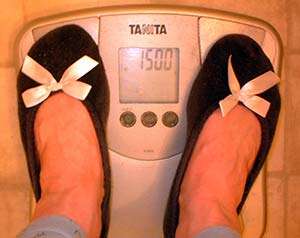 For those of us with celiac disease who start a gluten-free diet, weight gain is more often the case. The healing of the damaged intestines allows better absorption of food, and unless you rapidly change the amount of food you eat when you go gluten-free, most celiacs gain a substantial amount of weight after the switch. If you do not have celiac disease, however, eating gluten-free is unlikely to have any affect on weight independent from decreases in the overall calorie intake due to eating more carefully.
The consequence of this conclusion by the American Dietetic Association may be that more non-celiacs recognize that gluten-free does not necessarily mean more healthy. Unfortunately, some of the increased availability of gluten-free food over the last decade is owed to these non-celiac gluten-free folks. If these non-celiacs stop eating gluten-free, the demand for gluten-free food will fall and te number of options may decrease.
All of that said, the paper said that no evidence exists because there are no studies that look at weight loss on a gluten-free diet. While it's impossible to conclude that gluten-free diets cause weight loss, its also impossible to conclude that they don't cause weight-loss. Only a clinical study will be able to put the issue to rest.
Reference:

Marcason W. "Is There Evidence to Support the Claim that a Gluten-Free Diet Should Be Used for Weight Loss?" Journal of the American Dietetic Association. Nov 2011; 111(11): 1786.
---
Weight Loss and the Gluten Free Diet by Ron Hoggan, Ed. D.
First, I'd like to set Dr. O'Connell's mind at rest. The claims for weight loss following adoption of a gluten-free diet aren't merely rumors. They are credible claims based on peer reviewed and anecdotal reports, as well as published data from a qualified medical practitioner. For instance, Cheng and colleagues found that "54% of overweight and 47% of obese patients lost weight" (1). They investigated 81 subjects who were overweight and had celiac disease. Congruently, Venkatasubramani et al found that one half of their eight overweight pediatric patients also lost weight on a gluten free diet (2).
These reports alone cast an ominous shadow over Dr. Marcason's claims if Dr. O'Connell has represented them correctly. Marcason, we are told, asserts that no research has been done on this question. Yet there are three such reports in the peer reviewed literature (1, 2, 3). One reports a preponderance of weight gain among overweight and obese celiac patients after beginning a gluten free diet, while the other two groups report that about half of the overweight and obese celiac patients, children and adults, lose weight on a gluten free diet. Not only has this research been conducted and most of the findings not only contradict the claim that no such research has been done, but two of the three reports indicate that the gluten free diet helps with weight loss in some individuals. I think it is important to notice that the study showing that a large majority of overweight/obese celiacs was conducted where wheat starch is accepted as appropriate for celiac patients, while the two studies that showed weight loss were conducted in the USA. We still don't know enough about the interaction between various constituents of gluten and people who lose weight on a gluten free diet. However, given the contradictions in findings, between research conducted in the USA and some parts of Europe, it is not unreasonable to suggest that these differences may result from wheat starch.
Each of the three studies mentioned above have one large, consistent weakness. They are dealing with small numbers of patients. However, Dr. William Davis, a cardiologist has recently authored a book titled WHEAT BELLY, in which he reports that he has seen weight loss and other health improvements in more than 2,000 of his patients following adoption of a gluten free diet. And, of course, there are all the other anecdotal reports of similar benefits.
Dr. O'Connell's opposition to the use of a gluten free diet ignores the dynamics of appetite enhancement and satiation that are largely driven by hormones resulting from variations in nutrient density in various parts of the body. From insulin to glucagon to leptin to ghrelin, these and several other fat mobilizing hormones enhance and suppress our hunger based on the nutrients in our bloodstreams, gastrointestinal tract, and adipose tissues.
Dr. O'Connell also ascribes Marcason's views to the American Dietetic Association which is the body that publishes the journal in which Dr. Marcason's opinion article appears. While it may be true that the American Dietetics Association takes this position, it would be unusual for a journal, and the association that operates that journal, to underwrite the claims of one of its authors so I am skeptical that it has done so. I am especially skeptical of endorsement by the association, if Marcason has, indeed, stated that no studies have been conducted to investigate changes in body mass resulting from the gluten free diet among people who are overweight or obese at diagnosis. Clearly, this is an inaccurate claim whether it emanates from O'Connell or Marcason or even the American Dietetics Association.
I am also left wondering if there are any studies that show that "gluten-free does not necessarily mean more healthy" [sic]. I haven't seen any and I would be very surprised if any exist. Dr. O'Connell didn't cite any such studies, yet she asserts that a gluten free diet is not a healthy choice for those who do not have celiac disease. This is especially troubling in view of the growing recognition of non-celiac gluten sensitivity as a legitimate disease entity (5, 6, 7, 8, 9, 10).
I frequently write opinion articles so I would not want to inhibit such writing. Nonetheless, I believe that taking a rigid stance on either side of this issue is premature. Clearly we all have a lot to learn about weight loss and the gluten-free diet. The scanty evidence that is currently available is entirely too limited to say, with confidence, that the gluten-free diet is an effective weight loss tool, even for overweight patients with celiac disease. It appears to work for some, but other, unseen factors may be at work here.
Sources:

Cheng J, Brar PS, Lee AR, Green PH. Body mass index in celiac disease: beneficial effect of a gluten-free diet. J Clin Gastroenterol. 2010 Apr;44(4):267-71.
Venkatasubramani N, Telega G, Werlin SL. Obesity in pediatric celiac disease. J Pediatr Gastroenterol Nutr. 2010 Sep;51(3):295-7.
Dickey W, Kearney N. Overweight in celiac disease: prevalence, clinical characteristics, and effect of a gluten-free diet. Am J Gastroenterol. 2006 Oct;101(10):2356-9.
Davis W. Wheat Belly.Rodale, NY, NY 2011.
Bizzaro N, Tozzoli R, Villalta D, Fabris M, Tonutti E. Cutting-Edge Issues in Celiac Disease and in Gluten Intolerance. Clin Rev Allergy Immunol. 2010 Dec 23.
Ford RP. The gluten syndrome: a neurological disease. Med Hypotheses. 2009 Sep;73(3):438-40. Epub 2009 Apr 29.
Sbarbati A, Valletta E, Bertini M, Cipolli M, Morroni M, Pinelli L, Tatò L. Gluten sensitivity and 'normal' histology: is the intestinal mucosa really normal? Dig Liver Dis. 2003 Nov;35(11):768-73. PubMed PMID: 14674666.
Di Cagno R, De Angelis M, De Pasquale I, Ndagijimana M, Vernocchi P, Ricciuti P, Gagliardi F, Laghi L, Crecchio C, Guerzoni ME, Gobbetti M, Francavilla R. Duodenal and faecal microbiota of celiac children: molecular, phenotype and metabolome characterization. BMC Microbiol. 2011 Oct 4;11:219.
Biesiekierski JR, Newnham ED, Irving PM, Barrett JS, Haines M, Doecke JD, Shepherd SJ, Muir JG, Gibson PR. Gluten causes gastrointestinal symptoms in subjects without celiac disease: a double-blind randomized placebo-controlled trial. Am J Gastroenterol. 2011 Mar;106(3):508-14
Bizzaro N, Tozzoli R, Villalta D, Fabris M, Tonutti E. Cutting-Edge Issues in Celiac Disease and in Gluten Intolerance. Clin Rev Allergy Immunol. 2010 Dec 23.
---
Amy O'Connell, MD, PhD's Reply to Dr. Ron Hoggan:
This is Dr. O'Connell replying. My piece was merely a summary of an article in the Journal of the ADA. The short summary I wrote was not intended to be an end-all conclusive statement about the matter. That said, the Cheng article that is cited by Ron Hoggard. M.Ed. was not designed to look at the outcome of weight loss in overweight celiacs and is underpowered to make the conclusions that he cites. Another quote from the same article said, "Overall, 54% [of patients who started a gluten-free diet] gained weight and 38% lost weight." The same problem with a lack of statistical power exists for the Venkatasubramani paper. Four obese patients lost weight on a gluten-free diet but 2 gained weight and 1 was lost to follow up. I'd like to apologize if my brief summary seemed too closed-ended, but I will stand by my article conclusion, "While it's impossible to conclude that gluten-free diets cause weight loss, its also impossible to conclude that they don't cause weight-loss. Only a clinical study will be able to put the issue to rest."
Celiac.com welcomes your comments below (registration is NOT required).

Get Email Alerts (More Info)
Article Options
Amy O'Connell
Amy O'Connell is a medical doctor and researcher who was diagnosed with celiac disease in 2003. She began writing professionally in 2010. Dr. O'Connell is working toward becoming a pediatric allergist/immunologist. When not working, Amy enjoys baking and trying out new gluten free recipes. You can check out Dr. O'Connell's blog "Dr. Gluten Free" at http://drglutenfree.blogspot.com.
View all articles by Amy O'Connell
Related Links
11 Responses:
In Celiac.com's Forum Now:
Gluten free 01, I totally agree that gluten free light is not good. I sometimes have to eat every hour. This seems to be related to low cortisol and low female hormones. Maybe also other deficiencies. I don?t think going gluten free is the only solution to this problem. I am sure with the he...
I don't have a lot of time this morning but I did locate organizations section on gluten free label regs in Canada. There may be more info on this in that section that may be helpful in knowing why they are making that change. http://www.inspection.gc.ca/food/labelling/food-labelling-for-ind...
Funny you should mention this, I got a offer for some free ones from that company and just turned it down. The only gluten free products from the company are a 2 lines of dedicated nut type bars. The majority of their bars actually contain either barley (gluten grain) like the biscuits etc. Or wh...
There has been a recent recall of veggies because of listeria risk. Here is the FDA list of recalled items in the US and Canada https://www.fda.gov/Safety/Recalls/ucm581389.htm
I asked for their two products yesterday,onion and garlic.Onion powder's package doesnt have starch or wheat on ingredient list but garlic powder has corn starch . I dont have any intolerance to corn by the way. They told me they add starch to two of their products so they are not gluten fre...