Celiac Disease and Gluten-Free Diet Support
---
---
---
---
Follow / Share
FOLLOW US:
SHARE:

Popular Articles
Hearty Harvest Oatmeal (Gluten-Free)
Hearty Harvest Oatmeal (Gluten-Free)
Published 11/15/2011
Rating:
If you're like me, the recent cold weather has you longing for the heat waves of the past summer. While grabbing a piece of fruit or even a refreshing smoothie on your way to work might fly during the summer, chilly winter mornings call for something much warmer before leaving the house. This is a recipe for an easy-to-prepare oatmeal dish that mixes plain oatmeal, Konsyl Original Fiber supplement, pecans, syrup and whatever else you enjoy to give it an extra savory kick.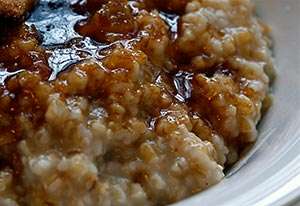 Harvest Oatmeal is also a great meal because it can accommodate many allergies. If you're lactose-intolerant like me, changing the type of milk used in the recipe to coconut, almond, lactose-free or another version won't affect the final taste. And if you're allergic to pecans or other nuts, they can be left out without subtracting from the deliciousness of the recipe. Feel free to substitute or add any other garnishes of your choice - the maple syrup in this recipe is a personal favorite. I actually prefer the taste of sugar-free syrup, so if sugar is a concern for you, that's one easy way to modify your diet.
Your mom always told you that oatmeal was a great meal, and she's right. Plus, making your own oatmeal feels great because the end result is delicious AND you can mold it to your own specifications (shh, don't tell anyone how easy it is!). The oats warm you up right away, the Konsyl helps you feel full and aids your digestion, and the maple syrup and other delicious toppings mean that breakfast feels more like a treat rather than a chore. And, because there's no real cooking involved, just heating, this is a great meal for those on the go. Hope you enjoy!
Ingredients:
1 cup cooked, old fashioned gluten-free oatmeal
1/4 cup canned pumpkin puree
1 tbsp milk (coconut, almond or otherwise)
1 tbsp pumpkin pie spice
1 tsp real vanilla extract
1 rounded tsp Konsyl Original psyllium fiber
Maple syrup, pecans, dried cranberries or raisins for toppings, if desired
Directions:
Heat cooked oatmeal in pan on stove top or in microwave until just warm.
Add the milk, pumpkin, spices, vanilla and Konsyl Original.
Mix well and reheat.
If it is too thick, add 1 tbsp hot water at a time and stir until desired consistency is reached.
Top with syrup, nuts and dried fruit to your liking. Makes two servings.
Celiac.com welcomes your comments below (registration is NOT required).

Get Email Alerts (More Info)
Article Options
Related Articles
Macaroni & Cheese (Gluten-Free) Ingredients: 2 cups raw gluten-free macaroni (penne) 4 cups milk 2 cups grated sharp cheddar cheese Salt & pepper to taste 4 tablespoons cream cheese - cut into small cubes In a casserole dish with lid layer the ingredients above in the order that they are listed and dont stir.... [READ MORE]

Buffalo Meat Loaf (Gluten-Free) Ingredients: 1 large onion, finely chopped 2 celery ribs, finely chopped 1 large carrot, finely chopped 3 teaspoons vegetable oil (divided) ¾ cup fine gluten-free bread crumbs ½ cup chopped fresh flat leaf parsley 1 large egg 2 tablespoons gluten-free ketchup (or pureed roasted peppers) 1 tablespoon Mr.... [READ MORE]

Quick Tomato Beef (Gluten-Free) This recipe comes to us from Diane Wilson.... [READ MORE]

Jennifer Dutcher
Recently diagnosed with a wheat sensitivity; currently learning about a wheat and gluten-free diet.
View all articles by Jennifer Dutcher
In Celiac.com's Forum Now:
If you hear an ice cream truck playing morbid music, grab your money and run! They sell roasted sweet potatoes from a truck. Live on those. They are delicious. Eat them as you would eat a candy bar. It's just sweet potato. Maybe 300-500 yen for a big one. They are sold by weight. served h...
I have been to amusement parks & stadiums that don't really have gluten-free except ice cream, chips, that sort of stuff. And, when called or emailed in advance, I am given a note to bring my own food.& eat outside with my family. But that is different than a restaurant that is not allowed to h...
So sorry it is difficult. There is soy and fish flavoring in everything! I too have neurological damage from 40 years of gluten. I can feel your pain. Do you want me to look for a base contact for you? I still have a connection at my Okinawa church which is near Camp Foster.
I find it amusing I brought this up to point out that discrimination is not something that should happen to those of us with this disease and if handled well we can compromise by bringing our own food where allowed and calling and contacting places prior to going explaining and setting things up....
I lived in Okinawa for 4 years prior to diagnosis. My son however tried to go gluten free during that time. His school had no idea what I was trying to say and could do nothing for him. Everyone eats school lunch. Period. It was difficult. If I went back I would eat the percooked hard boiled...