The decadent, borderline sinful combination of bacon and blue cheese is one I use sparingly, but with the season of dinner parties upon us, I can't think of a better reason to break it out. On another night, try dressing up the sprouts with for toasted walnuts, cranberries, maple syrup and a touch of balsamic; think savory dessert…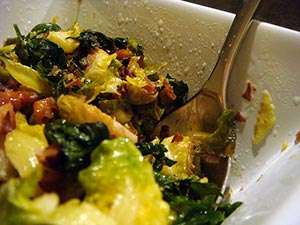 Ingredients:
1 pound Brussels sprouts, halved or chopped
4-5 strips thick-cut bacon
1 tablespoon butter
1 small onion, diced
2 cloves garlic, chopped
1 ounce blue cheese crumbles
Salt and pepper to taste
Directions:
Heat a large skillet over medium-high and cook bacon until crispy. Remove and let drain on a paper towel-lined plate.
Reserve less than 1 tablespoon of the fat from the pan and add butter. Sauté the onions for 2-3 minutes. Add the garlic and Brussels sprouts. Cook for 10-12 minutes, stirring occasionally, until sprouts are golden-brown.
Add the bacon and blue cheese and toss together. Season with salt and pepper if desired and serve immediately.