Hail Merry's Gluten-Free Blonde Macaroons
Hail Merry's Gluten-Free Blonde Macaroons
I was very surprised when I received a care package of Hail Merry's gluten-free blonde macaroons. I absolutely love coconut and have always had bit of a sweet tooth, but in the past I haven't always had the best of luck with gluten-free macaroons. Usually, I find macaroons to be way too sweet, high in fat and calories or the texture is just wrong. Despite the charming packaging that contained these macaroons, I still had my doubts – but who am I kidding? I love coconut!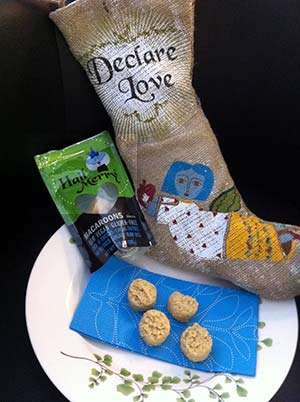 When I took my first bite I noticed that the texture of these macaroons was soft, slightly chewy, but not overly sweet – I guess they read my mind about my usual complaints about most macaroons – they tasted great. I found the size of each macaroon (just short of the size of a golf ball) was just the perfect size to get satisfaction for a sweet tooth like me, but the best part is that they only have 70 calories and 5.5 grams of fat each! How can this be?
Upon further reading of their packaging I noticed that Hail Merry didn't cut any corners when they developed these little bites of goodness! The ingredient list is short , wholesome and surprisingly these macaroons are not only raw and vegan, but are only lightly sweetened with maple syrup. I must also mention that shredded coconut has twice the fiber of oats, and that coconut oil is known to contribute to healthier hair, skin and can help aid proper digestion.
I absolutely loved the taste of these macaroons with their real coconut flavor and texture! These macaroons give a "junk food" taste with the quality and nutrition that you wouldn't expect from such a nice little treat – in my book they are definitely worth trying!
Visit their site at: www.hailmerry.com

Note: Articles that appear in the "Gluten-Free Food & Specialty Product Companies" section of this site are paid advertisements. For more information about this see our Advertising Page.
Celiac.com welcomes your comments below (registration is NOT required).

Get Email Alerts (More Info)
Article Options
Dyani Barber
After many years of unexplained medical issues, I was finally diagnosed with celiac disease in 2002.  The first couple of years were a rough road traveled, but I am feeling better than I ever have.  It is important that I share what I have learned over the years with others and to do my part to help raise awareness of celiac disease.


View all articles by Dyani Barber
In Celiac.com's Forum Now:
I have corn and gluten issue this former post by bartfull helped me locate bc aspirin for my son (same issues) after he had ortho work I have not tried it personally As I still avoiding most things good luck
Hi everyone. I was just wondering if anyone knew of an easy way to determine whether one's gastrointestinal reaction is to gluten or to fructan. Cheers, Lex
Thank you i have the colonoscopy on Tuesday and am dreading the prep more than anything lol. I think what ever the outcome I will try a gluten free diet to see if it helps with the symptoms. I've read so many stories of people going gluten free and symptoms such as depression, anxiety...
A positive on any one celiac test should lead to an endoscopy/biopsies being done by a gastroenterologist. You should keep eating gluten until the endoscopy is done.
Hi LexieA, It's perfectly ok to grieve or feel down because of a diagnosis of celiac disease. Feelings are not obligated to perform on command. But, over time you can adjust to the new diet reality and even like it. Getting used to eating mostly whole foods and more natural foods is a goo...