Celiac Disease and Gluten-Free Diet Support
---
---
---
---
Follow / Share
FOLLOW US:
SHARE:

Popular Articles
Gluten-Digesting Enzymes
Celiac.com 01/23/2012 - After their diagnosis, celiac patients are put on the gluten-free diet, which is the only treatment option currently available. The diet requires total elimination of gluten, a protein found in wheat, barley, and rye, which when ingested causes an autoimmune reaction in celiacs which results in damage to the absorptive finger-like projections that line the small intestine, which are called villi. As diligent as celiacs can be, avoiding gluten can be a challenge, and slip-ups can happen, especially when eating out. In my research, I've come across gluten-digesting enzymes as a new medical treatment option for later down the line and have shared this good news with the gluten-free community. However, gluten-digesting enzymes are already available over the counter to help celiacs and gluten-sensitive people with managing their gluten-free diet. Dr. Nan Kathryn Fuchs, who helped to formulate the Advanced Bionutritionals product, Gluten Sensitivity Formula, shares some information regarding these enzymes and clears up a couple of misconceptions regarding their use.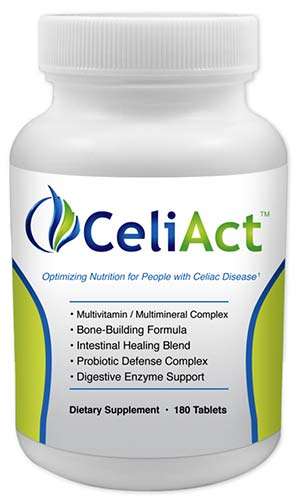 Furthermore, not all enzyme formulas containing DPP-IV are the same in terms of strength. Dr. Fuchs had her supplement creators formulate a gluten-digesting enzyme that was stronger than the other ones available on the market. The result was Gluten Sensitivity Formula. In her pamphlet, "How to Tell If You're Gluten Sensitive.And What to Do About It If You Are," Dr. Fuchs offers advice on how to take the supplement.
Dr. Fuchs emphasizes that Gluten Sensitivity Formula isn't intended to replace a gluten-free diet; it is, however, designed to reduce or get rid of a reaction to "small amounts" of what would presumably be unintentionally ingested gluten, such as one may encounter at a restaurant or a dinner party due to cross-contamination. She also recommends taking one or two capsules of the formula "as insurance" before eating meals that might possibly be contaminated with gluten.
Dr. Fuchs also clears up a myth regarding hydrocholoric acid (HCl), which has been believed to counteract digestive enzymes; this misconception has led to the incorrect advice that one shouldn't take hydrochloric acid and enzymes together. Hydrochloric acid is taken, according to Dr. Fuchs, in order to help with digesting proteins and minerals, for example calcium and iron. She says the supplement is more common among people over the age of 50. In fact, enzymes can only cancel out the benefits of hydrochloric if they alter the pH of the stomach by neutralizing its acids. Dr. Fuchs says that while animal-based enzymes can accomplish this, they are usually formulated with a protective coating or in a form that will prevent this from occurring. What's more, many enzymes, especially gluten-digesting ones, are made from plants. "So you can take them with HCl," Dr. Fuchs says.
According to Dr. Fuchs, taking gluten-digesting enzymes "can make the difference between being successful on a gluten-free diet and failing." When used correctly, it can help alleviate the symptoms of a reaction caused by accidental gluten ingestion or prevent the reaction from occurring. As a celiac myself, I can say that inadvertent gluten ingestion is still a challenge I face on the gluten-free diet, even though I've been on the diet for years. Dr. Fuch's Gluten Sensitivity Formula is thus a welcome product that will make the lives of the gluten-free community a lot easier.
Resources:
Fuchs, Nan Kathryn, PhD. "How to Tell If You're Gluten Sensitive.And What to Do About It If You Are." Advanced Bionutritionals, 2010.
"Digest This: Enzymes Can Help Your Food Intolerance." Living Without: August/September 2010.
Food Reactions: Food Intolerance http://www.foodreactions.org/intolerance/index.html
Celiac.com welcomes your comments below (registration is NOT required).

Get Email Alerts (More Info)
Article Options
Tina Turbin
Tina Turbin is a world-renowned Celiac advocate who researches, writes, and consults about the benefits of the gluten-free, paleo-ish, low carb and keto diets, and is a full time recipe developer and founder of PaleOmazing.com. Tina also founded and manages the popular website, GlutenFreeHelp.info, voted the #2 .info website in the world. Tina believes that celiacs need to be educated to be able to make informed decisions and that Paleo needs to be tailored to the individual's physiology to obtain desired results. You can reach her at: INFO@PaleOmazing.com.
View all articles by Tina Turbin
In Celiac.com's Forum Now:
I agree!
Ch88 yes im glad i had the blood test but it was found by accident so bit of a shock when i found out. God knows how long i had it but i always remember as a child suffering from stomach pain alot but back in the eighties it was unheard off! But if you or any other membets can offer advice on w...
Most of the articles you presented were blogs. They focused in one article pushed by the American Chemical Society. The research looked at ground coffee in Brazil ONLY. https://www.acs.org/content/acs/en/pressroom/newsreleases/2014/august/keeping-filler-ingredients-out-of-your-cup-of-cof...
Okay, a positive on thyroid antibodies, but what about the rest of the thyroid panel? That tells more of the story. Is rest of the thyroid panel all in the normal ranges? Is that why you were recommended to take a supplement instead of actual thyroid hormone replacement? Many doctors try a...
Be sure to read "cyclinglady" post and link to an article from the University of Chicago Celiac Center....vitamin deficiency's prior to diagnoses....so helpful.