Dr. Ron Hoggan Responds to The Atlantic's Article: A Gluten-Free Diet Reality Check
Dr. Ron Hoggan Responds to The Atlantic's Article: A Gluten-Free Diet Reality Check
Published 01/5/2012
Rating:
Celiac.com 01/05/2012 - I was disappointed to read this opinion article in The Atlantic (titled: A Gluten-Free Diet Reality Check) when there are three U.S. studies demonstrating that about half of overweight and obese children and/or adults with newly diagnosed celiac disease lose weight following institution of a gluten free diet (GFD) (2,3,4). Some of these researchers make statements such as "The GFD has a beneficial effect upon the BMI [body mass index] of overweight children with celiac disease" after following 27 children who, at diagnosis, were overweight or obese (2). Similarly, Cheng et al reported that "A GFD had a beneficial impact on BMI, underweight patients gained weight and overweight/obese patients lost weight" (3). Murray et al report that only 30% of their obese patients with celiac lost weight after six months of following a gluten free diet (4).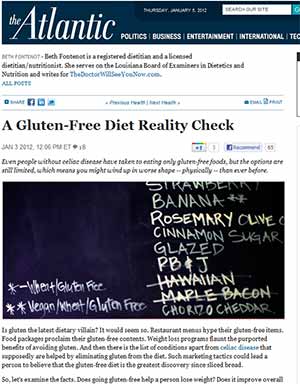 There isn't much ambiguity in any of these three studies conducted by three separate groups of reputable medical scientists and published in the peer reviewed medical and scientific literature. Clearly, the gluten free diet is an effective weight loss tool for some of the individuals investigated. Yet Fontenot asserts that "there is no evidence that gluten-free foods promote weight loss…." (1). Exactly what evidence does she want?
She goes on to say that "The only condition that necessitates a gluten free diet is celiac disease" (1). Yet she previously states, when discussing several other conditions that have been connected with gluten that "the research shows mixed results" (1). Surely the "mixed results" suggests that there is evidence that at least some cases benefit from a gluten free diet.
Neither does the notion of 'necessity' apply to celiac disease. A person with celiac disase can consume gluten. They may place their health at risk by so doing, but that applies equally to those individuals with other conditions that have been shown to benefit from a gluten free diet. So the distinction she makes is, at best, one of degree.
For decades many highly regarded investigators have published test results clearly showing that a gluten free diet is beneficial in the conditions listed by Ms. Fontenot, as well as many other ailments. These range from autism (5,6,7) to schizophrenia (8,9,10,11) to a variety of neurological (12,13,14) conditions to attention deficit disorder (15,16), to many other forms of autoimmunity (17,18,19), learning disabilities (20) and even to AIDS patients (21).
Ms. Fontenot even asserts that "A person with celiac disease has increased levels of certain autoantibodies circulating in their blood due to their intake of gluten"(1). Again, she overlooks seronegative celiac disease which is frequently seen in the context of IgA deficiency (22, 23, 24) and may be present in many other contexts.
Opinion pieces are probably easier to write when ignoring relevant facts. In this case, the overwhelming body of personal bias that drives Ms. Fontenot's article is offered in the absence of a single supporting research finding and only one other professional opinion which is offered by one of Ms. Fontenot's colleagues. She certainly hasn't let the facts get in the way of her story, but it is deeply disturbing to discover that The Atlantic has chosen to republish this unsupported rant.
Sources:

Reilly NR, Aguilar K, Hassid BG, Cheng J, Defelice AR, Kazlow P, Bhagat G, Green PH. Celiac disease in normal-weight and overweight children: clinical features and growth outcomes following a gluten-free diet. J Pediatr Gastroenterol Nutr. 2011 Nov;53(5):528-31.
Cheng J, Brar PS, Lee AR, Green PH. Body mass index in celiac disease: beneficial effect of a gluten-free diet. J Clin Gastroenterol. 2010 Apr;44(4):267-71.
Murray JA, Watson T, Clearman B, Mitros F. Effect of a gluten-free diet on gastrointestinal symptoms in celiac disease. Am J Clin Nutr. 2004 Apr;79(4):669-73.
Whiteley P, Haracopos D, Knivsberg AM, Reichelt KL, Parlar S, Jacobsen J, Seim A, Pedersen L, Schondel M, Shattock P. The ScanBrit randomised, controlled, single-blind study of a gluten- and casein-free dietary intervention for children with autism spectrum disorders. Nutr Neurosci. 2010 Apr;13(2):87-100.
Reichelt KL, Knivsberg AM. The possibility and probability of a gut-to-brain connection in autism. Ann Clin Psychiatry. 2009 Oct-Dec;21(4):205-11.
Knivsberg AM, Reichelt KL, Høien T, Nødland M. A randomised, controlled study of dietary intervention in autistic syndromes. Nutr Neurosci. 2002 Sep;5(4):251-61.
Cascella NG, Kryszak D, Bhatti B, Gregory P, Kelly DL, Mc Evoy JP, Fasano A, Eaton WW. Prevalence of celiac disease and gluten sensitivity in the United States clinical antipsychotic trials of intervention effectiveness study population. Schizophr Bull. 2011 Jan;37(1):94-100.
De Santis A, Addolorato G, Romito A, Caputo S, Giordano A, Gambassi G, Taranto C, Manna R, Gasbarrini G. Schizophrenic symptoms and SPECT abnormalities in a coeliac patient: regression after a gluten-free diet. J Intern Med. 1997 Nov;242(5):421-3.
Dohan FC, Grasberger JC, Lowell FM, Johnston HT Jr, Arbegast AW. Relapsed schizophrenics: more rapid improvement on a milk- and cereal-free diet. Br J Psychiatry. 1969 May;115(522):595-6..
Singh MM, Kay SR. Wheat gluten as a pathogenic factor in schizophrenia. Science. 1976 Jan 30;191(4225):401-2.
Hadjivassiliou M, Kandler RH, Chattopadhyay AK, Davies-Jones AG, Jarratt JA, Sanders DS, Sharrack B, Grünewald RA. Dietary treatment of gluten neuropathy. Muscle Nerve. 2006 Dec;34(6):762-6.
Hadjivassiliou M, Rao DG, Wharton SB, Sanders DS, Grünewald RA, Davies-Jones AG.Sensory ganglionopathy due to gluten sensitivity. Neurology. 2010 Sep 14;75(11):1003-8.
Turner MR, Chohan G, Quaghebeur G, Greenhall RC, Hadjivassiliou M, Talbot K. A case of celiac disease mimicking amyotrophic lateral sclerosis. Nat Clin Pract Neurol. 2007 Oct;3(10):581-4.
Niederhofer H, Pittschieler K. A preliminary investigation of ADHD symptoms in persons with celiac disease. J Atten Disord. 2006 Nov;10(2):200-4.
Zelnik N, Pacht A, Obeid R, Lerner A. Range of neurologic disorders in patients with celiac disease. Pediatrics. 2004 Jun;113(6):1672-6.
Rodrigo L, Hernández-Lahoz C, Fuentes D, Alvarez N, López-Vázquez A, González S. Prevalence of celiac disease in multiple sclerosis. BMC Neurol. 2011 Mar 7;11:31.
Malalasekera V, Cameron F, Grixti E, Thomas MC. Potential reno-protective effects of a gluten-free diet in type 1 diabetes. Diabetologia. 2009 May;52(5):798-800. Epub 2009 Feb 14.
Iuorio R, Mercuri V, Barbarulo F, D'Amico T, Mecca N, Bassotti G, Pietrobono D, Gargiulo P, Picarelli A. Prevalence of celiac disease in patients with autoimmune thyroiditis. Minerva Endocrinol. 2007 Dec;32(4):239-43.
Quiñones-Galvan A, Lifshitz-Guinzberg A, Ruíz-Arguelles GJ. Gluten-free diet for AIDS-associated enteropathy. Ann Intern Med. 1990 Nov 15;113(10):806-7
Evans KE, Leeds JS, Sanders DS. Be vigilant for patients with coeliac disease. Practitioner. 2009 Oct;253(1722):19-22, 2.
Mozo L, Gómez J, Escanlar E, Bousoño C, Gutiérrez C. Diagnostic Value of Anti-Deamidated Gliadin Peptide Igg Antibodies for Celiac Disease in Children and Iga Deficient Patients. J Pediatr Gastroenterol Nutr. 2011 Dec 23.
Wang N, Shen N, Vyse TJ, Anand V, Gunnarson I, Sturfelt G, Rantapää-Dahlqvist S, Elvin K, Truedsson L, Andersson BA, Dahle C, Ortqvist E, Gregersen PK, Behrens TW, Hammarström L. Selective IgA deficiency in autoimmune diseases. Mol Med. 2011 Aug 4.
Celiac.com welcomes your comments below (registration is NOT required).

Get Email Alerts (More Info)
Article Options
Dr. Ron Hoggan, Ed.D.
As co-author of "Dangerous Grains" and "Cereal Killers", the study of the impact of gluten continues to be a driving passion in my life. I am fascinated by the way that gluten induces illness and impedes learning while it alters mood, behavior, and a host of other facets of our existence. Sure, the impact of gluten on health is an important issue, but that is only the most obvious area of impact. Mood disturbances, learning disabilities, and the loss of quality of life due to psychiatric and neurological illness are even more tragic than the plethora of physical ailments that are caused or worsened by gluten. The further I go down this rabbit hole, the more I realize that grains are a good food for ruminants - not people. I am a retired school teacher. Over the last decade, I have done some college and university level teaching, but the bulk of my teaching career was spent working with high school students. My Web page is: www.DangerousGrains.com
View all articles by Dr. Ron Hoggan, Ed.D.
In Celiac.com's Forum Now:
Just wondering if you have an update at all? Going through the same thing at the the moment with my type 1 14 yr old. I would be interested to know what your gi said and how your daughters doing now? xx
Please check the date on post, you just responded and tried talking to a person from 7 years ago. On consideration to the subject Poatoes are a huge flare factor for my UC and cause my blood sugar to sky rocket...I am not even diabetic but for some reason potatoes (hash browns) that I tried a few...
Have you tried eliminating high glycemic foods? Fruits, added sugars, starchy grains, potatoes. etc? Also adding in slow digesting fibers and fats can prevent insulin spikes, MCT oil is also known to help and protein. Many find consuming nuts and seeds higher in fiber early on in the meal or befo...
Dear AWOL Cast Iron Stomach, Your husband is right bread is bad for you. Of course it's more than bread and gluten, until now it was amateur hour trying to self diagnose and tame this "lion". However they let you down. You slipped through the cracks over and over again it is not your fault y...
I know for certain gastritis is one of the main reasons I had the scope. That and my EOE symptoms . If it wasn?t for those I would have never been diagnosed