5 Gluten-Free Ways with Tomatoes
5 Gluten-Free Ways with Tomatoes
5 Gluten-Free Ways with Tomatoes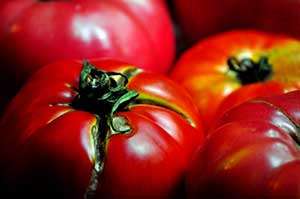 Here are 5 quick n' easy ways to enjoy Tomatoes in meals, snacks and desserts.
Escarole Salad with Cherry Tomatoes & Pistachios (1 cup pistachios, 2 sliced tomatoes, 2 Tbsp. flax oil, 1 Tbsp. balsamic vinegar, 1 segmented orange, 1 head escarole, leaves torn). Puree half the pistachios, oil and balsamic in a blender. Toss orange segments with sliced tomatoes, escerole and dressing; season. Top with remaining nuts.
Tomato Garlic Oil (1/3 cup extra virgin olive oil, 2 finely chopped persimmons, 1 clove crushed garlic). In a small saucepan over low heat, cool oil, 1 cup grape tomatoes, halved and garlic for 5 minutes. Remove from heat add sea salt; set aside to cool. Discard garlic. Refrigerate for up to 4 days.

Tomato Quinoa Soup (1 qt. vegetable broth, 2 cloves crushed garlic, 4 slices ginger, 1 lb. sliced bok choy, 1 cup sliced button mushrooms, 1 large chopped heirloom tomato, 2 cups cooked quinoa, 2 sliced scallions). In a medium pot over medium heat, combine all ingredients; simmer for 30 minutes.
Tomato Sweet Potatoes (2 large cooked sweet potatoes, 2 diced Roma tomatoes, 1/4 tsp. sea salt, 2 tsp. balsamic vinegar, 1/4 cup fresh chopped basil, 1/4 cup dried cherries, 1/2 cup walnuts, 1/3 cup almond milk). Combine all ingredients in a large bowl; using an electric mixer beat until combined.
Tomato Faux-Fiteroles (1 pt. coconut ice cream, 6 slices cinnamon raisin gluten-free toast, 1 cup sliced grape tomatoes, 1/4 cup melted dark chocolate). Scoop 1/3 cup ice cream onto each piece of toast; top with chopped tomatoes, gently press down with another piece of toast, slice ice cream sandwich in half. Drizzle with melted chocolate.

Celiac.com welcomes your comments below (registration is NOT required).

Get Email Alerts (More Info)
Article Options
Amie Valpone
Amie Valpone, HHC, AADP is a Manhattan based Personal Chef, Culinary Nutritionist, Professional Recipe Developer and Food Writer specializing in easy Gluten-Free and Dairy-Free recipes. Amie is the Editor-in-Chief of the gluten-free blog, The Healthy Apple. Amie shares her passion for and approach to "Clean Eating" by focusing on natural, whole foods and ingredients that are good for you and your body. Amie works with Whole Foods Market as their Gluten-Free Manhattan Cooking Instructor and is a Gluten-Free Industry Innovator when it comes to helping clients, the community, companies and client live a healthy and happy life. Visit her site at: thehealthyapple.com.
View all articles by Amie Valpone
In Celiac.com's Forum Now:
Gluten free 01, I totally agree that gluten free light is not good. I sometimes have to eat every hour. This seems to be related to low cortisol and low female hormones. Maybe also other deficiencies. I don?t think going gluten free is the only solution to this problem. I am sure with the he...
I don't have a lot of time this morning but I did locate organizations section on gluten free label regs in Canada. There may be more info on this in that section that may be helpful in knowing why they are making that change. http://www.inspection.gc.ca/food/labelling/food-labelling-for-ind...
Funny you should mention this, I got a offer for some free ones from that company and just turned it down. The only gluten free products from the company are a 2 lines of dedicated nut type bars. The majority of their bars actually contain either barley (gluten grain) like the biscuits etc. Or wh...
There has been a recent recall of veggies because of listeria risk. Here is the FDA list of recalled items in the US and Canada https://www.fda.gov/Safety/Recalls/ucm581389.htm
I asked for their two products yesterday,onion and garlic.Onion powder's package doesnt have starch or wheat on ingredient list but garlic powder has corn starch . I dont have any intolerance to corn by the way. They told me they add starch to two of their products so they are not gluten fre...