5 Gluten-Free Ways with Tomatoes
5 Gluten-Free Ways with Tomatoes
5 Gluten-Free Ways with Tomatoes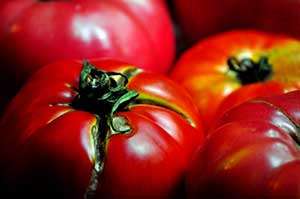 Here are 5 quick n' easy ways to enjoy Tomatoes in meals, snacks and desserts.
Escarole Salad with Cherry Tomatoes & Pistachios (1 cup pistachios, 2 sliced tomatoes, 2 Tbsp. flax oil, 1 Tbsp. balsamic vinegar, 1 segmented orange, 1 head escarole, leaves torn). Puree half the pistachios, oil and balsamic in a blender. Toss orange segments with sliced tomatoes, escerole and dressing; season. Top with remaining nuts.
Tomato Garlic Oil (1/3 cup extra virgin olive oil, 2 finely chopped persimmons, 1 clove crushed garlic). In a small saucepan over low heat, cool oil, 1 cup grape tomatoes, halved and garlic for 5 minutes. Remove from heat add sea salt; set aside to cool. Discard garlic. Refrigerate for up to 4 days.

Tomato Quinoa Soup (1 qt. vegetable broth, 2 cloves crushed garlic, 4 slices ginger, 1 lb. sliced bok choy, 1 cup sliced button mushrooms, 1 large chopped heirloom tomato, 2 cups cooked quinoa, 2 sliced scallions). In a medium pot over medium heat, combine all ingredients; simmer for 30 minutes.
Tomato Sweet Potatoes (2 large cooked sweet potatoes, 2 diced Roma tomatoes, 1/4 tsp. sea salt, 2 tsp. balsamic vinegar, 1/4 cup fresh chopped basil, 1/4 cup dried cherries, 1/2 cup walnuts, 1/3 cup almond milk). Combine all ingredients in a large bowl; using an electric mixer beat until combined.
Tomato Faux-Fiteroles (1 pt. coconut ice cream, 6 slices cinnamon raisin gluten-free toast, 1 cup sliced grape tomatoes, 1/4 cup melted dark chocolate). Scoop 1/3 cup ice cream onto each piece of toast; top with chopped tomatoes, gently press down with another piece of toast, slice ice cream sandwich in half. Drizzle with melted chocolate.

Celiac.com welcomes your comments below (registration is NOT required).

Get Email Alerts (More Info)
Article Options
Amie Valpone
Amie Valpone, HHC, AADP is a Manhattan based Personal Chef, Culinary Nutritionist, Professional Recipe Developer and Food Writer specializing in easy Gluten-Free and Dairy-Free recipes. Amie is the Editor-in-Chief of the gluten-free blog, The Healthy Apple. Amie shares her passion for and approach to "Clean Eating" by focusing on natural, whole foods and ingredients that are good for you and your body. Amie works with Whole Foods Market as their Gluten-Free Manhattan Cooking Instructor and is a Gluten-Free Industry Innovator when it comes to helping clients, the community, companies and client live a healthy and happy life. Visit her site at: thehealthyapple.com.
View all articles by Amie Valpone
In Celiac.com's Forum Now:
Hi, everyone. I haven't been diagnosed with Celiac disease, so I hope it's okay for me to post here. I'm a 21-year-old female who has been struggling with some chronic symptoms for about a year now. Out of nowhere, I started losing weight. To date, I've lost upwards of 70 pounds. I was ...
Good call - I think a lot more people have issues with oats but don't know it because they aren't doing bloodwork and "feel fine." I knew I had problems with oats from the beginning as I did the oat challenge ~5 months in, and oh boy... did that mess me up. Same level of sickness as from eating ...
https://www.ncbi.nlm.nih.gov/pmc/articles/PMC523841/ One study, found a few others talking about people with celiac developing a separate antibody reaction to oat proteins, and only certain varieties of oats at that that was done in Europe, I found countless threads of others reacting. I...
Here is a summary of the information from the FDA, for those who don?t want to read the whole thing. https://www.fda.gov/Drugs/ResourcesForYou/Consumers/BuyingUsingMedicineSafely/EnsuringSafeUseofMedicine/ucm410373.htm?utm_campaign=CDER New 12%2F13&utm_medium=email&utm_source=Eloqua&elqTrack...
Ok so after 6 weeks, here is my blood results: deamidated IgA- 3 (0-19 normal) deamidated IgG- 21 (0-19 normal) tTg IgA- <2 (0-3 normal) tTg IgG- <2 (0-5 normal) endomysial IgA- 111 (87-352 neg) I am going in for a biopsy this month. The doc said it was telling that ...