Yehuda Gluten Free Matzo-Style Squares
Yehuda Gluten Free Matzo-Style Squares
Traditionally, Matzo (also known as Matzah or Matza) is an unleavened bread that is eaten during the week-long Jewish holiday known as Passover. However, I just found an amazing gluten-free matzo that I will be sure to have on hand year-round.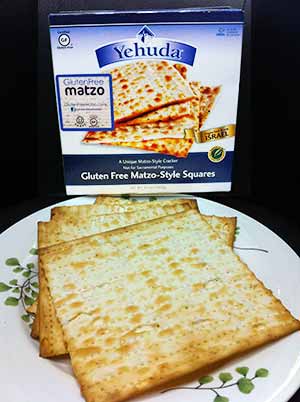 Yehuda's Gluten-free Matzo is imported from Israel and is not only Kosher for Passover (Orthodox Union Parve), but it is also certified gluten-free! These crackers are made as a large cracker sheet (approx 7" x 7") and they have such a wonderful crunch and flakiness to them, and contain just the right amount of salt. Compared with most gluten-free crackers I've had these are lower in both salt and sugar, and they would be perfect to set out for any guests on any occasion (gluten-free or not).
Other than the size of the gluten-free matzo, their taste and texture are the closest thing to a "Saltine" cracker that I have tried since going gluten-free over nine years ago. My only complaint would be that there were a few pieces of the gluten-free matzo that arrived broken, but I would have broken them down into smaller pieces anyhow, so it wasn't a big deal.
In my opinion the taste of these gluten-free crackers is wonderful. They can be enjoyed on their own, or topped with cheese or meat, or you could crumble them up and put them on top of your favorite dish. I am just so happy to finally have found a gluten-free cracker that tastes great and is versatile, and one that my picky gluten-free two-year-old actually likes to eat as well. I also can't wait to get creative with them in the kitchen and begin using them for things like breaded coatings for fried chicken, toppings for soups and salads and as a basic ingredient in my favorite recipes.
Visit their site at: GlutenFreeMatzo.com.

Note: Articles that appear in the "Gluten-Free Food & Specialty Product Companies" section of this site are paid advertisements. For more information about this see our Advertising Page.
Celiac.com welcomes your comments below (registration is NOT required).

Get Email Alerts (More Info)
Article Options
Dyani Barber
After many years of unexplained medical issues, I was finally diagnosed with celiac disease in 2002.  The first couple of years were a rough road traveled, but I am feeling better than I ever have.  It is important that I share what I have learned over the years with others and to do my part to help raise awareness of celiac disease.


View all articles by Dyani Barber
In Celiac.com's Forum Now:
Hi Jenny. How long have you been gluten free? Have you potentially come across CC ate away from home, a processed food that is new to you? I get neuropathy issues among many other issues. For me it is my left upper arm goes numb aka falls asleep like sensation and my big toes both feet. Ty...
Hi guys. It's me Jenny ?I feel like I post every other day with problems or questions. Well I'm here again. I have this problem with my left leg (in particular) at night going numb it wakes me up in the middle of me sleeping and is difficult to fall back to sleep. It's not my bed mattress, it's n...
I have been gluten free for about 7 months. I had a check with my gastroenterologist at 4 months post endoscopy, and asked him to check my thyroid, iron, vit D and Vitamin B12 levels. They told me all were fine (which I found surprising, but I take vitamins). Shortly after that, my hair started t...
Just wanted to revive this thread with an update. My daughter's appetite/calorie intake is slightly better these days, especially in the morning--though overall I'd say that she usually still has to eat deliberately rather than out of true hunger. The main problem is that she still feels terrible...
My daughter also loves to make ginger bread house every Christmas. I buy this gluten-free kit every December from a gluten free bakery called Sensitive Sweets. They ship the kit to our house. http://www.sensitivesweets.com/holiday-items/gluten-free-vegan-gingerbread-house-kit