Amy's Broccoli & Cheddar Bake made with Gluten-Free Rice Pasta
Amy's Broccoli & Cheddar Bake made with Gluten-Free Rice Pasta
Who said gluten-free frozen foods never taste good and fresh? When I had my first bite of Amy's Broccoli and Cheddar Bake I could not believe that it was a frozen product. The tender rice pasta was coated with a creamy, aged English cheddar sauce, and the green organic broccoli tasted very fresh and crisp, and it was a very healthy addition. This product is not only gluten-free, but is also high in protein, vitamin A, C, calcium, and good source of iron, so it's very nutritious.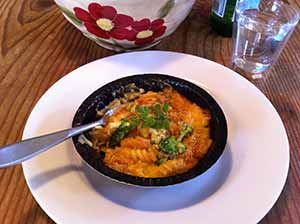 This bowl is simply a convenient food for me, as I am a working mom, and it allows for a quick meal when I have no time to cook. I would defiantly feel good serving it to my whole family at any meal time. It is very easy to prepare—I simply just remove the over-wrap and put the bowl into the oven, wait a few minutes and our meal is ready! I would recommend cooking these in a conventional oven for an even better taste.
I'll keep these on hand for my family. I would say that this is a five star gluten-free frozen food, and the best broccoli and cheddar bake I have tasted. I would like to say thank you to Amy's for creating this gluten-free meal with all the flavor and goodness of homemade cooking.
Visit their site for more info: www.amys.com.

Note: Articles that appear in the "Gluten-Free Food Reviews" section of this site are paid advertisements. For more information about this see our Advertising Page.
Celiac.com welcomes your comments below (registration is NOT required).

Get Email Alerts (More Info)
Article Options
Dyani Barber
After many years of unexplained medical issues, I was finally diagnosed with celiac disease in 2002.  The first couple of years were a rough road traveled, but I am feeling better than I ever have.  It is important that I share what I have learned over the years with others and to do my part to help raise awareness of celiac disease.


View all articles by Dyani Barber
In Celiac.com's Forum Now:
If you have celiac would you eat their gluten free sandwiches? The place is full of gluten buns, the employees use new gloves yes...but they touch the gluten buns then by hand pull each ingredient from each bin CCing each bin of ingredients as they go.....the place is a CC nightmare and the logis...
You can make almond meal, or coconut porridge, there are some instant paleo porridge ready to go grain free ones....you can also use Miracle Rice blended in to give it oatmeal texture. If you miss flap jacks look up coconut flour ones if you want a mix look up Simple Mills Pancakes mix it is grai...
Ah ok, the bloating was fairly extreme and immediate.. which is quite unusual for me as normally there is a 24hr delay. Maybe I just overloaded my system.
Thanks for all the replies everyone - its very useful to have the support, particularly as my gp today said 'a tiny but if gluten three times won't cause an upst stomach for weeks' I just wanted to print off the entire forum for him to read!!
Subway announces gluten-free buns at all stores in Canada. But only for a limited time? Is the company trolling us? View the full article