Bold Organics Gluten-Free & Dairy-Free Veggie Lovers Pizza
Bold Organics Gluten-Free & Dairy-Free Veggie Lovers Pizza
Great news for anyone who is not only on a gluten-free diet: Bold Organics Veggie Lovers Pizza is also dairy-free and vegan. This pizza is topped generously with organic roasted peppers, onions, shiitake mushrooms and Follow Your Heart's vegan mozzarella cheese. My kids didn't even question the dairy-free cheese and just dug right in. This thin crust pizza baked up beautifully, and we all loved the flavor and the texture! Not to mention that this is a wonderful treat for those with additional food allergies for it is also free from peanuts, tree nuts and eggs.
For more information visit their site.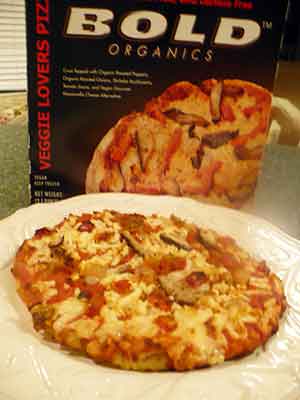 Note: Articles that appear in the "Gluten-Free Food Reviews" section of this site are paid advertisements. For more information about this see our Advertising Page.
Celiac.com welcomes your comments below (registration is NOT required).

Get Email Alerts (More Info)
Article Options
Dyani Barber
After many years of unexplained medical issues, I was finally diagnosed with celiac disease in 2002.  The first couple of years were a rough road traveled, but I am feeling better than I ever have.  It is important that I share what I have learned over the years with others and to do my part to help raise awareness of celiac disease.


View all articles by Dyani Barber
In Celiac.com's Forum Now:
Hey Joseph! You might re-think that gluten-free oatmeal. For years, oatmeal was prohibited. Researchers eventually determined that some celiacs could have oatmeal as long as it is pure (no possibility of cross contamination from field to factory). But some 10% of celiacs still react ...
My son is 13 and we have been dealing with his unusual issues for years. By 3rd grade, he was The Hulk, breaking things, punching holes in walls and raging. He had depression, anxiety and panic attacks. His skin would have rashes or turn bright red and i didn't understand why (now i know it's sal...
Yep no fruit, juice, sugar, or grains like oatmeal. The sugars glucose, fructose etc. Are common causes of flares in some. Sugar free fiber like nuts, but butters, cocanibs seem to be great for me. Keto diet sugar free high fat, mostly over cooked to mush or blended works great for me......heck a...
Gastritis was my initial diagnoses before finding out I had celiac. The pains from the gastritis were terrible. I had to wake up in the middle of the night to eat cause I felt nauseous. The Doc prescribed me omeprozole and antacids. I took the meds for about a week but I cured it mostly by not dr...
The UC is a whole different beast. I?ve been eliminating tons of food. Meat is definitely good to me. I can eat all the steak, chicken, and pork without problems. I agree that paleo would be great for me. I?m gonna look more into their recipes. Have you had any problems with fruits and vegg...