Celiac Disease and Gluten-Free Diet Support
---
---
---
---
Follow / Share
FOLLOW US:
SHARE:

Popular Articles
Being Young and Celiac
Celiac.com 06/06/2012 - Celiac disease is an autoimmune disease caused by a reaction to the component of wheat, barley, and rye called gluten and can affect the entire body. Dermatitis herpetiformis (DH) is a blistering and extremely itchy skin rash. It's usually symmetrical in shape and is most commonly located on the elbows, knees, buttocks, and upper back. It's common for people with DH to have rashes appear in the same spot, and they can either be consistent or come and go.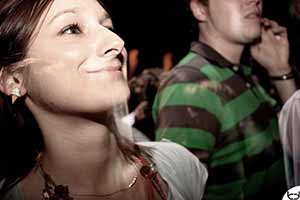 It is hard enough being a young adult, having celiac disease is the icing on the cake, and having Dermatitis Herpetiformis is the cherry on top. So how is it that I have been able to so easily make the transition from eating gluten on a daily basis to being 100% gluten-free for over six years now? Simple: by getting educated.
When I was first diagnosed it was very hard for me. I didn't know what had gluten in it, what body products to use, etc. My mother Tina Turbin, founder of GlutenFreeHelp.info, gave me some great advice. She told me to do my own research. So I set off to get a real understanding of celiac disease and DH. I was going to have to live with them both my whole life so I felt it couldn't hurt knowing more about them.
This was the best advice anyone could have ever given me. With the broad knowledge of celiac disease and DH available these days, I was able to read so much information and get a real grasp of the subjects. I finally was able to easily know which products would have gluten in them and what the gluten actually did internally to my body.
I really made being gluten-free a priority in my life. I made sure this priority was known among my family and friends as well. They all were more than willing to help. Now, whether going out for brunch with friends or traveling, the people I surround myself with are always picking places where I will have an easy time following my gluten-free diet. Just yesterday, a friend of mine let me know she picked a place for us to eat that would prepare any of their pasta dishes with gluten-free pasta.
So, my advice to you is this: First, do your own research. There are so many people out there with great advice and so much information to share. The more we join up with others, the easier it will be. Secondly, inform the people you are surrounded with of your dietary needs. Too many people think being gluten-free is just a fad when in reality celiac disease and DH are extremely important and should not be made fun of.
Last, enjoy life. Living gluten-free can actually be quite fun. The food is delicious and the health benefits are outstanding. Being gluten-free doesn't have to cause you stress. In fact, by following these guidelines, gluten-free living can become quite rewarding.
Celiac.com welcomes your comments below (registration is NOT required).

Get Email Alerts (More Info)
Article Options
Miranda Jade
Miranda Jade became extremely involved in celiac disease, gluten sensitivity and gluten issues a number of years ago after many years of misdiagnosing. Since this time, she has engaged in diligent research and writing about these topics, developing gluten-free recipes, and reviewing companies for the celiac consumer's safety on her award-winning website: GlutenFreeHelp.info. Being a first time mother, Miranda is diligently working hard to help all families increase their awareness, the signs, diet changes and testing options regarding gluten issues. She believes raising a healthy happy gluten-free family doesn't have to be difficult.
View all articles by Miranda Jade
In Celiac.com's Forum Now:
Another thing to investigate is SIBO (small intestine bacterial overgrowth). It can cause all of these symptoms. There is a breath test to check for it which any GI doctor should know about, although you have a better chance of knowledge at a teaching hospital. There's a lot of new research in t...
1. My thyroid was tested and is in the normal range. 2. I'm not taking any medication so nothing to interfere with test results. 3. My endoscopy showed multiple ulcers and that's what the GI chalked up to my very rare ibuprofen use. I use ibuprofen maybe once a month if that. ...
How does that happen!? Congratulations! (But still curious!) Plumbago
The sluggishness, hair loss, and weight gain made me think of hypothyroidism, but then the diarrhea throws me - unless the two things are unrelated. Coincidental but unrelated. I looked up positive lactoferrin test on labsonline: Lactoferrin is a stool (fecal) test that is used to detect in...
http://hypothyroidmom.com/10-nutrient-deficiencies-every-thyroid-patient-should-have-checked/ Maybe this article can help. Malabsorption of nutrients can make the body do weird things.