Kale Sesame Baked Quinoa (Gluten-Free)
Kale Sesame Baked Quinoa (Gluten-Free)
This recipe makes an outstanding gluten-free and vegetarian main dish that is very hearty!

Gluten-Free and Vegetarian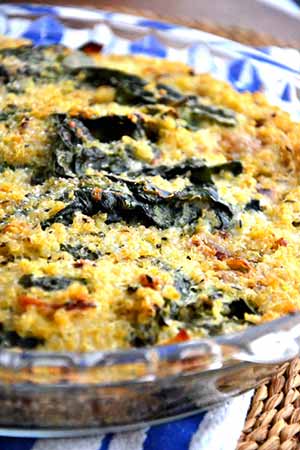 Ingredients:
1 cup sesame seeds
1 large bunch of fresh kale, finely chopped
2 tsp. olive oil
1/2 cup Vidallia onion, diced
2 cloves garlic, peeled and minced
1 Tbsp. dried thyme
1/4 tsp. chili powder
2 cups cooked quinoa (about 1 cup uncooked quinoa)
1 cup Greek plain yogurt
2 large eggs, lightly beaten
¾ tsp. sea
½ tsp. freshly ground white pepper
Instructions:
Preheat oven to 350 degrees F.
Coat an 8 x 8-inch baking dish with cooking spray, then coat with sesame seeds.
Fill a large bowl with ice and water; set aside. Bring a large pot of water to a boil. Add kale; blanch until bright green, approximately 8-10 seconds. Transfer hot spinach to the ice bath to cool for 30 seconds, remove and drain water. Set aside kale on a paper towel.
Heat olive oil in a medium skillet. Add Vidallia onion, garlic, thyme and chili powder; sauté until translucent, approximately 8-10 minutes. Remove from heat; transfer to a medium-sized bowl.
Add kale, cooked quinoa, yogurt, eggs, sea salt and pepper to the onion mixture; mix well to combine. Transfer quinoa mixture into the prepared baking dish and place in the oven. Bake until set and golden brown, approximately 60 minutes.
Remove from oven.
Slice and serve warm or at room temperature with a dollop of Greek plain yogurt for dipping, if desired.
Enjoy!
Celiac.com welcomes your comments below (registration is NOT required).

Get Email Alerts (More Info)
Article Options
Amie Valpone
Amie Valpone, HHC, AADP is a Manhattan based Personal Chef, Culinary Nutritionist, Professional Recipe Developer and Food Writer specializing in easy Gluten-Free and Dairy-Free recipes. Amie is the Editor-in-Chief of the gluten-free blog, The Healthy Apple. Amie shares her passion for and approach to "Clean Eating" by focusing on natural, whole foods and ingredients that are good for you and your body. Amie works with Whole Foods Market as their Gluten-Free Manhattan Cooking Instructor and is a Gluten-Free Industry Innovator when it comes to helping clients, the community, companies and client live a healthy and happy life. Visit her site at: thehealthyapple.com.
View all articles by Amie Valpone
In Celiac.com's Forum Now:
"October 20, 2017 (Mississauga, ON) The Canadian Food Inspection Agency (CFIA) has made an announcement that the words ?gluten-free? will be removed from all Cheerios package sold in Canada by January 1, 2018. The Canadian Celiac Association first objected to the claim in August 2016 and str...
If you were gluten-free for months before the blood work, it should be negative. It is meaningless as a test for Celaic at that point. IF you have been eating gluten for the last 2 years, keep eating it and get a new blood test.
this article made no mention of "gluten free beer". There is no reason to think that they are not actually gluten free as they are made with only gluten-free ingredients. This article is about beer made with barley. These are not gluten-free beers but often called "gluten reduced" or "glut...
Hello, i need some input. Two years ago I had an upper endoscopy with 6 biopsies showing some interepithelial lymphocytes and shortened villi so I was sent for blood work which came back negative but I had been on a gluten feee diet for 2-3 months prior to bloodwork. What are the chances I had a...
It's funny you post this as the other day I was looking at the supermarket shelves in the gluten free section. There was a very impressive choice of beers. A couple of years ago there would be one or two, but I think I counted 8 including a very tempting IPA and another real ale type alongside t...