Introducing Gluten to Your Infant
Introducing Gluten to Your Infant
This article originally appeared in the Autumn 2012 edition of Celiac.com's Journal of Gluten-Sensitivity.
Celiac.com 11/25/2014 - As a celiac patient or relative of a celiac patient, many have come to understand the mental and physical symptoms of celiac disease directly or indirectly. Now the time has come for your infant to delve into the world of eating solid foods, most of which happen to contain gluten, especially the first baby cereals. If you're like most mothers, it's understandable that you would be nervous. In my gluten-free advocacy work and as a child of a celiac mother, I understand these concerns and am pleased to inform others of the fruits of celiac disease research regarding infants at risk for the disease, introducing gluten, and breastfeeding. These studies indicate that there may be a way to lower the risk of developing the disease and reveal signs to look out for in your infant to determine whether indeed she/he may be celiac.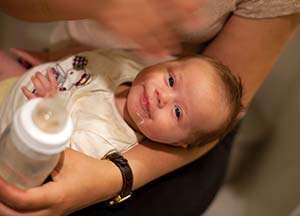 An important question which has been addressed in research across the globe is when to introduce solids, usually gluten-containing baby cereal. First, after guidelines were issued regarding the benefits of exclusive breastfeeding for six months, many countries, including the United States, United Kingdom, and Australia, found that the rate of food allergies and intolerances increased. In Sweden it was revealed that celiac disease rates sharply increased after the guidelines were followed, and these rates declined again after compliance with the guideline was dropped.
The question then arose regarding the introduction of gluten before four months of age with a 2005 study published in the Journal of the American Medical Association. According to Nancy Lapid in her article titled Gluten-Free Baby? Facts About Breastfeeding, Gluten, and Celiac Disease, "the babies who ate gluten before four months of age had a five-times-higher risk of developing celiac disease in childhood compared with babies who started on gluten between four and six months. Babies who first ate gluten at age seven months or older also had a higher risk compared with babies introduced to gluten between four and six months, but the increase in risk was small." In the end, it seems that research indicates that the optimum time to introduce gluten into your baby's diet is between the ages of four and six months, yet carefully and in small amounts.
Now let's look at one of my favorite subjects, breastfeeding. As far as breastfeeding is concerned, several studies have shown risk of celiac disease to be reduced when still breastfeeding in the recommended "window" of four to six months, with an even lower risk if breastfeeding is continued for a longer period.
Nancy Lapid shares, "If neither the baby nor the mother has confirmed celiac disease, the mother should continue to eat gluten, even if there is a history of celiac disease in the family, because there is a chance that exposure to gluten in breast milk will actually help the baby to develop a normal immune response to gluten." If your child is diagnosed with celiac disease, you'll need to eliminate gluten from your own diet due to the fact that gluten can be passed from your system via your breast milk to your baby.
If you have reason to suspect that your child has a genetic predisposition to celiac disease, you'll want to be on guard for a variety of celiac disease symptoms during the process of introducing gluten. Some common symptoms, which are visible in adults as well as in infants and young children, are gastrointestinal or bowel issues such as severe chronic diarrhea with floating voluminous stools, extreme weight loss to the point of wasting, and growth issues. Should you observe abnormal physical or mental symptoms in your baby, you may try eliminating gluten from the diet and note changes, but do make sure to consult with a pediatrician or other qualified medical practitioner before you begin making major changes to his diet.
It's important to note that it doesn't necessarily indicate that introducing gluten during the optimum window will eliminate a child's risk of developing celiac disease, but it could reduce risk or at least delay disease onset. As gluten-free awareness and research continues, however, we can assuredly look forward to more helpful information regarding reducing celiac disease in young children.
Celiac.com welcomes your comments below (registration is NOT required).

Get Email Alerts (More Info)
Article Options
Miranda Jade
Miranda Jade became extremely involved in celiac disease, gluten sensitivity and gluten issues a number of years ago after many years of misdiagnosing. Since this time, she has engaged in diligent research and writing about these topics, developing gluten-free recipes, and reviewing companies for the celiac consumer's safety on her award-winning website: GlutenFreeHelp.info. Being a first time mother, Miranda is diligently working hard to help all families increase their awareness, the signs, diet changes and testing options regarding gluten issues. She believes raising a healthy happy gluten-free family doesn't have to be difficult.
View all articles by Miranda Jade
In Celiac.com's Forum Now:
In Austin, Wildwood Bakehouse and Wilder Wood Restaurant are totally gluten free. I had the chicken fried steak and gravy and onion rings!!! Awesome!!!
If you yourself have Celiac's disease, you probably shouldn't give gluten-free sandwiches to the homeless, because they're disgusting. Your male neighbor doesn't need tampons. That sort of reasoning should be applied. But you must always remember that the Gospel requires you to treat other people...
Hi there I have this exact same thing.. however I don?t have celiac that I know of.. I found this when google searching for what the heck is wrong with my face. I was wondering if you ever found out.. or if it just went away. Thanks
I have read the newbie 101 and have been careful about reading labels. I'm the only one that's gluten free in my household, so they could be contaminating me. I was eating gluten for 6 weeks after my blood test because it took that long to get an official diagnosis and my GP told me to still be e...
Hi and Welcome to the Forum. I am glad that you are here! As with a lot of things in life, try not to compare yourself to other people. You are trying to be the best version of yourself - not Jill, Annie, or Maya. People make a lot of foolish decisions in the world and it does not mean tha...