Attune Foods Erewhon Buckwheat and Hemp Gluten-Free Cereal
Attune Foods Erewhon Buckwheat and Hemp Gluten-Free Cereal
Published 09/19/2012
Rating:
One of the biggest complaints I have about the gluten-free food industry is that corn is usually brought in to fill the gaping whole left by the removal of wheat. Corn tastes great and all, but personally, I prefer a more nutritious wheat alternative whenever possible, so long as it still tastes good (which many do, e.g. quinoa and buckwheat). With Erewhon Buckwheat and Hemp Cereal, Attune Foods has crafted something of a gluten-free 'corn flakes' alternative (just to be clear, corn flakes are NOT gluten-free), which is made from two superfoods that we should all eat more of: buckwheat and hemp seed.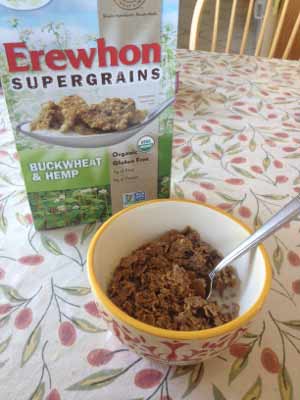 Buckwheat is commonly found in top superfood lists because of its low glycemic index and high protein content. Hemp seed is a little less common in top superfood lists, perhaps because people associate it with cannabis (no, it will NOT get you high), but it is incredibly good for you. In fact, hemp is one of the only significant sources of gamma linoleic acid (a relatively rare essential fatty acid that helps boost metabolism). It is also worth mentioning that both buckwheat and hemp contain complete proteins, something that very few plants can boast (part of the beef I have with corn is that its protein is exceptionally low in lysine and tryptophan, making it a particularly incomplete protein). This mean vegetarians and vegans in particular need to start eating more hemp and/or buckwheat in order to maintain a healthy amino acid ratio.
Since this is a product that clearly focuses on nutritional value, it is worth emphasizing that I enjoyed eating it. I love buckwheat, but I haven't eaten hemp seed in this quantity before, so I wasn't exactly sure what to expect. I'm not sure if it was the hemp seed, but something about this cereal had a really pleasant taste and aftertaste. I found that it went particularly well with coconut milk. The texture is a little bit 'tougher' than a product like corn flakes, but that is partially because buckwheat is so rich in insoluble fiber, and it really doesn't take anything away from the overall taste.
Bottom line, this is one of the healthiest breakfast cereals you could be eating right now, gluten-free or not, and it tastes good!
For more information and a $1 off coupon valid through 12/31/12, visit their website.
Note: Articles that appear in the "Gluten-Free Food Reviews" section of this site are paid advertisements. For more information about this see our Advertising Page.
Celiac.com welcomes your comments below (registration is NOT required).

Get Email Alerts (More Info)
Article Options
Gryphon Myers
Gryphon Myers recently graduated from UC Berkeley with a degree in interdisciplinary studies, research emphasis in art, society and technology. He is a lifelong vegetarian, an organic, local and GMO-free food enthusiast and a high fructose corn syrup abstainer. He currently lives in Northern California. He also writes about and designs video games at Homunkulus.
View all articles by Gryphon Myers
In Celiac.com's Forum Now:
This disease is like a chameleon and seems to change symptoms on people and everyone is a bit different, heck some have no symptoms til it almost kills them with secondary issues like cancer, lymphoma, rupturing the intestines etc. I did not have ht classic D but constipation, I also had a bunc...
I just quoted a little part but really much of your experiences could be mine. I won't bore you with it all, but chest pains came from 19, herniated disk came at 21, followed by 20 years of sciatic back pain. Depression at or about the same time. Brain fog little later. There was lots more, prima...
Morning guys. So long story short. Lost 10 kg back late last year. Stress related I believe. ( I Understand this is a big factor with celiacs) Tested. Found anti bodies in my blood. Doctor states potential Celiacs. Have endoscopy. Doctor who takes procedure doubts I have it. ...
Getting a celiac disease diagnosis is shocking. Expect to go through all the stages of grief. Your best defense is to learn how to read labels, avoid cross contamination and consider eating as few processed foods for a few weeks. It may speed healing (wish someone would have advised me to do s...
That is very helpful. Thank you so much.