Celiac Disease and Gluten-Free Diet Support
---
---
---
---
Follow / Share
FOLLOW US:
SHARE:

Popular Articles
What is Gluten Doing to Your Unborn Child?
What is Gluten Doing to Your Unborn Child?
This article originally appeared in the Spring 2013 edition of Celiac.com's Journal of Gluten-Sensitivity.
Celiac.com 01/29/2014 - Anyone diagnosed with celiac disease knows that it is almost impossible not to slip up here and there. Whether you mistakenly eat something with gluten, cross contamination or your waiter forgets to inform you that your burger is marinated with gluten, we have all been there. It usually takes me two or three days to feel better and another two or three days following that to get back to my routine after consuming a small amount of gluten. For others this process varies. Some worse, some better.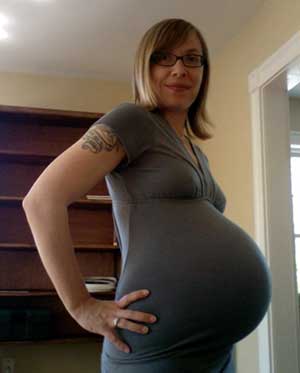 A diagnosed celiac friend of mine recently finally got pregnant. She and her husband had been trying for quite some time. This sparked a question for me. What would consuming gluten would do to her unborn child, if anything?
According to Amy O'Connell ( a researcher and writer with a Ph.D. and medical degree) gluten can cause problems in your unborn child. When a pregnant woman with celiac disease eats gluten the mothers villi are damaged which leads to poor nutrition and weight loss. This results in an inability to absorb calories and vitamins from food and may explain why mothers with untreated celiac disease are more likely to have a baby with a low birth weight.
A report in the journal "Canadian Family Physician" explained that babies of untreated mothers with celiac disease could also be at risk for spina bifida or other neural tube defects, because the mother may have poor folic acid absorption in the gut.
This isn't even taking into account the emotional effects gluten has on a mother with celiac disease. The energy loss and depression that can result from gluten consumption can be harmful to the mother and child's ability to bond which creates unneeded stress. As a new mother you have enough to worry about. There is no need to complicate things with more stress and less energy.
If you are an expecting mother with celiac disease, now more than ever, watch what you eat. Make sure you don't slip up no matter how much you want that Cinnabon!
Reference:
This article originally appeared in the Autumn 2003 edition of Celiac.com's Journal of Gluten-Sensitivity.
Celiac.com welcomes your comments below (registration is NOT required).

Get Email Alerts (More Info)
Article Options
Miranda Jade
Miranda Jade became extremely involved in celiac disease, gluten sensitivity and gluten issues a number of years ago after many years of misdiagnosing. Since this time, she has engaged in diligent research and writing about these topics, developing gluten-free recipes, and reviewing companies for the celiac consumer's safety on her award-winning website: GlutenFreeHelp.info. Being a first time mother, Miranda is diligently working hard to help all families increase their awareness, the signs, diet changes and testing options regarding gluten issues. She believes raising a healthy happy gluten-free family doesn't have to be difficult.
View all articles by Miranda Jade
In Celiac.com's Forum Now:
How are you with beans, and apples? I have a vegan recipe for bread that is about like corn bread. It uses garbanzo and fava bean flour and apple sauce as a binder instead of eggs if I recall. I use it to make the bread for thanksgiving dressing now days. I think I posed it in the recipe section ...
Have you tried making chicken or beef bone broth? Very good healing food for the stomach. Lot's of blogs online with instructions and even the process itself can be quite fun. Try treating these first 6 months on the diet as a special phase to kick start your body into healing. Keep a food d...
I have a similar problem. I feel like a different person these days, as if something broke inside me and I'm no longer as productive or goal oriented I'd be very interested in seeing if the adderall works if you decide to go with it. No it sounds interesting. I may give that a try I thi...
In previous studies, a team of scientists led by Professor Anette-Gabriele Ziegler had already shown an association between infections in early childhood and the development of type 1 diabetes. In that study, the researchers saw the highest risk for type 1 diabetes in children who experienced rep...
You'll get there. It's very early days yet.