Celiac Disease and Gluten-Free Diet Support
---
---
---
---
Follow / Share
FOLLOW US:
SHARE:

Popular Articles
Possible Link Between TG6 Autoantibodies and Celiac Disease with Epilepsy and Cerebral Calcifications
Possible Link Between TG6 Autoantibodies and Celiac Disease with Epilepsy and Cerebral Calcifications
Published 10/29/2012
Rating:
Celiac.com 10/29/2012 - Celiac disease with epilepsy and cerebral calcifications, also known as CEC, is a rare form of celiac disease that is accompanied by occipital epilepsy. Past studies have suggested that the neurological symptoms could be the result of a folate deficiency, as folate levels are typically low in patients suffering from CEC. However, a recent case report indicates that as with other neurological gluten-related diseases (such as gluten ataxia), there may be some correlation between CEC and TG6 autoantibodies, indicating that the disease is autoimmune in nature.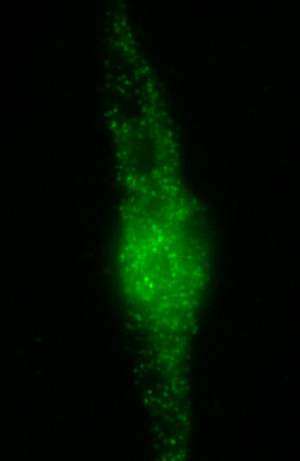 The case study focuses on a four year old boy who suffered from 30+ minute long complex partial seizures every two to three days. He was given antiepileptic drugs (carbamazepine, sodium valproate, levetiracetam), but these only slightly helped reduce seizure frequency. After one year, MRI and CT scans revealed bilateral occipital calcifications over parieto-occipital regions of the brain. The patient also suffered from chronic diarrhea: endoscopy and biopsy confirmed villous atrophy and patient tested positive for antibodies associated with celiac disease. His folate levels were also markedly low.
After being placed on a gluten-free diet, the patient's symptoms, including seizures, cleared within two weeks. After the seizures had ceased, the patient was given folate supplements, and taken off antiepileptic drugs. Gluten challenge caused a relapse of all symptoms. At the time of the report, the patient had been gluten-free and seizure-free for 18 months, and showed improved behavior and reading and writing abilities.
Because the patient responded so well to gluten-free diet treatment before being given folate supplements and all symptoms resumed during gluten challenge, it would seem that the neurological symptoms of CEC are the result of immune mechanisms rather than vitamin deficiencies or malabsorption. Most CEC patients have low folate levels; folate deficiency was previously thought to play a causative role in the disease, but this case study brings that conclusion into question. Furthermore, the patient tested positive for TG6 autoantibodies, which are associated with gluten ataxia (another gluten-related disease with neurological symptoms, which are an autoimmune response).
More studies are required, but this case study suggests that gluten ataxia is not the only gluten-related disease with autoimmune neurological manifestations.
Source:
Celiac.com welcomes your comments below (registration is NOT required).

Get Email Alerts (More Info)
Article Options
Gryphon Myers
Gryphon Myers recently graduated from UC Berkeley with a degree in interdisciplinary studies, research emphasis in art, society and technology. He is a lifelong vegetarian, an organic, local and GMO-free food enthusiast and a high fructose corn syrup abstainer. He currently lives in Northern California. He also writes about and designs video games at Homunkulus.
View all articles by Gryphon Myers
In Celiac.com's Forum Now:
Absolutely nothing to apologise for Awol. I'm sorry for getting on my sugar hobby horse. In any case I'm a dreadful hypocrite, cutting out fruit juice but still indulging cravings for gluten-free cheesecakes and the like I wish I had some advice for you. Bone broth helped me, I think it can ...
It was difficult yes, but on reflection worthwhile as the gluten challenge confirmed that a wide spectrum of symptoms were all either fully or mostly resolved on a gluten free diet and resuming it saw them reappear. Once you know this it doesn't really matter what blood tests say, you don't want ...
If she was just tested for DQ2 or DQ8 then it isn't for sure that she will never develop celiac. There are other genes that have been found to be associated but not all doctors are aware. The gene I have a double copy of, DQ9, is one example. Here is one research article but more can be found f...
Well, thank you for replying. Yes, I would also like to know and have a certain "validation" but I will go on to eat gluten free. Thank you for the idea of keeping a food diary. I was keeping one for weight loss, but I guess my primary focus will be gluten-free as well. I'm sorry you had to ea...
Thank you everyone. Jmg & cycling lady sorry for being snippy . I appreciate your help just frustrated. sorry if I am a bit snippy. Not well as you sense. I hate this particular symptom/ reaction. The gluten challenge opened the door to a bunch of symptoms I buried for 3 1/2 gluten-free yea...