Yehuda Kosher Gluten-Free Matzo Crackers
Yehuda Kosher Gluten-Free Matzo Crackers
Published 03/22/2013

Unrated
It can be difficult for those trying to meet the requirements of multiple dietary restrictions. It becomes especially difficult for celiacs following a Kosher diet during Passover, as matzo traditionally contains gluten. Fortunately, Yehuda's gluten-free matzo not only fits the bill, but it tastes great!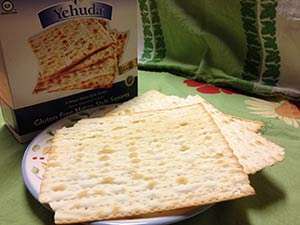 I might not be the most qualified person to evaluate the... well, let's say technical accuracy of this gluten-free version of matzo crackers. These are labeled Kosher for Passover and they're imported from Israel, but I am still not even entirely clear on the diet limitations of Kosher/Kosher for Passover, nor have I ever consumed matzo.
However, I can say this: if my diet was restricted such that I could eat nothing but these crackers for a week, I really don't think I'd be that bothered by it! These honestly taste great – kind of like saltines, but I'd say I actually prefer these over saltines. They have a crispy texture, and a subtle wood-burned flavor that I quite enjoy. If you need gluten-free matzo for Passover, it's a no-brainer! Order these!
Order them online at GlutenFreeMatzo.com.
Note: Articles that appear in the "Gluten-Free Food Reviews" section of this site are paid advertisements. For more information about this see our Advertising Page.
Celiac.com welcomes your comments below (registration is NOT required).

Get Email Alerts (More Info)
Article Options
Gryphon Myers
Gryphon Myers recently graduated from UC Berkeley with a degree in interdisciplinary studies, research emphasis in art, society and technology. He is a lifelong vegetarian, an organic, local and GMO-free food enthusiast and a high fructose corn syrup abstainer. He currently lives in Northern California. He also writes about and designs video games at Homunkulus.
View all articles by Gryphon Myers
In Celiac.com's Forum Now:
This disease is like a chameleon and seems to change symptoms on people and everyone is a bit different, heck some have no symptoms til it almost kills them with secondary issues like cancer, lymphoma, rupturing the intestines etc. I did not have ht classic D but constipation, I also had a bunc...
I just quoted a little part but really much of your experiences could be mine. I won't bore you with it all, but chest pains came from 19, herniated disk came at 21, followed by 20 years of sciatic back pain. Depression at or about the same time. Brain fog little later. There was lots more, prima...
Morning guys. So long story short. Lost 10 kg back late last year. Stress related I believe. ( I Understand this is a big factor with celiacs) Tested. Found anti bodies in my blood. Doctor states potential Celiacs. Have endoscopy. Doctor who takes procedure doubts I have it. ...
Getting a celiac disease diagnosis is shocking. Expect to go through all the stages of grief. Your best defense is to learn how to read labels, avoid cross contamination and consider eating as few processed foods for a few weeks. It may speed healing (wish someone would have advised me to do s...
That is very helpful. Thank you so much.