Honey Garlic Crock Pot Chicken (Gluten-Free)
Honey Garlic Crock Pot Chicken (Gluten-Free)
Published 10/8/2013
Rating:
Celiac.com 10/04/2013 - I crave this dish all of the time! I'm certainly no top-chef when it comes to preparing chicken on the grill so I've recently turned to the crock pot. I have to admit, I was pretty impressed with myself after making it. The sweet and saltiness with a hint of herbs paired nicely with tender meat that fell right off the bone. Simply mix up the ingredients, pop it in the crock pot, and you'll have a tasty meal ready by dinner time.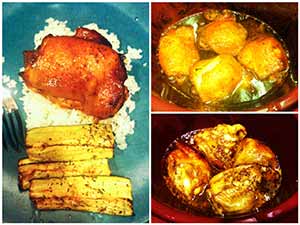 You will need:
4 chicken thighs
2 tablespoons basil
1/2 cup of liquid aminos (less sodium and no msg) or gluten-free soy sauce
1/3 cup Ketchup
1/2 cup honey
3-4 cloves of minced garlic
A pinch of cayenne pepper (optional)
Procedure:
Place chicken in crock pot. Stir the ingredients together in a separate bowl. Pour evenly over chicken thighs. Turn to high and cook for 3 hours. I flipped each side after 1 ½ hours but that's optional.
Serve chicken and sauce on top of Jasmine rice and baked zucchini with thyme.
For a crispy outside, place on a baking sheet and broil for about 4 minutes or until desired.
Enjoy!
This is also great for weekly meal prep: simply combine the ingredients and freeze them. Thaw it out the night before, toss in the crock pot the next morning, and slow cook for 6 hours. Yum!
Celiac.com welcomes your comments below (registration is NOT required).

Get Email Alerts (More Info)
Article Options
Lauren Lindsey
Lauren is a south Florida native and currently earning a masters degree in mental health/marriage and family counseling. Her professional goals and intent as an author are to help others towards fulfillment, wellness, and healthy living among diet restrictions. Lauren seeks to promote celiac disease awareness and has developed a team that makes assessments and standards for gluten-free dining in cafeterias: www.glutenfreenourishme.com
View all articles by Lauren Lindsey
In Celiac.com's Forum Now:
I have eaten the Southwest chicken salad at McDonald's many times, with the grilled chicken and no chips. I have celiac disease, and have no problems with this salad. It's a stand by for me when traveling.
That sense of your thoughts being in a non productive loop is a classic depression symptom I can certainly recognise! The good news is that those patterns you can fall into you can also train yourself to get out of. Some of the best results come from Cognitive Behavioural Therapy or CB...
Hi Lex, First step would be to eliminate celiac. Gluten is well established as the cause of celiac. If you eliminate celiac but still react to gluten foods then it becomes trickier. Non Celiac Gluten sensitivity NCGS is still not universally accepted and there are differing views on whe...
I have corn and gluten issue this former post by bartfull helped me locate bc aspirin for my son (same issues) after he had ortho work I have not tried it personally As I still avoiding most things good luck
Hi everyone. I was just wondering if anyone knew of an easy way to determine whether one's gastrointestinal reaction is to gluten or to fructan. Cheers, Lex