Savory Foods has really hit a home run with their frozen Gluten-Free Licious Gourmet Herb Pizza Crust.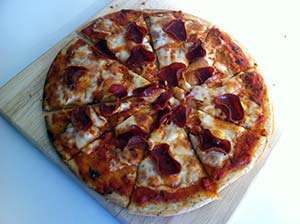 Many pre-made gluten-free pizza crusts tend to lack flavor, and more importantly, they lack the correct texture and "mouth feel." Savory Foods' pizza crust offers everything you want in an outstanding pizza crust—great texture with just the right chewiness, a perfect blend of spices and seasonings, and most importantly, you can cook it just the way you want—if you like it crispy, just cook it a little longer, if you like it more chewy, just cook it for less time.
In my case I followed directions and let it thaw for 30 minutes, then cooked it at 425F for three minutes, then removed it from the oven and added my favorite tomato sauce, cheese and pepperoni, and finished it off in the oven for another 8 minutes—yes, I like my pizza on the chewy side!
I love being able to add my favorite toppings to my pizzas, but don't like having to prepare a mix, so this crust offers me the perfect solution for my gluten-free pizza cravings!
For more information visit their site.
Review written by Scott Adams