Celiac.com 11/25/2013 - More and more professional athletes are claiming to reap benefits from adopting a gluten-free diet. What's the science behind these claims?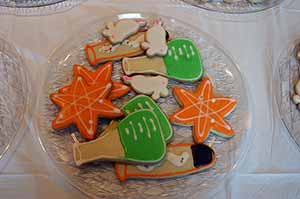 Writing for the Washington Post, Anna Medaris Miller has a very solid article in which she investigates the science behind the claims by many professional athletes that they has reaped tremendous physical benefits by adopting a gluten-free diet.
Miller cites the growing popularity of gluten-free foods in general, as well as the move away from carbs by many professional athletes. She notes that New Orleans Saints quarterback Drew Brees, the Garmin cycling team and top tennis players Andy Roddick and Novak Djokovic have all been vocal about the benefits of gluten-free diets.
Still, a gluten-free diet won't turn you into an Olympic athlete, Fasano says. "But when you go to the high-level performing athletes in which a fraction of a second can mean the difference between winning and losing an event, or be[ing] able to complete a marathon or not within a certain time frame, that can be the small edge that helps you."
Some researchers theorize that eliminating gluten allows the body to better carry oxygen to the muscles, which may boost athletic performance.
There are other theories as to why some athletes report improved athletic performance after eliminating gluten.
So far, performance claims attributed to a gluten-free diet are purely anecdotal.
In fact, Miller offers her own experience:
My digestion is gentler, my sleep is sounder, my energy level is more even. These benefits also seem to have led to improved athletic performance. Since going off gluten, I placed in a race for the first time in my adult life, won a small community biathlon and achieved a personal best in a 5K run. Most important, I felt good while doing it.
However, there is just no research that documents clear before-and-after changes among athletes who have adopted a gluten-free diet.
Felicia Stoler, a nutritionist and exercise physiologist, who is president of the Greater New York chapter of the American College of Sports Medicine, says she has yet to see evidence heralding a gluten-free diet for endurance athletes. Until such evidence emerges, says Stoler, many people wise to remain skeptical.
"If you have nothing wrong with you as far as absorptive disorders, then there's no benefit by cutting out gluten," she says. "You have to look at your overall caloric intake needs as an athlete."
Source: