Celiac Disease and Gluten-Free Diet Support
---
---
---
---
Follow / Share
FOLLOW US:
SHARE:

Popular Articles
The Celiac Dilemma: Getting Enough Fiber Without Wheat
The Celiac Dilemma: Getting Enough Fiber Without Wheat
Published 12/17/2013

Unrated
Celiac.com 12/17/2013 - One of the biggest hurdles for those who have celiac disease is finding a way to get enough fiber in their diets. Removing wheat from the equation also eliminates a huge amount of roughage. Wheat provides the fiber in many breads, pastas, crackers and other staples of the American diet. Replacing that fiber is crucial, since the added bulk moves the food through your digestive system and keeps you regular.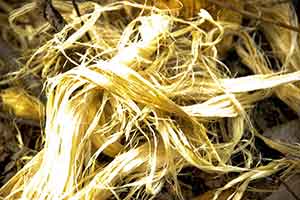 You should be aiming to consume between 25 and 35 grams of fiber per day. Here are a few ways to ensure you're getting enough fiber in your diet, whether you've been living with celiac disease your entire life or just for a few weeks.
Bulk Up Your Food
There are plenty of fiber-rich foods that do not contain gluten. For example, fruits and vegetables are a great, all-natural source of fiber. You can add them to soups and sauces for a flavorful kick that will also provide a few extra grams of fiber. Skip the croutons on your salad — most contain gluten anyway — and sub in raisins for a sweet, filling treat.
Flaxseed and chia seeds are two superfoods that are naturally gluten free and contain a hefty dose of fiber. Stir them into smoothies, sprinkle on your breakfast cereal, or shake them over yogurt to give it a bit of a crunch. With several grams of fiber per serving, nuts are also a great addition to just about any main or side dish. Kidney beans or chickpeas can be stirred into soups to increase the fiber count.
Use Supplements
Adding a supplement to your diet can be an excellent way to make up for the fiber you're losing by not eating wheat. You'll want to find natural supplements that mimic the way fiber found in food breaks down in your gut. One smart option is a prebiotic, such as Prebiotin — a plant fiber that also provides good bacteria to the colon, further aiding in digestion.
Make Adjustments
It's possible to increase the fiber content in your diet by making simple substitutions. Perhaps you have always eaten white rice, which is easier on your sensitive stomach than brown. Well, now's the time to give fiber-rich brown rice another try. Since your celiac diagnosis has probably cleared up most of your GI issues, you should be able to eat brown rice now without issue. Or try fiber-laden quinoa, a rice substitute that's rich in both fiber and protein, as well as millet or amaranth as a white rice fill-in.
Keep a Tally
Before your celiac diagnosis, you may not have paid any attention to your daily fiber intake. But now it's essential to track it for at least a few weeks to make sure you're getting enough fiber. Aim for 20 grams at first, until you get the hang of searching out non-wheat fiber sources. Eventually, you'll want to get to 25 or more grams per day, and you may find it's not as hard as you expected.
Celiac.com welcomes your comments below (registration is NOT required).

Get Email Alerts (More Info)
Article Options
Frank Jackson
Dr. Jackson was educated at Princeton, Johns Hopkins Medical School and the University of Pennsylvania and praticed gastroenterology for almost 40 years. He is the founder of several companies, including Jackson GI Medical (makers of Prebiotin), Chek-Med and Meducate.
View all articles by Frank Jackson
In Celiac.com's Forum Now:
The full celiac panel includes: TTG IGA TTG IGG DGP IGA DGP IGG EMA IGA You can either have a gastroenterologist order the full celiac panel plus whatever else they typically test for, or you can order your own test at a site like walkinlab.com. At walkin...
You could certainly try. Just remember that, if the mix doesn't have xanthum gum, you may need a little.
Maybe the 20 mg. was too strong for you and increasing symptoms? I have a very low threshold for most meds, and do better on child sized doses. If you tolerate the 10 mg., that may be the way to go just to get symptoms under control and get stabilized. Or maybe 10 mg. every other day, if tha...
I am sorry that you are all having to go through this. I know all too well the neuro issues she is going through. The world seems so hopeless under that gluten cloud. But it does lift. There isn't much a neurologist is going to be able to do except to encourage her to be as strict as possible. ...
Reviving this thread as I am in search of better care for my child, diagnosed this spring with off the charts antibodies. She experiences significant mood effects from gluten and all I get from her GI and ped are blank looks - they aren't familiar with the idea that it can affect one's mental or ...