Celiac.com 01/03/2014 - The United State Food and Drug Administration (FDA) has clarified what their recent gluten-free rule means for restaurants. When the FDA announced its gluten-free labeling standard in August, the agency said that, for restaurants, "any use of an FDA-defined food labeling claim (such as "fat free" or "low cholesterol") on restaurant menus should be consistent with the respective regulatory definitions.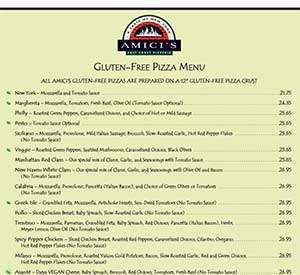 The agency noted this same approach would now be followed with respect to "gluten-free" claims made in restaurants and other retail food service establishments.
The FDA's updated Question & Answer, #9 under 'Labeling', now reads:
FDA recognizes that compliance with the gluten-free rule in processed foods and food served in restaurants is important for the health of people with celiac disease.
In August 2013, FDA issued final rule that established a federal definition of the term '"gluten-free" for food manufacturers that voluntarily label FDA-regulated foods as "gluten-free."
This definition is intended to provide a reliable way for people with celiac disease to avoid gluten, and we expect that restaurants' use of "gluten-free" labeling will be consistent with the federal definition.
The deadline for compliance with the rule is not until August 2014, although we have encouraged the food industry to bring its labeling into compliance with the new definition as soon as possible.
Given the public health significance of "gluten-free" labeling, we encourage the restaurant industry to move quickly to ensure that its use of "gluten-free" labeling is consistent with the federal definition and look forward to working with the industry to support their education and outreach to restaurants.
In addition, state and local governments play an important role in oversight of restaurants. We expect to work with our state and local government partners with respect to gluten-free labeling in restaurants. We will consider enforcement action as needed, alone or with other agencies, to protect consumers.
For more information: